Sports
Women's Lacrosse Climbs to Top of DIII Rankings With Two Wins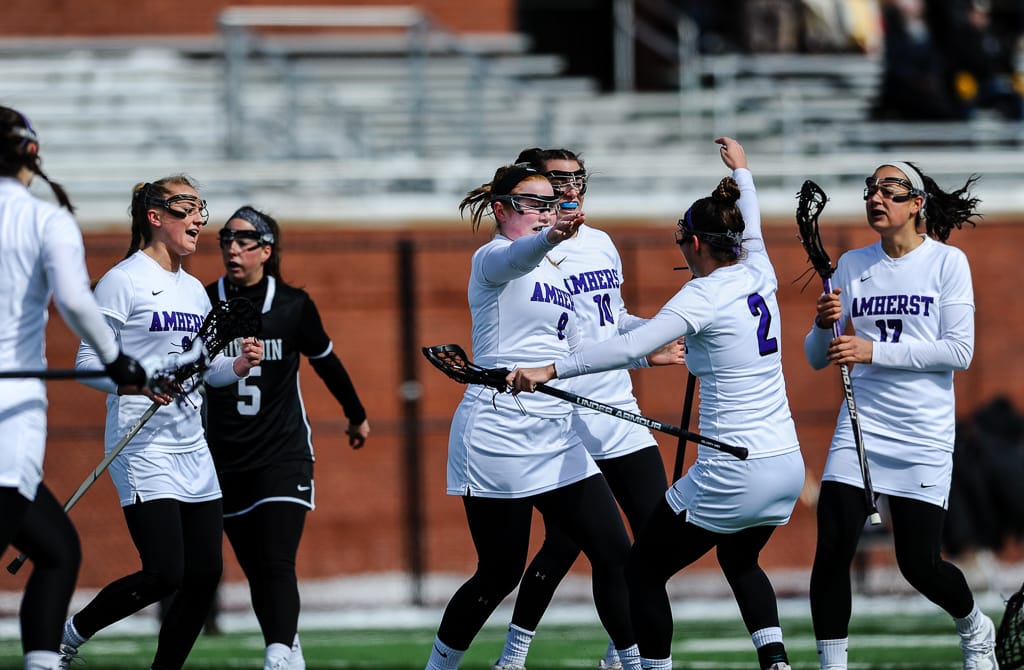 The Amherst women's lacrosse team extended its win streak to six after victories over Babson College and Bates this past week. The Mammoths now boast an impressive overall record of 13-1 and are currently ranked No. 1 in the nation.
"We had two great wins this week, and we're working to keep getting better going towards a really important last regular season game," senior captain Rowena Schenck said. "Our goal is to peak at the right time and be our strongest headed into the post-season."
Wednesday's win over Babson was fueled by an outstanding defensive effort, which held the Beavers to only four goals. Recording the first nine goals of the contest, Amherst took went up 6-0 within the first just 10 minutes of play. Leading the offensive push were Maia Noyes '21, Katherine Malone '20, Mary Grace Cronin '18 and Julia Crerend '18.
Babson did not get on the board until midway through the opening stanza, when Juliana McGuire and Georgia Salvatore cut the Mammoths' lead to seven. However, goals from Hannah Gustafson '21 and Noyes prevented Babson from garnering any momentum. The Beavers did manage to notch one more before the intermission, as Taylor Thorbahn powered in a free position shot, but the score was still 11-3 heading into halftime.
Continuing their dominant play into the second half, the Mammoths outscored the Beavers 6-1, in the final frame to clinch the win. Isabelle Sennett '21 got things started with back-to-back goals assisted by Malone and Hannah Fox '20. In the 43rd minute, Lyndsay Giroux scored what would prove to be Babson's final goal of the contest. From there, goals from Crerend, Malone and Lindsey Call '19 brought the final score to 17-4.
On Saturday, Amherst traveled to Lewiston, Maine to take on NESCAC foe Bates. Once again, the Mammoths had a strong defensive showing, as they forced a total of 17 turnovers throughout the game. Gustafson led the charge offensively with a goal in the third minute, which was followed by four consecutive goals from Malone (2), Noyes and Cronin.
With just under three minutes remaining in the first stanza, Bates' Teal Otley put the Bobcats on the board with a free position score. However, Noyes found Crerend just before the end of the half to put the Mammoths up 6-1 heading into the intermission.
Bates managed to outscore Amherst in the second stanza, 2-1, but it was unable to overcome the deficit from the first half. After a scoreless twenty minutes, Avery MacMullen notched the Bobcats' second goal of the day with 7:27 left to play.
Two goals in the final 30 seconds, one from Gustafson and one from Bates' Allison Dewey, brought the final score to 7-3. Amherst returns to action on Wednesday, April 25, when it will travel to Trinity for its last game of the regular season at 6:30 p.m.