Sports
Women's Lacrosse Splits Contests against Conference Foes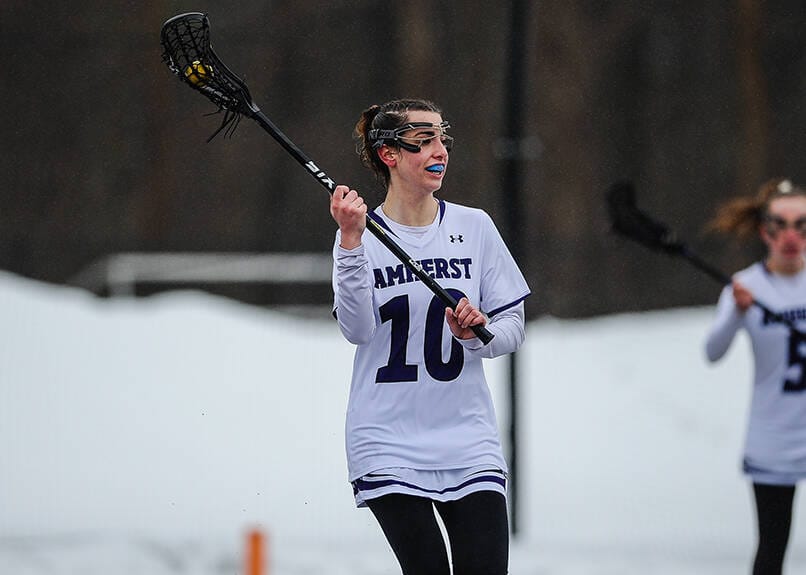 In the thick of conference play, the women's lacrosse team split their two NESCAC games this past week. After close losses in the weeks prior to Middlebury and Wesleyan, the Mammoths took advantage of the opportunity to bounce back this past Tuesday against Connecticut College. On Tuesday afternoon, the team made the two-hour drive to New London, Connecticut to face the struggling Camels who were just 3-8 on the season and 0-7 in the NESCAC. Heavily favored, the Mammoths played to their expectations, winning handily.
Off the bat, the Camels scored two quick goals to establish an early 2-0 lead. This would be their only lead of the day, as Amherst then scored after six minutes and held steady for the rest of the night. Countering the opening two goals, the Mammoths went on an explosive 5-0 run in just eight minutes. Sophomores Isabelle Sennett and Maia Noyes started the scoring when Noyes assisted on the first goal of the game to Sennett, scored the second and assisted Sennett again to put the Mammoths up 3-2. By the 15-minute mark of the first half, Sennett had notched herself another to complete the hat trick. At the half, the Mammoths held a 9-5 lead.
Right out of the break, Amherst scored nine unanswered goals with seven different players scoring during the run. Finally, with three minutes to go, the Camels got one goal back on the board and the game finished with a score of 18-6 in favor of Amherst. Goalkeeper Talia Land '20 finished the afternoon with four saves, and the Mammoths edged out the Camels 16-10 on draw controls.
Amherst was back in action on Saturday with an important game against the Tufts Jumbos in a matchup against NESCAC-ranked foes. The Mammoths entered the game ranked 11th in the country, while the Jumbos came into the contest ranked sixth. The Jumbos were undefeated entering the game. Tufts began the game with a 4-0 run, which was soon countered by the Mammoths with a 4-0 run of their own to deadlock the score.
The teams traded the next three goals and entered halftime 6-5 in favor of the Jumbos. The remaining half was a close one, both teams scoring five goals through the first 20 minutes. In the final 10-minute stretch, the Jumbos outplayed the Mammoths, edging them 3-2. As the clock ticked down, the scoreboard showed a score of 14-12 in favor of the Jumbos.
As Amherst enters the final stretch of its season, they look to improve on and learn from their close losses. In their four losses on the season, they have lost by only a combined six goals. The Mammoths return to action this Wednesday against Babson College in the Mental Health Awareness game, which is held annually.