Sports
Women's Lacrosse Victorious in Close-Fought Contest Against Hamilton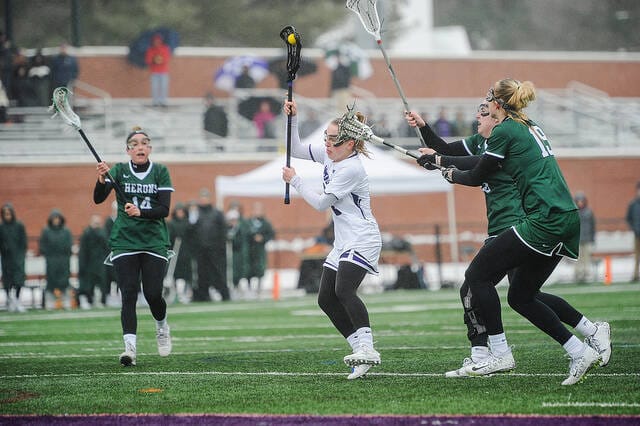 This weekend, the women's lacrosse team fought a close match against Hamilton. The day began with a brief celebration of the athletes from Harlem Lacrosse who attended a game. Harlem Lacrosse is a non-profit lacrosse program based in Harlem which provides access to top-tier coaching, tutoring and recruiting tournaments at colleges and prep schools to young people in Harlem.
The contest certainly was worth the journey from the beginning. Amherst took the lead out of the gate with a goal by attacker Claire Dunbar '21, and then proceeded to go on a four-goal run. The Continentals then scored three goals in less than four minutes, but Amherst snuck in one of their own in that window as well. Isabelle Sennett '21 scored her second of the afternoon, and Amherst finished the first half how they started it — with a four-goal run.
This included a pair of unassisted goals by Dunbar, who put on a clinic with two spectacular goals. Once she ducked underneath to the goal line, and the next time took the top side and hitting the nylon from close range.
Becky Kendall '22 scored her first collegiate goal off of an assist from Hannah Fox '20 to open the second half, and Amherst extended their lead to 12-4.
The Continentals, however were not completely finished. Against a mixture of first and second string players, Hamilton scored six goals to Amherst's one in the remaining 27 minutes of the game. Amherst, however, never allowed the scoreline to fall past a three-goal lead, and emerged victorious.
In net, Talia Land '20 made 12 saves, but Amherst cleared the ball well, and retained possession on most draws. With the win, Land moved her own personal record between the pipes to 5-1.
Also of note, Senior captain Sabrina Solow nabbed two ground balls, which gave her 100 career ground ball pickups during her collegiate career.
The win gives Amherst its second NESCAC victory. They return to action on Wednesday at 6 p.m. for a non-conference home matchup against Westfield State University.