Sports
Women's Soccer Falls to Middlebury, Routs Smith the Following Day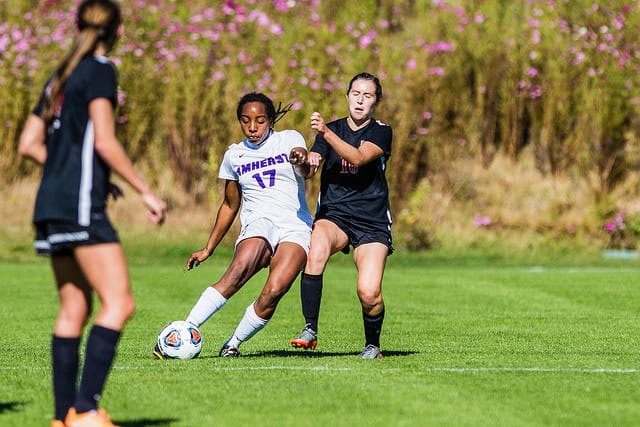 With momentum from a three-win opening weekend in its favor, the Amherst women's soccer team was riding high headed into last weekend's two contests against a tough Middlebury squad and local rivals Smith.
Ultimately, the Mammoths were unable to continue their perfect start to the season against a Panthers team that made a run to the second round of the NCAA Division III Tournament last season.
The Saturday game started off in the Mammoths' favor. Amherst scored first in the 14th minute thanks to first-year winger Alexa Juarez, who played a perfect cross to Caleigh Plaut '19, who in turn cooly finished the chance. Despite a relatively equal split in possession and total shots, Amherst conceded three goals in the remaining 76 minutes. The Mammoths twice had chances to snatch a second goal, but senior striker Rubii Tamen and sophomore midfielder Natalie Landau hit the crossbar and right pipe, respectively.
After the game, Cassie Chin '21, rued Amherst's inability to finish. "[We] could have capitalized better on [Middlebury's] mistakes because several missed opportunities ended up being the difference-maker at the end of the day," Chin said.
In any sport, a short memory is necessary for success, and the Amherst team demonstrated just that in its second game of the weekend. At kickoff on Sunday, fans filled the small bleachers as the 85-degree sun beat down. Within the first few minutes of the game, the foreheads of players and fans alike were glistening with sweat. The first half was a true battle, with Smith and Amherst tied going into the halftime break.
However, the Mammoths offense woke up in the second half, as Plaut scored her second goal of the weekend less than two minutes after the restart. After the ball ricocheted off the head of a Smith defender, Plaut found the ball with some space at the edge of the 18-yard box and powerfully launched it into the upper corner of the net. Amherst looked more cohesive as the second half went on, peppering the Smith keeper with shot after shot. This offensive barrage came to fruition in the 71st minute, when Juarez finished off an arcing cross from Sloan Askins '20.
Next up for the Mammoths is a stiff challenge at home against Williams, which enters the match as the reigning both national and NESCAC champions. This heavyweight contest between Amherst and the hated Ephs will take place on Saturday, Sept. 22 at noon.