Sports
Women's Soccer Hopes to Improve Fortunes After Disappointing Season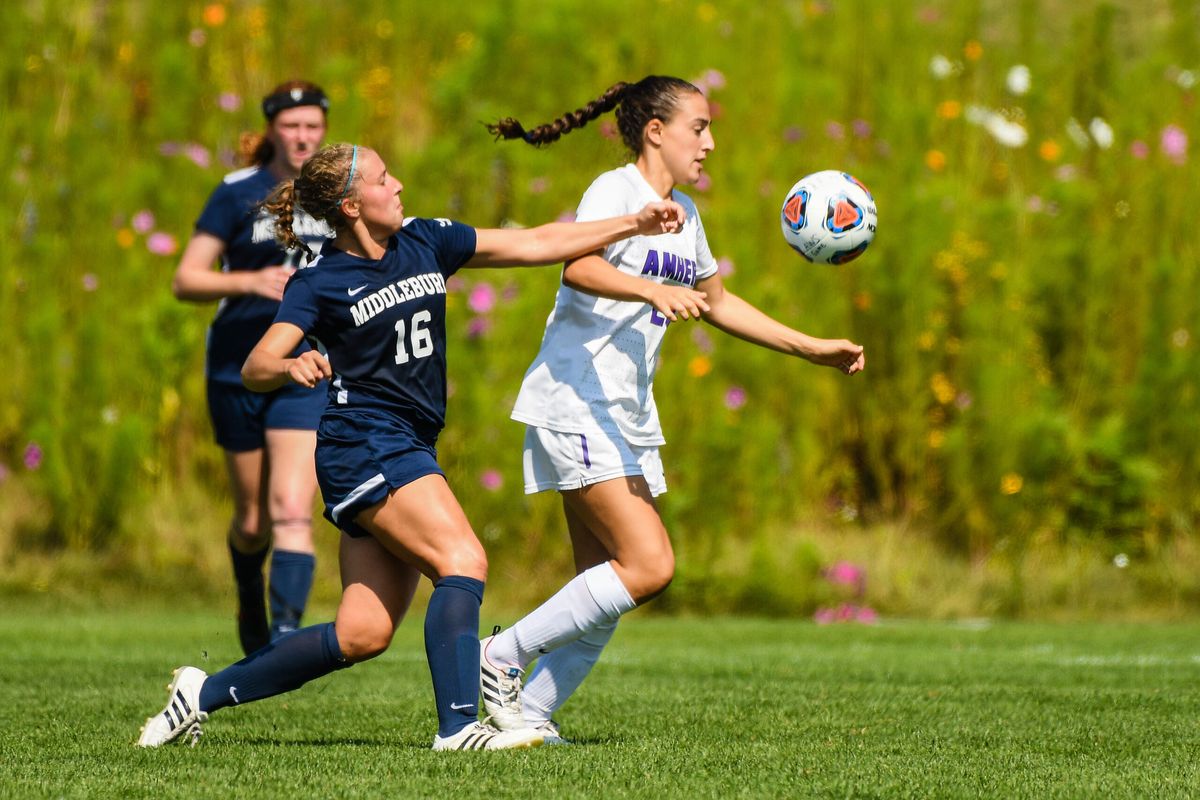 Amherst women's soccer will return to Hitchcock Field this fall in the hopes of rebounding from last year's disappointing season and returning to the highs of 2016, when the team won the NESCAC title and made a run in the NCAA tournament.
In 2017, the Mammoths finished with an overall record of 9-7-1 and a conference record of 4-5-1, closing the season with a heart-breaking 4-2 loss to Williams in the NESCAC tournament semifinals.
The Mammoths lost four seniors to graduation in 2018: Hannah Guzzi, Delancey King, Alison Neveu and Meredith Manley.
Although the loss of four veterans, three of whom were key starters, will be an obstacle, the Mammoths will welcome six new first years, as well as a sophomore transfer from St. John's University.
In addition to the newcomers, junior forward Bella Palma will also be returning to play after missing the 2017 season due to a torn ACL.
The 2018 team boasts six seniors and is led by its three senior captains, Maeve McNamara, Megan Root and Rubii Tamen. Tamen was named to the All-NESCAC First Team last year in her first season playing exclusively as a forward.
Besides this trio, the Mammoths' senior class includes Caleigh Plaut, Morgan Machiele and Eden Charles. As Amherst's 2017 starting keeper Chelsea Cutler '19 will not be returning to Amherst this fall, junior Erica Sanders, sophomore Antonia Tammarro and first-year Brooke Harrington will compete to lay claim to the starting spot.
Amherst will also experience a change in its coaching staff this year, as former assistant coach Jeannette Boudway is now the head coach at Smith College.
In her stead, Su DelGuercio will join head coach Jen Hughes on the sideline.
DelGuercio formerly played for Colby from 2007-2010 and has spent the last two years as a faculty member and coach at the Berkshire School in Sheffield, Massachuestts.
Sophomore Natalie Landau, who became a 2017 NESCAC player of the week after scoring a hat trick in just over four minutes, declared that the team is ready and excited for a competitive season.
"I know I speak for all of us when we say that we absolutely cannot wait for our season to start," Landau said. "There's nothing better than playing soccer with your best friends at home on Hitchcock.
Our team has been working incredibly hard all summer, and we are more than ready to compete for a NESCAC championship this fall," she added. Amherst kicks off its season with a home game against Mount Holyoke on Thursday, Sept. 6 at 5 p.m. on Hitchcock Field before opening conference play at Bowdoin on Saturday, Sept. 8 at noon.