Sports
Women's Soccer Steals Point From Top-Ranked Williams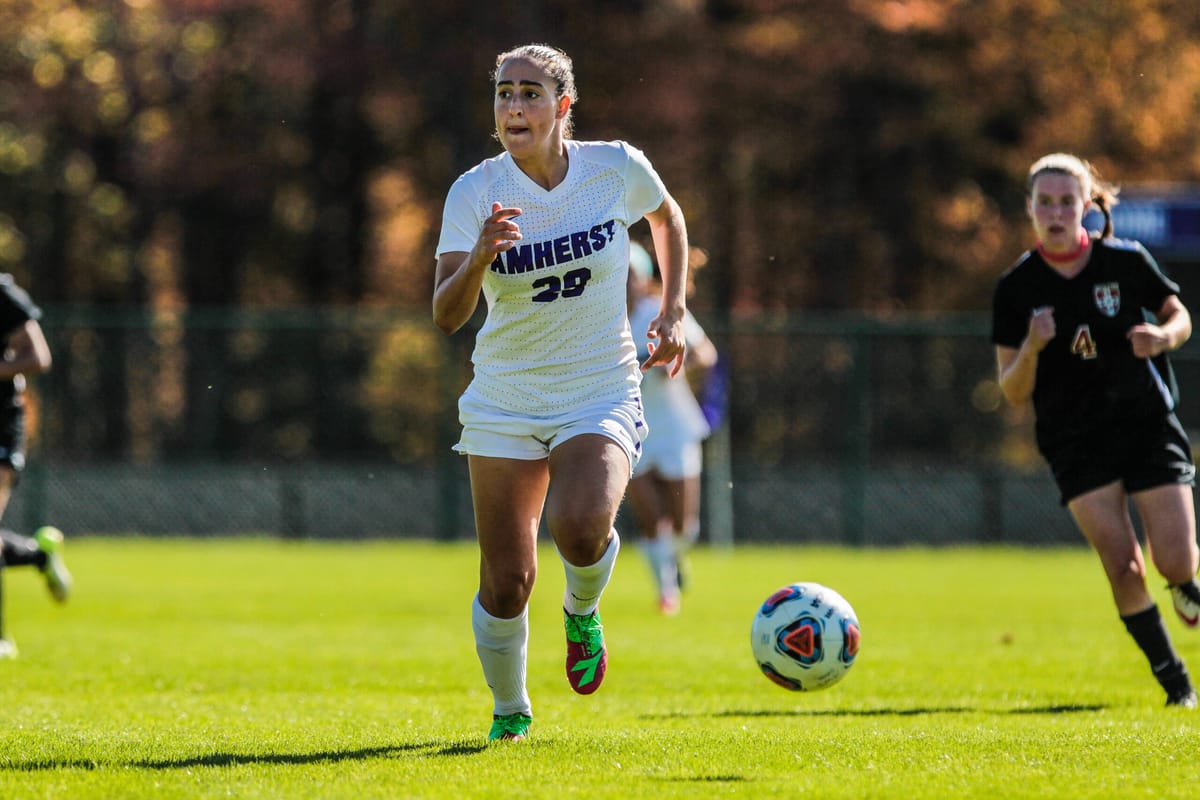 On Saturday, the women's soccer team took on arch-rival Williams in a match that doubled as Amherst's annual #PlayWithPride game.
In support of LGBTQ+ rights on the Amherst campus and in the greater community, each Amherst player walked onto the pitch with a rainbow tie around one of her socks.
Entering the game, Williams was 5-0 this season and boasted a 27-1-1 record since the start of the 2017 season, in which the Ephs had won both the NESCAC championship and the national title.
Adding to the already-palpable drama of the game, Amherst's 2017 campaign had ended after a loss to Williams in the quarterfinals of the NESCAC tournament.
In addition to the excitement of any Amherst-Williams sports game, the Mammoths' were fighting for redemption.
The match opened with two quick Amherst chances. In the fourth minute, Jordan Bailey '22 sent a header just wide of the post off of a corner kick by Natalie Landau '21.
Minutes later, Hayley Roy '20 booted a shot towards goal that forced the Williams keeper into a tough save.
The rest of the first half, and indeed the entire game, saw both teams fail to convert several scoring chances, thanks to a combination of poor finishing, solid defensive positioning and excellent goaltending.
Embodying the defensive nature of the game, Ephs' goalkeeper Olivia Barnhill finished the game with a stunning 11 saves.
When the 90th minute finally arrived, the Ephs and the Mammoths were deadlocked at 12 shots apiece and not a single goal.
As fatigue set in during the two overtime periods, the Amherst defense held strong and the offense continued assault, tallying six more shots.
Though none found the back of the net and the game finished in a tie, Amherst was still the first team in 15 games to take points from Williams, a streak that dated back to the middle of last season.
On Sunday, Amherst took on a less formidable foe in the New England College Pilgrims.
The weekend was a tale of two opposites. In 120 minutes on Saturday, the Mammoths' could not find a goal, but they managed to fire home eight goals in just 90 minutes on Sunday.
First year Alexa Juarez tallied a hat-trick in the first 49 minutes of the game, while each of Roy, Caleigh Plaut '19, Claire Nam '21 and Julia Ralph '21 found the back of the net.
The eighth Amherst goal came courtesy of an own goal off the foot of a Pilgrim defender.
At the final whistle, the stat line leaned heavily in the Mammoths' favor with 34 shots for the hosts to the Pilgrims two.
With the win and the draw, the Mammoths' record now stands at 5-1-1, and Amherst's next match is on Saturday, Sept. 29 against NESCAC rival Tufts at noon.