Sports
Women's Squash Starts Season With Loss, Rebounds With Sweeping Victory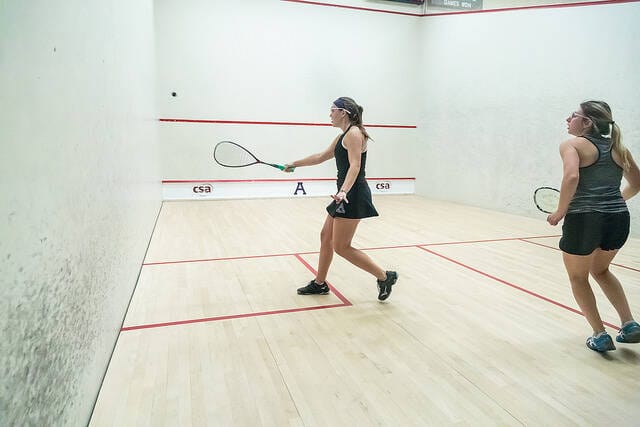 The No. 16 Amherst women's squash team opened its season last weekend, competing on Friday against No. 3 Princeton and taking on unranked Northeastern University on Saturday, with both matches being played at Amherst's Davenport Squash Courts.
On Friday, the visiting Tigers routed Amherst, 9-0, as the Mammoths managed to take only two games in the entire match.
On the first court, Rachael Ang '19 took on Gracie Doyle of Princeton, losing 11-5, 11-6, 11-2 in straight games. Caroline Conway '20 also struggled through her match on court two, losing to Princeton's Emme Leonard 11-3, 11-6, 11-3.
Riddhi Sampat '21 and Lilly Soroko '22, on the third and fourth courts, respectively, each stole a game from their Tiger counterparts. Soroko started slowly, losing the first game, but she managed to come back to win the second game 11-9. Soroko's momentum sputtered out at that point, though, and she lost the final two games 11-7 and 11-4 to lose the overall match three games to one.
Sampat lost the first two games of her contest but managed to hang on to take the third game by a close 12-10 margin. However, like Soroko, Sampat was unable to push the game to a decisive fifth set, losing 11-5 in the fourth.
On the remaining five courts, Amherst suffered straight-set defeats, and Princeton left Amherst with its perfect record intact at 4-0.
After the season-opening loss, Amherst came out with a vengeance the next day, handily routing Northeastern 9-0 to move to 1-1 on the season. Indeed, the Mammoths failed to lose a single game on the afternoon, posting nine 3-0 sweeps. Ang again played in Amherst's first spot and avenged the loss against Princeton, beating her Northeastern counterpart Isabelle Quarrier 11-3, 11-0, 11-3.
Playing in the second spot for the Mammoths, Conway took down Northeastern's Sophie Langlois 11-3, 11-1, 11-2, while the last member of Amherst's top three, Sampat, also emerged victorious. Soroko impressed for the second straight match, dominating her opponent Molly Bair, 11-3, 11-1, 11-1, to earn her first ever collegiate victory.
The bottom five members of the Amherst lineup also handily beat their Northeastern counterparts to complete the sweep.
With the split results, Amherst has finished play for the remainder of 2018 and will focus on rest and training until returning to the courts against Yale on Jan. 7.