Sports
Women's Swim and Dive Ties MIT in Rare Scoreline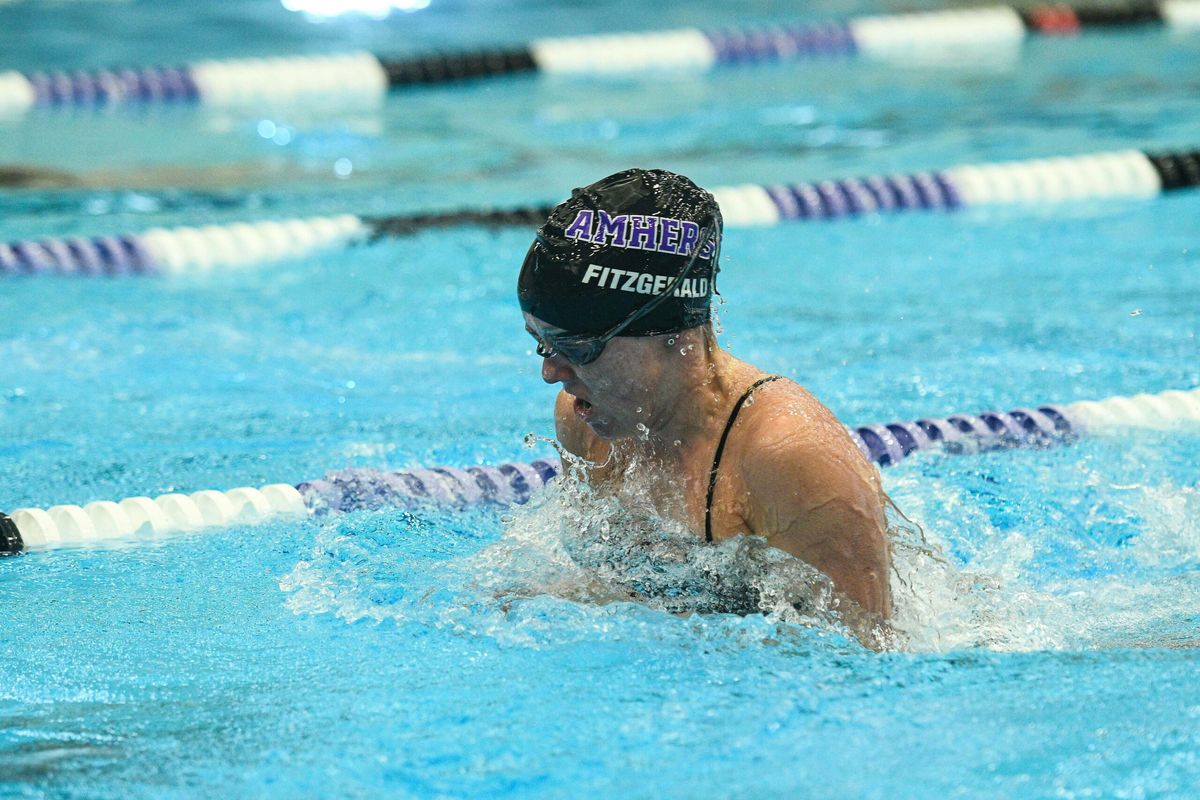 This weekend, the women's swim and dive team continued their excellent performance with a win over Springfield College and an unusual tie against well-matched MIT.
The Mammoths have made an excellent start to the campaign, only getting caught in the wake of rival Williams in a narrow 180-110 defeat on Jan. 5.
After dropping the first event, Jayne Vogelzang '19 won the 1000-yard freestyle for the Mammoths. Natalie Rumpelt '20 and Livia Domenig '19 then took first and second, respectively, in the 200-yard freestyle. Rumpelt also stole gold in a narrow win in the 200-yard freestyle.
Ingrid Shu '20 charged to victory in the 50-yard freestyle, finishing in just 24.42 seconds. Nina Fitzgerald '21 won the 100- and 200-yard breaststroke races. Senior Jackie Palermo, the lone diver for Amherst, took fourth in the one- and three-meter events. Domenig and Caroline Needell '22 took the top two spots in the 500-meter freestyle.
Going into the final event of the day, the 400-yard freestyle relay, Amherst had already accumulated 137 points, while the Engineers held a six-point lead. The quartet of Domenig, Dorit Song '19, Shu and Rumpelt, snuck ahead in the final leg to win the event and earn their team nine points with MIT's top team seconds behind them.
Amherst's second team, however, touched the wall in third, securing the team three points, enough to tie the meet, as MIT earned six points from the event as well.
The team followed this strange tie with a faceoff against Springfield College, its final of the regular season. The Mammoths dominated, winning the first 12 events.
Amherst swimmers' performances were not counted towards their total. The Mammoths swam faster on the whole in these events, but Springfield took the remaining points in what might be described as an act of mercy. Song won the 50-yard freestyle and 100-yard breastroke, Brigitte Kwong '19 took first in the 400-yard individual medley and Sophia Harrison '22 snatched first place the 100-yard breastroke.
The team will return to action in two weeks' time when they travel to Wesleyan for the NESCAC Championship Meet taking over three days, from Friday, Feb. 15 to Sunday, Feb 17.