Sports
Women's Swim & Dive Bests Middlebury in Third Dual Meet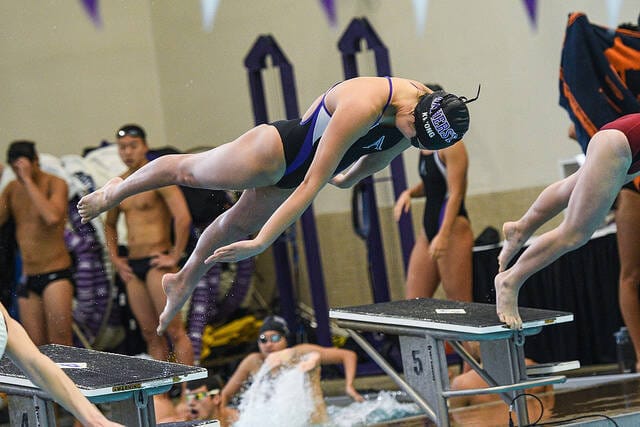 This past Saturday, the women's swim and dive team traveled to Middlebury, Vermont in an attempt to push their record to 3-0 to open the season. With wins over NESCAC foes Colby and Wesleyan over Thanksgiving break already under their belt, the Mammoths were riding high heading into the matchup. The meet began with the 200-yard medley relay, in which Amherst fielded four quartets to Middlebury's three.
Ingrid Shu '20, Natalie Rumpelt '20, Nina Fitzgerald '21 and Marie Fagan '22 led the way, earning first place. Fagan has started her collegiate career strong, as the four swimmers have not yet lost in the event this season. Last season's quartet finished 16th at the NCAA Division III National Championships, with a time that was just three seconds faster than what the Mammoths swam on Saturday.
The Mammoths would go on to win 15 out of 16 of the day's events, outscoring Middlebury 227-73, an enormous margin. Angela Riggins of Middlebury clinched the Panthers' only win of the afternoon, as she touched the wall just two seconds ahead of Julia Ruggiero '21 in the 1,000- yard freestyle race. Livia Domenig '19 took gold in the 200-yard freestyle, leading the way for a Mammoth sweep in the event, as Fagan and Dorit Song '19 finished second and third, respectively. The Mammoths also claimed the 100-yard breaststroke, as Fitzgerald, Molly Pines '19 and Katie Smith '19 took first through third, respectively. Sophia Harrison '22 took first in the 200-yard butterfly, an event the Mammoths also swept. In the one-meter diving event, Amherst continued its dominance, as the trio of Lindsey Ruderman '21, who won the NESCAC crown in the event last year, Hannah Karlin '22 and Jackie Palermo '19 handily won the event.
The team also swept the 100-yard freestyle, the 200-yard backstroke and the three-meter diving event, meaning that overall, the Mammoths swept half of all the meet's events.
The Mammoths will have time to train, complete finals and enjoy a respite from dual-meet action, as they are off until the new year, at which point they'll return to the pool to take on archrival Williams on Jan. 5.