Sports
Women's Swim & Dive Trounces Colby and Wesleyan to Open Season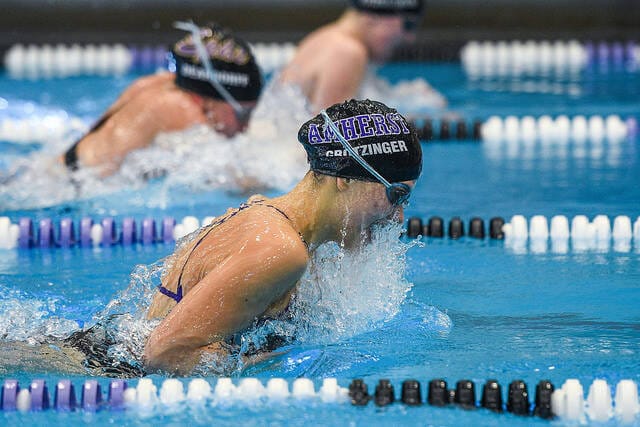 The women's swim and dive team started its season off with two dual meet victories over Thanksgiving break. In the first matchup on Saturday, Nov. 17, the Mammoths hosted the Colby Mules at Pratt Pool.
The Mammoths picked right up where they left off after last season's second-place finish at the NESCAC Championships, easily navigating past Colby, earning 168 points to the Mules' 123.
Notably, junior Natalie Rumpelt picked up the win in the 200-yard backstroke for Amherst and was part of the winning 200-yard medley relay team alongside teammates Marie Fagan '22, Molly Pines '19 and Julia Merrill '22 with a time of 1:50.8.
In the 100-yard breaststroke, Nina Fitzgerald '21, Nawoo Kim '22 and Meg Parker '20 swept the podium, taking first, second and third, respectively.
Senior Livia Domenig won the 200-yard freestyle, Fagan placed first in the 200-yard butterfly and junior Ingrid Shu triumphed in the 100-yard freestyle.
In the one-meter diving event, the trio of Lindsey Ruderman '21, Jackie Palermo '19 and Hannah Karlin '22 triumphed over their Colby opposition, taking first, second and third in the event. In the three-meter dive, however, all the Mammoths' faulted on their dives, resulting in a victory for the Mules by default.
Following this dominant victory, Amherst then traveled to face the Wesleyan just two days later on Monday, Nov. 19.
Senior Bridgette Kwong earned first place in the 400-yard individual medley, while junior Heather Grotzinger finished just 10 seconds behind her in second.
Shu finished ahead of the rest of her opponents in the 50-yard backstroke, and Fitzgerald won the 50-yard breaststroke.
The divers repeated their exact results from the previous meet, sweeping the one-meter dive, and falling flat in the three-meter dive.
The team's effort was enough to secure a win over the Cardinals by a similar margin to its previous meet, with the final score sitting at 165-120 in favor of Amherst.
The Mammoths will travel to Middlebury, Vermont, for their next contest to face off against Middlebury in another NESCAC dual meet, on Saturday, Dec. 1 at 1 p.m.