Sports
Women's Track and Field Dominates Weekend Meet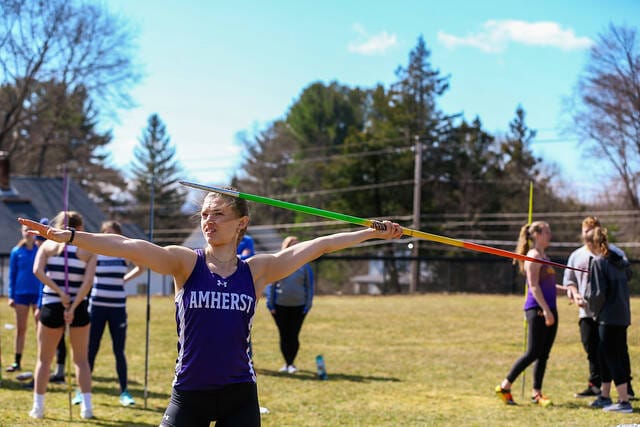 Last weekend, Ella Rossa '21, already a noted hurdler, made a startling breakthrough debut in the heptathlon. This seven-contest event, which includes feats of strength like shot put and javelin, distance races, sprints and hurdles, tests all-around athletic ability. Rossa, along with her teammate Annelise Romero '22, traveled to Kutztown University in Pennsylvania to compete in the Mondschein Multi-Event Invitational.
The event began with Rossa's speciality, the 100-meter hurdles. In her element, Rosa finished more than a full second ahead of her closest competition. This gave her a cushion in unfamiliar events. The huge margin of victory gave her more points toward her total. Rossa, however, was not fazed by competing in these new events, as evidenced by victories in the 200-meter dash and the long jump, and a fifth-place finish in the 800 meters.
Her teammate, Romero, on the other hand, finished first in the 800-meter race, second in the javelin, and third in the shot put. Rossa had already secured victory before the final event, the shot put, and consequently did not compete.
The gold for Rossa, and bronze for Romero, not only made the long journey worth it, but also demonstrated the potential success Amherst could find in the heptathlon going forward.
This is the first time the Mammoths have competed in the Mondschein Multi, with Amherst winning both the men's decathlon and women's heptathlon. Such success, particularly in the hands of underclassmen talent like Romero and Rossa who have plenty of time ahead in their collegiate careers, perhaps indicates an area of potential future dominance for the Mammoths.
In addition to the Mondschein, Amherst sent its main contingent of athletes to the Silfen Invitational at Connecticut College, where the team finished in 12th place. Notably for the Mammoths, Dana Frishman '21 finished third in the long jump, posting a leap of 5.29 meters, just a decimeter behind the winner. Christina Scartelli '19 finished second in the 1,500-meter run, just moments behind her Middlebury opponent. Senior Julia Asin '19 finished sixth in the 400-meter race with a time of just over a minute, earning her team three points. Jenny Mazzella '20 finished 10th in the 800-meter race. Next week, the Mammoths travel to the Sunshine Classic at Tufts on Saturday, April 20.