Sports
Women's Track & Field Hosts Fifth-Annual Spring Fling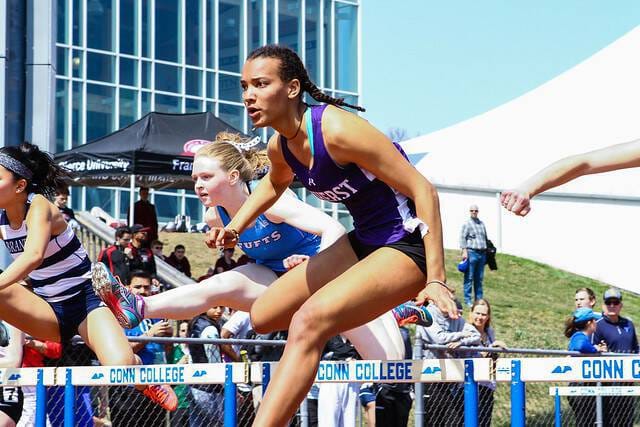 This past weekend, the women's track and field team began its spring season by hosting the fifth annual Spring Fling. Seven teams competed, including NESCAC foes Williams and Middlebury. The team hoped to build on their indoor performances as they moved into the spring season. "The [DIII] New England Championships epitomized how versatile our team has become with Mammoths scoring in the jumps, relays, sprints and middle-distance events, [in addition to] breaking personal and school records in a variety of other events," coach Danny Feldman said. "The contributions and growth exceeded expectations this season and we feel that the team can perform even better at conferences [NESCACs] in April."
With NESCAC Championships in mind, the team began the meet on a strong note. Samantha Tichelaar '22 and Rubii Tamen '19 finished second and third respectively in the 200-meter dash. Amherst then swept the top four spots in the next event. Juanita Jaramillo '22 won the 400 meters, closely followed by Sofia Friedman '21, Julia Asin '19 and Isabelle Lobo '22. That event alone garnered 19 points toward Amherst's team score. Distance specialists Christina Scartelli '19 and Sarah Gayer '21 took gold and silver in the 1,500-meter race, respectively.
Scartelli is on a hot streak after the NCAA DIII Indoor Track and Field Championships on March 8 and 9, where she competed in the 3,000-meter race. On the Friday of Nationals, she logged a time of 9:54.03 in the preliminaries, placing third and earning a spot in the finals. The following day, Scartelli set a massive personal best of 9:47.65, placing fourth overall and earning All-American honors.
The other Indoor National Championship qualifier, Ella Rossa '21 did not compete in the hurdles at the Amherst Spring Fling, instead practicing javelin and shot put for her first collegiate pentathlon next weekend. First years Analise Romero and Yaa Obeng placed fourth and fifth in the shot put.
Lauren Lamb '21, however, did hurdle for the Mammoths, placing fourth in the 100-meter hurdles. Lamb then continued her success by winning the triple jump, setting a new personal best of 10.89 meters and qualifying for the DIII Regional Championships. Seniors Emily Flaherty and Yrenly Yuan followed closely behind, taking third and fourth in the event, and Dana Frishman '21 leapt to fourth in the long jump, flying 5.25 meters.
Next week, the Mammoths will be splitting up. The multi-eventers will be traveling to Pennylsania to compete in the heptathlon or pentathlon, while the rest of the team travels to the Silfen Invitational at Connecticut College. Distance runners who qualified for the elite distance events will compete Friday night at Conn College, with the remainder of the team joining the following morning.