Sports
Women's XC Takes 8th, Men's XC Qualifies for Nationals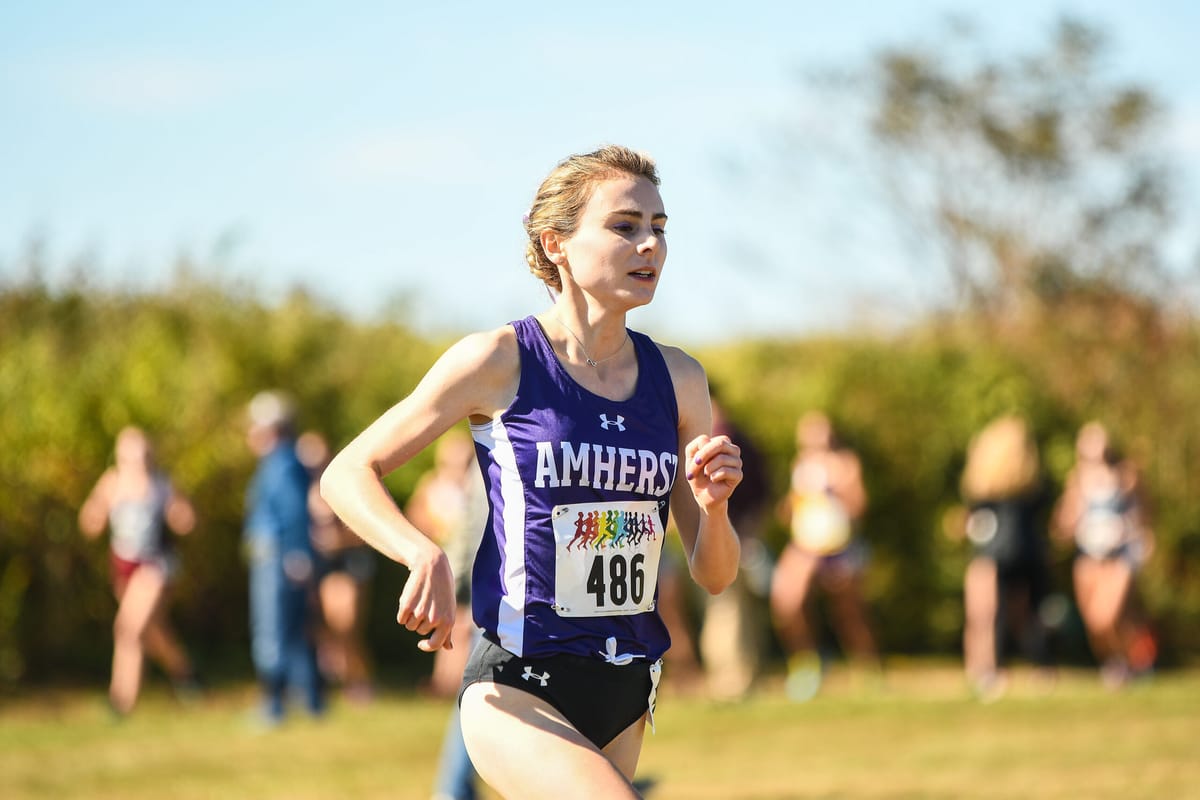 The Amherst men and women's cross country teams went to the New England Championships hosted by Bowdoin College at Pickard Fields this past Saturday, Nov. 16. The men came out in a fourth place finish out of 54 teams. The women earned an eighth place finish out of 54 teams, improving on their 13th place finish from 2018.
On the women's side, Sophia Wilmer '23 crossed the finish line in 22:09.9 for the 6k, breaking her previous personal record by 18 seconds to get 23rd overall, earning All-Region honors. Sarah Gayer '21 also earned All-Region with a finish of 22:16.7 to place 26th. Her previous best at Regionals was in 2017 when she came in 97th.
Other notable finishes include Olivia Polishcheck '21, who placed 42nd with a time of 22:38.5, Jenny Mazzella '20 who finished with a six-second personal best of 23:13.2 to come in 89th and Isabella Landry '23,= who ran her best race of the season with a time of 23.15.2, coming in 91st. Rounding out the Amherst harriers, Kristen Ratliff '20 finished in 96th with a time of 23:22.2 and Mary Kate McGranahan '23 came in 107th with a time of 23:39.1.
On the men's side, there were a total of 384 runners in the 8k race, and seven of the Mammoths placed in the top 50.
Three were also in the top 35 and as a result, earned All-Region honors. This included Spencer Ferguson-Dryden '20 who placed 11th with a time of 25:10.6, Billy Massey '21 in 21st with a time of 25:30.6 and Braxton Schult '21 in 24th with a time of 25:33.7. This was the first Regionals appearance for both Massey and Schult, and both ran strong races.
To round out the rest of the Mammoths, Keon Mazdisnian '23 crossed the finish line in 25:55.3 to place 39th, Jamie Mazzola '21 finished in 42nd with a time of 25:58.8, Ajay Sarathy '21 placed 45th with a time of 26:01.5 and Owen Daily '22 rounded out the Amherst runners in 46th with a time of 26:03.4.
With a fourth place finish, the men's team was able to qualify for NCAA DIII Nationals. The team will travel down to Tom Sawyer State Park in Louisville, Kentucky to compete in the event on Saturday, Nov. 23.