News
Writer Min Jin Lee to Teach at College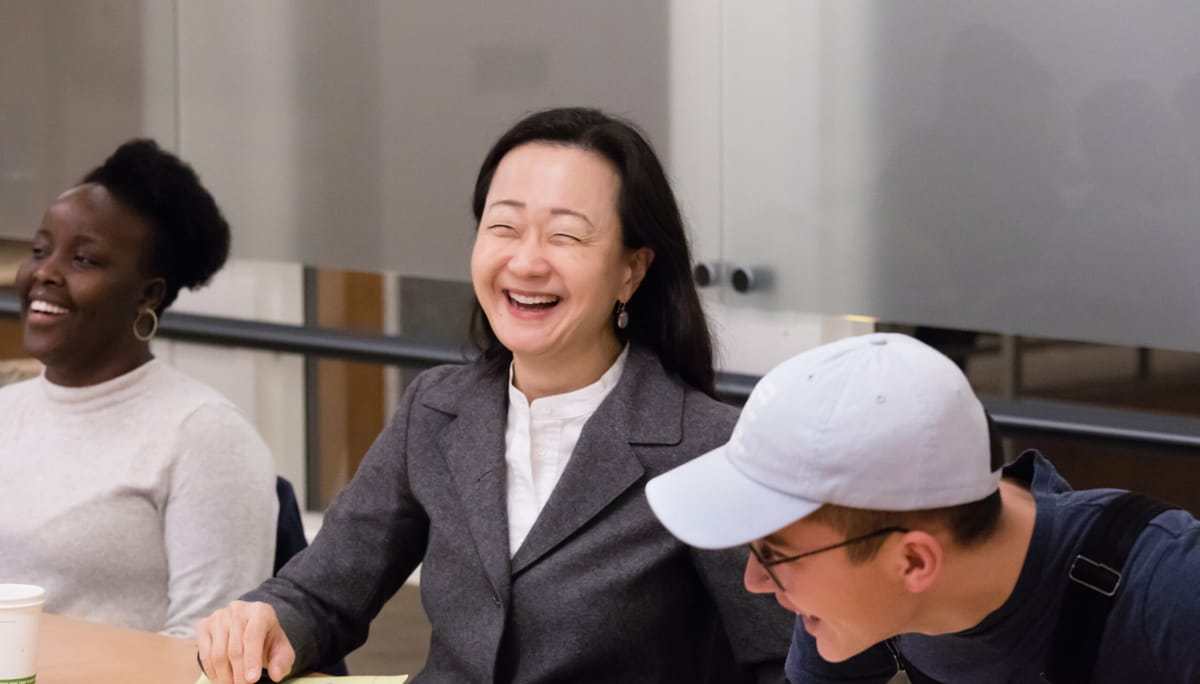 Renowned author and National Book Award finalist Min Jin Lee will join the college as a writer-in-residence starting in the 2019-2020 academic year. Her three-year appointment to the English department comes after her appearance at the college's LitFest in March 2018.
Lee has published a variety of short stories, novels and non-fiction and has received numerous accolades for her writing, including the New York Foundation for the Arts Fellowship for Fiction, the Peden Prize from The Missouri Review for Best Story and The Narrative Prize for New and Emerging Writer. Her most recent novel, "Pachinko," which chronicles the migration of a Korean family across generations, was a finalist for the 2017 National Book Award for fiction and a runner-up in the 2018 Dayton Literary Peace Prize in Fiction.
Lee immigrated to the U.S. from South Korea when she was seven years old. As an undergraduate, she studied history at Yale and later pursued a law degree at Georgetown University Law Center. She worked as a lawyer before becoming a writer and has lectured at a range of academic institutions around the world.
English Professor Anston Bosman, the current chair of the department, said the department is thrilled "to welcome a writer of her stature, in particular an Asian-American writer of global heritage and experience."
"Both our faculty and our students have much to learn from her, and we feel honored to host her residency," he added in an email interview.
As writer-in-residence, Lee will teach two courses per year and advise up to two thesis students each year. She intends to teach fiction and creative non-fiction with a "focus on self-awareness."
"I was a history major when I was an undergraduate, and I had no intention of becoming a novelist; however, I loved the few writing classes I took for fun, and I think feeling uninhibited yet becoming more skilled as a young writer was significant to my personal maturation, not just as a professional writer, but even when I practiced law and for all of my personal correspondence," she said in an email interview. "Being a strong writer has always been very important to me, and I hope to share this value … Above all, I would like to create a welcoming space for non-writers and advanced writers to take greater risks in their written expression."
She hopes to help students "fall in love with the generative process," she said. "Each draft teaches us more about what we want to say, and I would be happy if my students learned to see that in their work — that with their efforts, they are approaching who they are, what they want to say, and what they care about."
Lee said she was struck by the college's "vibrant literary community" when she visited for LitFest. According to President Biddy Martin, Lee expressed interest in returning to Amherst after the event, which eventually developed into conversations about a longer-term appointment. Students who spent time with Lee also voiced that she would make a great teacher, Martin said.
"She's a fabulous writer, her workshop was so great, her presentation was so funny and smart and alive," said English Professor Karen Sanchez-Eppler, who was the previous department chair and helped secure Lee's appointment. The administration also hoped her presence would strengthen the Asian-American literary curriculum at the college, Sanchez-Eppler added.
"It was her excitement about being here and the administration's recognition of it as an opportunity," Sanchez-Eppler said. "Their sort of creativeness and interest in both energizing the humanities [and] building a stronger Asian-American curriculum at the college — all those things sort of just came together and it worked."
Samantha Schriger '20 attended Lee's LitFest master class, "Interviewing for Fiction Writing," and found her to be "so likable and effortlessly cool."
Lee spent the hour interviewing students through casual conversation and demonstrating how she might build a character out of their answers. "After interviewing everyone, she would say, 'I really liked the raspy quality of your voice, and I liked the way you were playing with your hair,' and then she would create a character that had those traits," Schriger said. "That's her way of making characters come alive."
Alumnus Spencer Quong '18 also attended Lee's master class and said her teaching "helped me shift the way I thought about fiction."
"Even though you know fiction is built through research and hard work, there's still the stereotype that it comes through some sort of creative, nebulous place, but … she was all about making it grounded in detail and things that you observe from life or ask people about their lives," he said.
This year, Lee received fellowships from the Guggenheim Foundation and the Radcliffe Institute of Advanced Studies at Harvard. She is currently working on her third novel, "American Hagwon," which she said "explores the value of education for Koreans around the world."
"I'm looking forward to sharing my love for and commitment to creative expression and learning more about my new community," Lee added. "It wouldn't hurt to have dumplings at Lili's Restaurant regularly."
Correction: An earlier version of this article incorrectly spelled the name of Anston Bosman as Anton Bosman. This article was updated at 2:33 p.m. on Sept. 27.