News
$240 Million Science Center Opens Sept. 4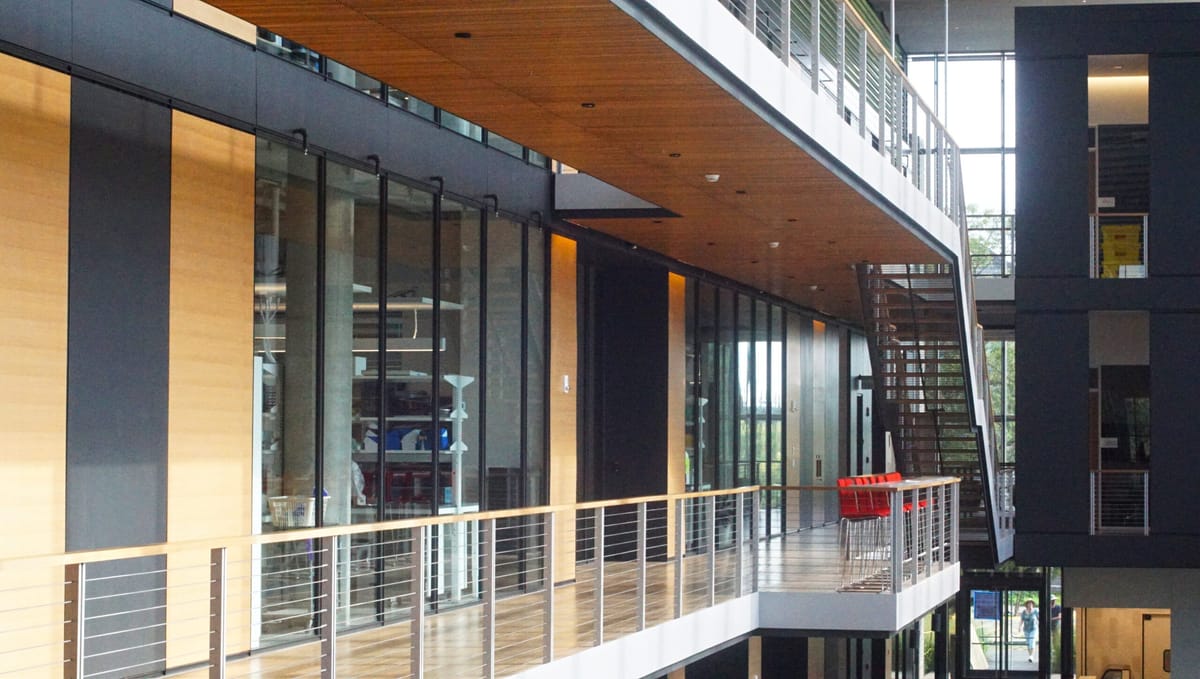 After years of planning, construction and moving, the new Science Center will open on Sept. 4 as students begin their fall classes, with an opening celebration on Sept. 7.
Plans for constructing a new science center came after the facilities department and science faculty evaluated Merrill and McGuire in the mid-2000s and "determined that the facilities had deficits in terms of an obsolete utility infrastructure and inefficient physical layouts that posed challenges to conducting advanced science teaching and research," Chief of Campus Operations Jim Brassord said in an email interview.
The new Science Center, which cost $240 million, will be home to the biology, biochemistry and biophysics, chemistry, computer science, physics and astronomy, neuroscience and psychology departments, all of which were previously based in either Merrill, McGuire or Seeley Mudd.
In addition to the 68 new teaching and research labs, there will also be a new science library, a cafe and a variety of study spaces for science and non-science students, among other features.
Administrative Director of the Science Center Jess Martin highlighted the openness of the new space compared to, as she described it, the "labyrinth" quality of Merrill.
"The new Science Center is very open," Martin said. "You can see from north to south, top to bottom, from so many points in the building that navigating is actually right there in front of you."
The Science Center was designed by Payette, the same architecture firm that designed the Beneski Earth Sciences building. The new building is meant to be a flexible space that can support the science departments in the long term, while also providing spaces for non-science students, according to Brassord.
"While the building was designed with buffer space to accommodate an evolving science program, it also allows for long-term expansion should the program exceed the Science Center's capacity," he said. "Our plan as we open the facility is to have it become a hub not only of scientific learning and research, but also for social activity and intellectual engagement for all students — science and non-science alike."
Both student and faculty feedback was gathered throughout the planning and construction process. Starting over the 2018 interterm, students who were part of a design thinking challenge began meeting with Martin and Science Librarian Kristen Greenland to figure out ways for the Science Center to be accessible and useful to all Amherst students. Faculty members were given the chance to help design the laboratories so that they fit their needs, Brassord said.
Kevin Zhangxu '20 was one of the students who participated in the Design Thinking Challenge, which helped shape the appearance of the informal study areas of the building in an effort to make the Science Center accessible to all students, no matter their disciplines.
"Hopefully, the new Science Center becomes a hub for students to both study intensively as well as to relax with their friends," Zhangxu said.
"For example, many of the study spaces scattered throughout the new Science Center are collaborative learning spaces, while the cafe on the first floor, which may or may not serve sushi, is a great place to catch up with friends, staff and faculty," Zhangxu added.
One of the main goals of the Science Center is to provide a space where collaboration, both in and out of the classroom, can happen more naturally than in Merrill.
"The design of Merrill and McGuire doesn't actually create intersections where you're able to meet, whereas this new building does," Martin said. "Just having been in there the last couple of weeks, it's very hard to get out of the building without someone noticing you. I think it creates more community."
The new Science Center will also be more sustainable and environmentally friendly than Merrill and McGuire. The building already has a rainwater reclamation system and an energy-efficient heating and cooling system, and Martin is working to implement other eco-friendly projects in the future.
Martin worked with Director of Sustainability Laura Draucker to replace old fridges and freezers used in the biology department with new, more energy-efficient devices that will use less electricity per year. As for Merrill and McGuire, for now they will be shut down and remained unused until the college decides to move forward with a project.
"We know that any future use of the existing buildings will require transformative and expensive renovations," Brassord said. "Of course, moving forward with the design and construction of any project will be dependent upon securing the necessary capital funding."