News
A "Busybody" With a Critical Eye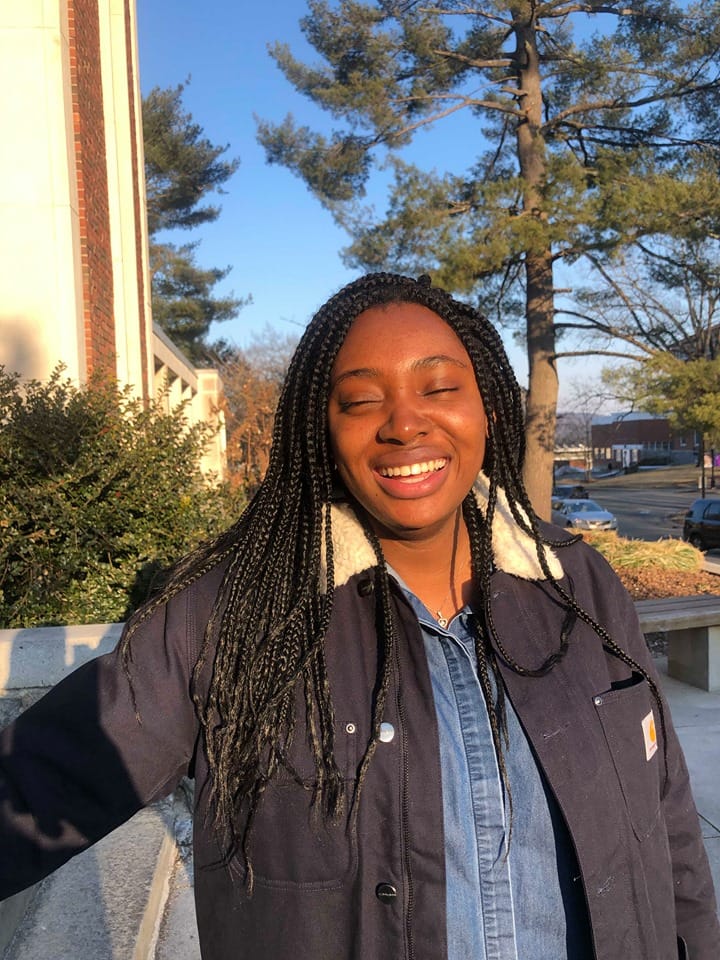 You know exactly where you stand with Renai Foster — her eyes betray her. Her side-eye glare can freeze you to the core, but despite her deadpan expression, they betray her humor. Foster's eyes serve as a way to understand her earnest relationship to the community. It's clear to everyone who interacts with her that she is a crucial member of any group because of her earnest sensibility. But the most crucial component to understanding Foster is her dedication to Amherst.
I took "Qualitative Research Methods" in black studies last fall with Renai. We worked in a group for the semester — everything from quizzes to projects was done in collaboration.
You can learn a lot about someone by sitting next to them. Foster, for example, values the aesthetics of her notes. Her flowery script stripes the page in a pastel rainbow of mints, lavenders and rusts. Our group name was "purple rain." Foster embossed the cover of our group folder with lilac drops. She slowly pushes away from her desk when she speaks in class discussions, not in retreat, but rather in a gesture of opening herself up. When reading, she purses her lips and her eyebrows raise every once in a while.
Foster was the elder statesman of our group. When we needed organization, she was there. She provided blunt, but constructive feedback. She waded through murky concepts of theory with ease. Despite the million and one things going on in her life, she appeared singularly focused in the classroom on the tasks at hand. That's what initially impressed me about her.
As we worked closely together, doing participant observations and interviews, I was stunned by her eye for detail. We would sit in UMass' Hampshire Dining Hall, watch the room for 20 minutes and write what we saw. While I spent a lot of time looking at the people coming and going, Foster almost exclusively studied the people sitting alone, of which there were several. Her descriptions were jottings — just a word or phrase here and there. But the words she chose to pick out of the room — fuschia caftan, downcast eyebrows, chewed pencil-end — betrayed not only her keen eye, but also her ability to pluck the words out of the live scene before us.
To begin to understand Foster, you must first see her in one of her many elements: the classroom, Frost Cafe or the Association of Amherst Students (AAS) senate room. There, you'll see immediately the thoughtful way in which she goes about interacting with the world. She engages fully in the moment, and her biting wit brings wry smiles. She stands confidently behind her experiences, but is unafraid to challenge the world around her.
Making Her Mark in Black Studies Foster is, first and foremost, a scholar. She came to Amherst from Queens, New York City wanting to be a criminal psychologist. She liked the concept of getting inside people's heads and grappling with how their perspectives differ from her own.
In her first year, however, she took a class with Professor of Black Studies John Drabinski. It opened her up to an academic perspective with which she had not previously engaged. The subsequent unfolding of her career path led her in a direction she did not expect, but nevertheless thoroughly enjoys.
Although it was not in her plans upon her arrival at Amherst, Foster combined her interest in psychology and her discovered passion in black studies to write a thesis in black studies exploring "black women's conceptions of self-care and mental health." She said her work "shows that it's a complicated experience. Mental health complicates how black women navigate different worlds. It's a push to have both psych and black studies treat the factor of mental health as an important complicating factor."
Her thesis advisor, Professor of Black Studies Dominque Hill explained Foster's approach succinctly. "She wanted to expand how academic scholarship saw black women and their relationship to healthcare. She traced the contributions black women put forth by actually talking to them as opposed to looking at them," said Hill. "She was building a sense of community around the topic. While she tried to garner information to then showcase insights, what she was doing was creating a space that people really needed."
"There will be an iterative unfolding of what she did with those women [she worked with] even after her project is submitted," Hill added.
Hill also praised Foster's expert synthesis of theory. "She was, at the same time, creating a story about the relationship that could reside between black feminist thought and black studies. She really narrated how we can see black women's contribution to black studies as an intergenerational contribution by weaving together different generations of black feminist theory to then speak back to issues of blackness and health," Hill said. "I don't know if she saw herself doing that, but I saw her making that contribution."
Foster's work will echo not only in its impact on the field of black studies, but also in the focus group of black women she she conducted to explore her ideas. Foster, however, remains nonchalant about such well-executed and highly-regarded work. "I feel weird that it's over" is all she could muster when I asked about the effects it will have.
Always Doing Something Her work over the last four years, it seems, has driven Foster to new depths. Doing the work seems encoded in who she is. "I'm a busybody. I always am doing something," she said. And she isn't wrong.
Foster is heavily involved in academics, even outside her class and thesis work. She works as a research assistant — for Professor of Psychology Julia McQuade's lab and for Drabinski — and is a teaching assistant for Hill.
Taking on a plethora of roles outside of her coursework, Foster works at both Schwemm's and Frost Cafe, along with serving as the Association of Amherst Students secretary, where she has taken on the coveted title of "gatekeeper of the vans." Photo courtesy of Renai Foster '19.
She's also a familiar face to many students compelled to eat when Valentine Dining Hall is closed, working behind the counter at both Frost Cafe and at Schwemm's. She, at least for me, is a serene presence behind the counter. Upon your arrival, desperate for the late-night coffee fix, she will look up from her reading and smile.
She pointed out that "people are mean when they're hungry," but Schwemm's has "too many stories," from thwarting thieves to hilarious, inebriated customers in search of nachos or a West Coast sandwich. Working behind these counters was gratifying nonetheless. She loves the staff she worked with, and her coworkers underline her dedication and camaraderie she brings to her work.
On top of all these responsibilities, Foster runs the show in student government. As AAS secretary, she takes votes, keeps minutes and marshalls senators in line with the AAS Constitution. She also holds the prized keys to the AAS van fleet, coordinating student requests, police and liability. "People know me as the gatekeeper of the vans," she said.
Despite dealing with a constant influx of emails and expectations of organizing the entire institution of student government, Foster remains unfazed. "It's just something I do," she claims. Her statement only demonstrates the dedication and organization she takes for granted about herself.
A Blossoming Educator After graduation, Foster will return home to New York. There, working with master teachers in a neighborhood charter school in Brooklyn, Foster will teach high school English as a teaching fellow within the Ascend Charter School Network.
At the same time, she will be working towards her master's degree in education, a continuation of the long line of degrees she hopes to accumulate on her way to becoming a professor.
Working with Ascend, she will not only invigorate her students with her tenacity, psychological motivation, wit and commitment to the work she does, but she will also enter the field as a scholar of her students, approaching them like the complex individuals she researched in her own work. Geographically, she will be teaching in Brownsville, the epicenter of the community control schools movement of 1968.
In some way, she will be merely "grilling ninth graders on their trash writing," but one can also place her in the genealogy of those committed to their education and the growth of their own communities. The fellowship will span two years, after which she intends to keep learning, teaching and growing.
Understanding Foster's impact on Amherst will reverberate even after her departure. From her thesis work to her impact on Frost Cafe, Foster's drive pushed many forward, and will continue to do so long after she leaves.