News
A Champion for First-Generation Students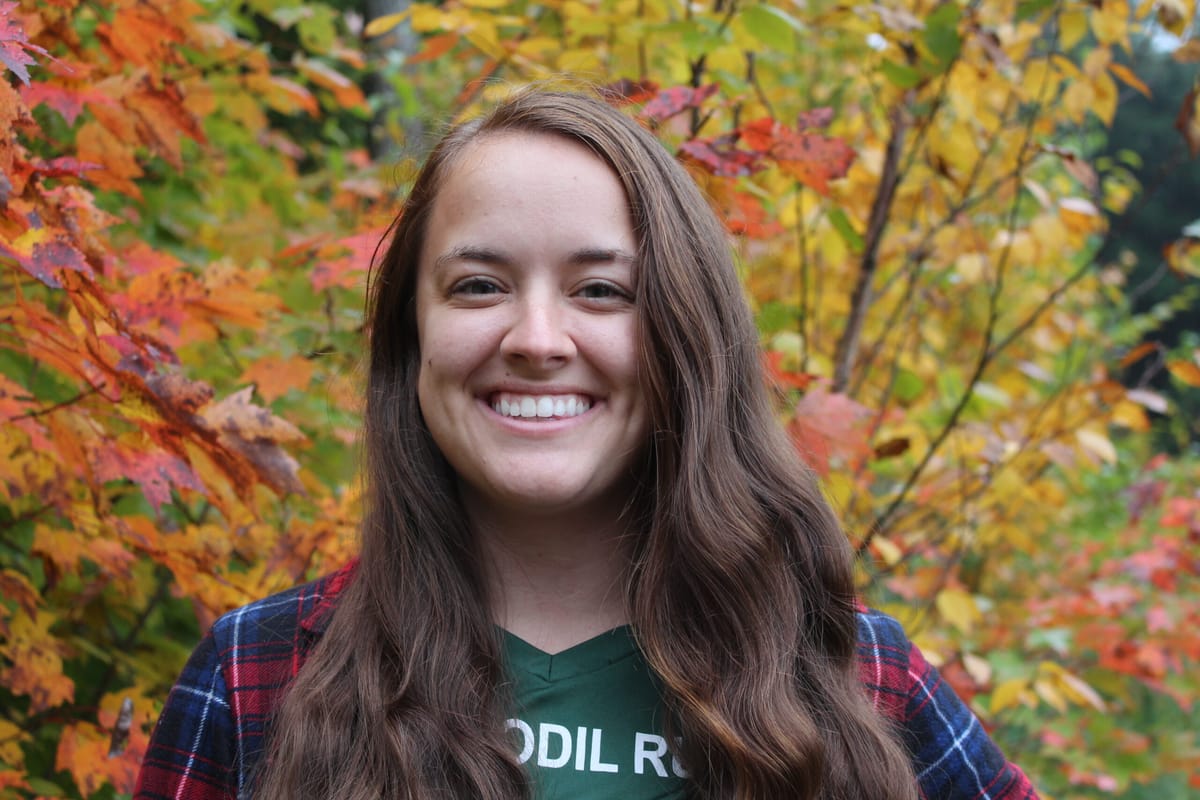 I first met Alyssa Snyder when I was a high school senior. At the time, she was a diversity intern for Diversity Open House (DIVOH), a fly-out program hosted by the Office of Admission that brings high school seniors from underrepresented backgrounds to Amherst. Though our interactions were brief, her charisma and passion for equity were palpable.
We crossed paths again two years later when we both took on executive board positions in Amherst's chapter of QuestBridge, an organization that connects high-achieving low-income students to elite colleges. Working together illuminated what had already been evident when I first met her: on top of being a diversity intern, an advocate for first-generation and low-income students and a dedicated thesis writer, Snyder is first and foremost compassionate.
Anna Dalton '19, who Snyder has been friends with since they lived on the same floor as first years, echoed the sentiment.
"I think that my favorite thing about Alyssa is what an advocate she is at heart for herself and to her friends and also people that she doesn't know," she said. "I think she just cares so much about her friends and her family and the community at Amherst, and she really expresses that through her actions."
From Utah to Amherst Hailing from North Ogden, Utah, Snyder remembers growing up surrounded by lots of family members and occasionally visiting her grandma in Salt Lake City. For much of her high school career, Snyder never imagined leaving Utah to go as far as Amherst. The culture, she said, created expectations that "people stay in Utah for college."
"For two years, I was the only student that I know of at Amherst from Utah," she said.
After checking off a box on the ACT to receive materials from colleges, a flood of new opportunities — outside of Utah — came pouring in. She recalled getting letters upon letters from scam scholarship services requesting money before finally finding a letter from QuestBridge in the mail.
At first, Snyder was skeptical of QuestBridge's promises of attending a prestigious school out-of-state for free. "I thought there was no way that going out of state would be less expensive than going in state," she said. "I thought [QuestBridge] was a scam, like they're trying to steal poor kids' money."
A quick internet search proved that QuestBridge was a legitimate organization, so Snyder applied to the program and was accepted to Amherst through it. The summer before her first year, Snyder connected with QuestBridge scholars attending other QuestBridge partner schools through a Facebook group, which she said informed many of her expectations of what Amherst would be like.
"I had a very superficial, happy vision of college. My only experience with other college-going students was through QuestBridge because I utilized the Facebook group. And so my interactions with other college students were other low-income students," she said. "I had this perception that everyone at Amherst would be like the people that I met through QuestBridge, which unfortunately was not [the case] at all. I didn't realize all of the baggage that would come with being a low-income student."
Her coursework in her first semester — particularly "Introduction to Black Studies" — was especially formative in helping her understand power structures and elitism. While it was an important class for her, intellectually grappling with those ideas proved difficult.
"As I learned more about how my identity as a low-income student impacts me, I learned a lot more about how there [are] systems of power that are meant to keep down people like me and my family. And so that was kind of something I had to come to terms with," she said.
Coming Full Circle as Diversity Intern At the end of her first year, Snyder began working in the admissions office as a diversity intern, where she helped organize DIVOH programming and admitted students weekend. Having attended admitted students weekend as a high school senior, Snyder found it "cool to come full circle."
Though Snyder imagined this "full circle" starting as a high school senior, her mother Shelley Snyder noted that this passion for diversity started at an early age. She described a moment when four-year-old Alyssa built a snowman and corrected everyone around her for not calling her creation a snow woman.
"It was like, where did she get these things at four years old?" Shelley Snyder said. "I know I guided her in some things, but some things started when she was just little. One of the things I've seen her grow in is her love of diversity and her love of people of all different types."
Alyssa Snyder also considers her role as diversity intern "an integral part of my college experience." As an underclassman, she got to hear about the experiences of senior diversity interns on what it was like to be a first-generation, low-income student at Amherst.
That camaraderie Snyder found as a first-year diversity intern lasts to this day. At the team's weekly dinner meetings, they would order food from town and eat it family style, which reminded her of home in some ways.
"[Diversity intern dinners] kind of reminds me of my family parties, where we all just sit around and everyone's loud talking together, eating good food. I think that that has definitely been very impactful to have that kind of community. I know if I'm like, 'Oh my gosh, this thing happened,' I could go and talk to them," she said.
Through her thesis exploring first-generation students' relationships with their family, Snyder began reflecting on her own experiences as a first-generation student. Photo courtesy of Alyssa Snyder '19.
Her interactions with prospective students is another gratifying part of her job as diversity intern. Especially with the DIVOH program, which is aimed at students of color, first-generation and low-income students, Snyder expressed how much she enjoyed talking to students with similar backgrounds.
"It's so fun to meet the prospective students that were in the same shoes as me. Some of them come knowing a lot about colleges already because … they're in these other programs that are helping them get to college, and then some people arrive and they're the same as me — like, 'Oh, I just applied for this thing because someone told me about it but I didn't even know where Amherst was,'" she said. "I'm like, 'Wow, I see myself in you' and I'm able to tell them what I didn't know. And so kind of being the person for them that I didn't have — that has been a really cool experience to pass on what I've learned here."
The diversity intern position also allowed Snyder to take on an activist role, in that she regularly voiced ways to make the diversity programming in the admissions office more accessible. She was especially unafraid to ask the question: "Why has it always been this way?"
"With the intern team, there were several moments when I was like, 'Wait, why are we doing it like this?'" she said. "For example, how come our DIVOH application cannot be read by blind students? There are these kinds of things that we say that we're doing a lot for students but then there [are] really big gaps. It's been a team where our bosses and admissions actually do care about what we have to say and like we've been able to implement things in order to improve the process for prospective students."
Snyder's activism has not gone unnoticed, said her thesis advisor Professor of Sociology Leah Schmalzbauer.
"She's absolutely shown herself as a leader on this campus," Schmalzbauer said. "I think that really bridges the student experience with the administrative responsibilities that go along with that. So she has been the person to speak with and speak up to administrators."
Pages of Research on Her Own Experience A culmination of her years as a first-generation, low-income student, Snyder embarked on a nearly year-long journey writing a sociology thesis about first-generation students' relationships with their families.
Through her research, Snyder found that first-generation students who continue on with higher education encounter a plethora of complications with their parents, siblings and home communities at large.
Despite the nuances between individuals' experiences, however, Snyder concluded that first-generation students carry a sense of collective mobility, in which they see their college education as a means of uplifting their home communities. "I think talking about family is something really important that is not usually considered, and mobility paths are often talked about in very individual and positive ways," she said. "If you think about the American dream, you can go from having no money to being a millionaire. So then as first-gen, low-income students, we are the ones that are kind of representing how you can pull yourself up by your bootstraps. But we know that that's not true for a lot of our community."
After working on a 40-page paper for her sociology research seminar in her junior year, then studying abroad in Peru and completing another 40 pages of field work in Spanish, Snyder knew that she enjoyed research and wanted to continue pursuing it. She noted, however, that her thesis' close connection to her own life made her research more difficult than anticipated."Anything that happened to me, I was analyzing my whole life. Like wait, was that because I'm low-income? This interaction, was that influenced by my position? Struggling still as a senior, where I feel like I've been very involved with this community, I feel like I should know most of what I'm supposed to know," she said. "I would just lay in bed and stare at the ceiling and rethink my whole life. And so that was a really deep emotional thing."
The physical and emotional labor Snyder put into her thesis not only deeply impacted her, but others as well. She presented her research at several conferences this year, where she recounted instances of people sharing how their experiences were reflected in her work.
"It's really cool that I didn't do all this work and then it's just cool for me, but not anyone else. Other people are also excited about it and think it's important," she said.
Schmalzbauer highlighted the importance of Snyder's thesis, adding that the immense amount of work she invested is notable.
"I tell everyone who [is considering writing a thesis] and I say, talk to Alyssa Snyder about how to organize your thesis," she said. "She's set out the structure of how she could get the thesis done and she stuck to it the entire year, which was very impressive. But then within that, it was the deep thought and reflection that she put into it."
Staying in Amherst Though Snyder is graduating, she will not be leaving behind Amherst or her experience as a diversity intern. After Commencement, she will continue on in the admissions office as a green dean, working on new diversity initiatives and existing diversity programming like DIVOH.
"I think it will just be really incredible to be in the area, be able to still talk to professors that I know, be able to go to events and kind of take advantage of those things that sometimes we don't have enough time for as students, but then also be able to continue my work with like reaching out to first-gen and low-income students and students of color to make sure that we're reaching the people that we need to reach," she said.