Arts & Living
A Tale of Two Theses in Buckley Recital Hall
On Feb. 4, the Music Department produced two senior theses: "The Second Seed," a composition thesis by Sam Wright '23, and "Einheitswanderschaft," a vocal thesis by Patrick Spoor '23.
On Feb. 4 in Buckley Recital Hall, the Music Department presented two senior theses: "The Second Seed," a composition thesis by Sam Wright '23, and "Einheitswanderschaft," a vocal performance thesis by Patrick Spoor '23. Wright's "The Second Seed" began the show.
"The Second Seed"
"The Second Seed" follows a brother and sister longing to escape into the woods. Wright, a music and math major, composed the lyrics and instrumentation for the performance, taking inspiration from Korean and Scottish folk music, as well as 20th century minimalism. The performance included four singers and several musicians on piano, keyboard, percussion, violin, viola, cello, bassoon, and flute. Wright played the piri, a double-reeded instrument often used in Korean folk music. Composition itself is a difficult endeavor; composing for so many different instruments and voices is a feat. Wright was successful in transporting the listener from a country scene bathed in sunlight, to a mourning forest, to a hopeful, yet bittersweet, resolution.
The nine-movement performance began with Annika Paylor '24 singing brightly over a joyful symphony. Their performances brought the audience into the story and evoked a vivid natural scene. Wright continued that tone, singing as a boy describing his dreams of exploring the world. By the end of his solo, a discordant melody prevailed, which was then picked up by Phoebe Neilsen '25, who sang the part of his sister. The performance became somber and reflective as the girl lamented her own lost dreams: "Could that be me? / Could I be free?" She eventually concludes that her brother "dreams for both of [them]."
The fourth singer, Tyler Fields '25, sang above a haunting string melody, narrating the death of the brother within the forest. All four singers sang the funeral song, "Pyre." The instrumentation was particularly striking — the bassoon and flute, two instruments which rarely have such somber melodies, mourned together.
The music began to pick up, hopeful amidst the bitterness, with light violin pizzicato ushering the listener to the final piece, "For the Next Ones." The performers were met with roaring applause as the piece ended.
Wright said that the narrative went through several different iterations before he settled on the final product. "In its first incarnation, it would be the story of my grandma, who escaped from North Korea." However, he felt that he didn't have the time to do the story justice. He decided to write a fable that started as a retelling of a Korean folktale, in which a brother and sister flee up a tree and become the sun and moon after the death of their mother. He revised that story to produce "The Second Seed," explaining, "The brother and sister are still there from that story, but I made it my own story and tried to keep some themes of escapism [that were] left over from the story of my grandma."
Wright remarked that the unique education he received at Amherst left him well-equipped to pursue his composition career, and much of his inspiration came from specific classes he took at Amherst. He also noted that his thesis advisor, Andrew W. Mellon Professor of Music Eric Sawyer, was instrumental to his thesis. "Him and Professor [of Music Klara] Moricz and the Music Department has been really supportive of me." After graduation, Wright plans to continue practicing music and composition in some capacity, either through graduate study or as a personal endeavor.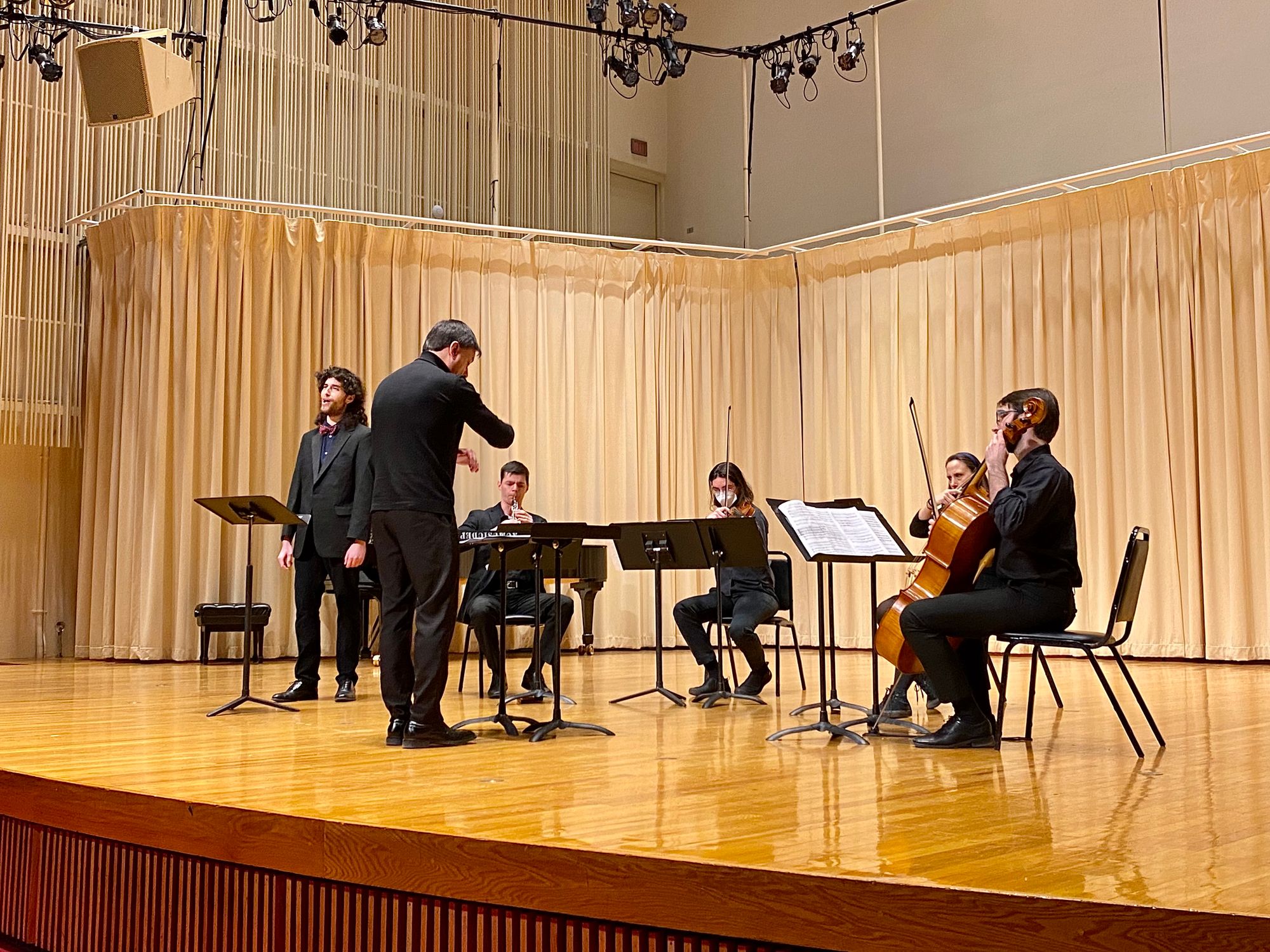 "Einheitswanderschaft"
After the premiere of Wright's thesis, Patrick Spoor debuted "Einheitswanderschaft," their vocal performance thesis. Spoor, a music major, aimed to portray a soul wandering the world and witnessing all that humanity has to offer. The theme of "Einheit," or unity among all peoples, connected the arrangement.
Spoor sang for almost an hour by themself in German, French, and Spanish, accompanied only by piano for all except one piece. Their first piece, Franz Schubert's "Der Wanderer," showcased their gentle, yet clear, voice by dreaming to explore the Earth. The next piece was Schubert's "Abschied," which means farewell. Spoor noted that they placed that in the middle of the program rather than at the end to signify a journey's beginning, bidding farewell to their old life. It was a jaunty piece that allowed Spoor's stage presence to shine. They seemed to be pulling the audience in and bidding us farewell, with excitement lighting up their face.
Their next piece, Maurice Ravel's "Don Quichotte à Dulcinée," was more reflective. It included three parts, which were uplifting and bore witness to the world's love, but were also tinged with melancholy. The piece concluded with a drinking song filled with impressive arpeggios.
The tone shifted dramatically with Armando Getilucci's "Canti da Estravagario di Pablo Neruda." Spoor was accompanied by an ensemble with oboe, violin, viola, and cello players, in addition to piano. The ensemble was conducted by Senior Lecturer in Music Dr. Mark Swanson. Spoor read the three poems they would perform, "La Desdichada," "Punto," and "Con Ella," translated into English. The accompaniment played solemnly while Spoor sang the mourning atonal pieces. The wanderer seemed to be in awe of the horrors they had seen in the world, with "Punto" emphasizing heavy moments: "There is no space wider than that of grief / there is no universe like that which bleeds" (trans. Alastair Reid).
Spoor concluded their thesis with "Nachtzauber," by Hugo Wolf, once again accompanied only by piano. Even after nearly an hour of singing, their voice was still smooth and clear. The wanderer had finally found a place to settle down, and it was a hopeful, yet world-weary, end to the program. They also received a standing ovation.
Vocal theses are rare, and Spoor emphasized that every piece was incredibly fun to learn, although they spent a long time perfecting their French for "Don Quichotte à Dulcinée." Their natural range is baritone, in between the standard bass and tenor ranges, and they noted that it's a challenge to find suitable pieces for their voice. "A lot of pieces are just slightly out of my range … so I've been trying to extend that, and that's probably my biggest challenge as a singer."
Spoor gave their acknowledgements to their thesis advisor, Professor Moricz, and their vocal instructor, Tom Oesterling. Like Wright, they might study music in graduate school, and they are considering non-profit work as well. They emphasized that they, like Wright, will continue to pursue any musical opportunities that they can.