News
Secretary Lhamon Discusses Enforcement, Future of Civil Rights in Education
Students and faculty gathered for an event on the future of civil rights in education with Catherine Lhamon '93, the assistant secretary for civil rights at the United States Department of Education, on Thursday, March 23.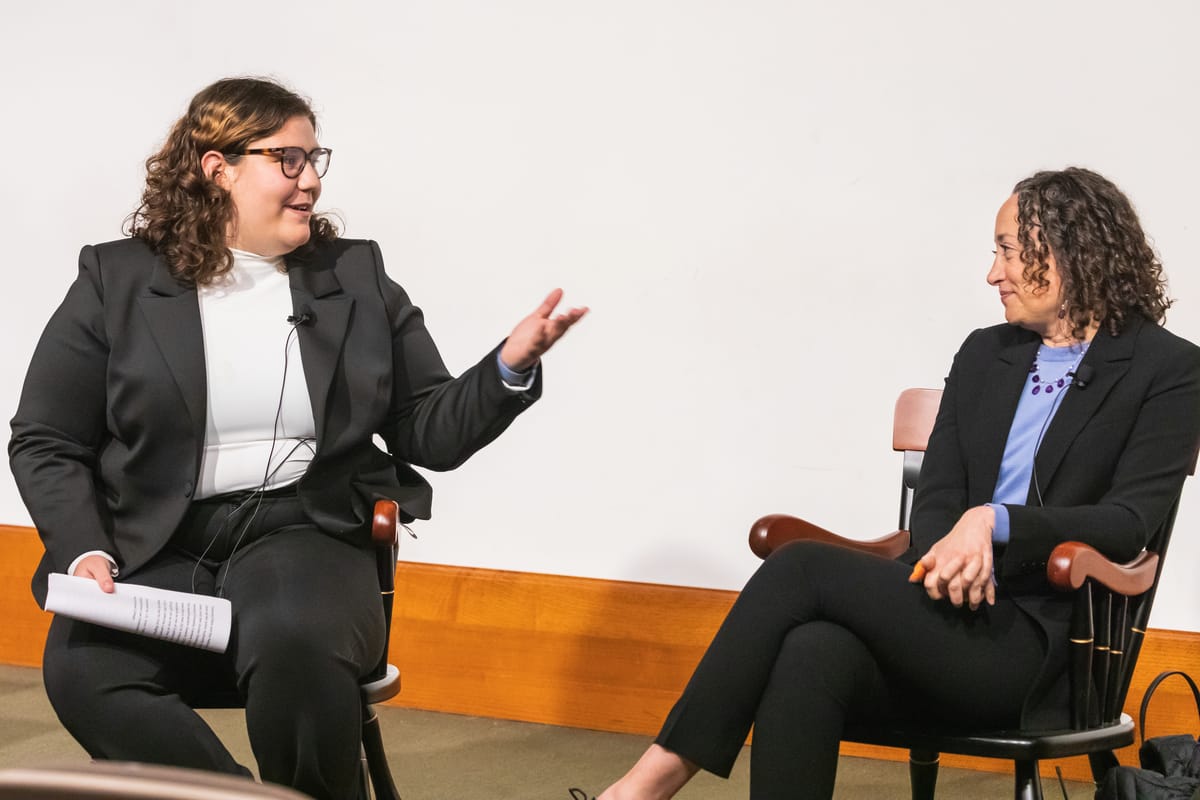 Catherine Lhamon '93, assistant secretary for civil rights at the United States Department of Education, spoke at an event on the future of civil rights education on Thursday, March 23. The event, hosted by the Amherst Political Union (APU) in Pruyne Lecture Hall, featured a conversation between Lhamon, APU President Melanie Schwimmer '23, and President Michael Elliott.
Lhamon served as assistant secretary under President Barack Obama from 2013 to 2017, and was again nominated for the role under President Joe Biden in 2021. She has also worked as a civil rights lawyer and law professor.
The event was months in the making, with Schwimmer spearheading the push, discussing the matter with the APU executive board and reaching out to Lhamon in August.
"I'm someone who personally has a real interest in education policy, civil rights law, especially around Title IX — I'm a peer advocate for sexual respect on campus — so this was an event I've been wanting to do for a while," Schwimmer explained.
The event covered the Assistant Secretary's role presiding over the Office of Civil Rights in the Department of Education, which enforces federal civil rights laws in publicly-funded schools. The three main areas the office focuses on are gender-, race-, and disability-based discrimination.
"Our job is to enforce what President [John F.] Kennedy called the 'simple justice' — that no federal funds should be used to discriminate," Lhamon said.
Logistical practicalities can pose difficulties to enforcing this justice. Lhamon said that record-high case numbers have forced the 600 employees of the Office of Civil Rights to take on rigorous workloads, some handling over 40 cases at once. While the office tries to accommodate every case, this overextension can have concrete consequences.
As an example, Lhamon pointed to a case in which a school district placed an arbitrary cap on the number of students with learning disabilities they would accommodate.
"It's so obviously unlawful, but they were doing it. They did it for five years; it took us five years to resolve that question," Lhamon said. "So, some of those kids don't go to that district anymore, and they were forced to learn in school without support all that time. There are real consequences when we take too long."
The vitriolic national climate around education has also affected Lhamon's work. Earlier this month, President Biden's plan to increase funding for the office was opposed by the Republican head of the committee overseeing their budget.
"He [Congressman Jodey C. Arrington] said we shouldn't have any more people because we would use the money to advance the transgender agenda," Lhamon said. "So, you know, I don't think we can see eye-to-eye."
The discussion also touched on the way current threats to affirmative action may change the future of civil rights enforcement in education, and Elliott and Lhamon both responded to the possibility of the Supreme Court striking down race-based admissions. Lhamon said that while she would personally disagree with the Supreme Court eroding affirmative action, it would still be her responsibility to enforce it.
"I enforce the law as it is. If, as we predict, the Supreme Court changes the law on affirmative action, I will enforce the law as they prescribe," Lhamon said.
Elliott explained that Amherst filed a brief with the Supreme Court arguing in favor of affirmative action. While Amherst will continue to work towards student diversity, Elliott explained that the college would have to make changes if the court overturns precedent.
"The Board of Trustees very clearly stated that [it] is committed to aggressively working to ensure that we continue to have a richly diverse student body," Elliott said. "We do have to follow the law." Alongside their discussion on education, both Lhamon and Elliott spoke as alumni, reflecting on how their times at Amherst affected their trajectories in life. Lhamon pointed to the time they shared on the editorial board of The Student as a key influence.
"The ways that you led us to dissent and to come to what consensus we could, and to then present positions about which we had strong feelings, and sometimes strong different feelings, was very instructive for me," Lhamon said.
The conversation provided new insights into the Office of Civil Rights' work for many. Laura Gottesfeld '23, an attendee of the event, was struck by both the importance of the office and the challenges they face.
"There seems to be an exploding number of cases," Gottesfeld said. "But it's also hopeful that there are people who really care about the job [of] trying to enforce the law."
Schwimmer appreciated their perspective on navigating the varied struggles of governmental work, from logistical difficulties with case loads to hostile Supreme Court rulings.
"Often in the academy we can be very idealistic and critical," Schwimmer said. "It's like, this is wrong, this is wrong, this is wrong, this is wrong — and then seeing someone who's really trying to make as much positive change as possible inside the system in front of her — it's important that there's someone in this role who understands both that it is their job to execute the law but also trying to come up with ways to make sure justice is expansive and broad."
Despite the challenges Lhamon faces, she is still grateful for the opportunity to do her job.
"It was amazing beyond my wildest dreams and beyond my wildest expectations, in terms of what I can do, in terms of reach," Lhamon said, responding to a question about her plans after her tenure as assistant secretary. "I don't know what I'll do after this, because I am living my dream right now."