News
ACEMS Data Challenges Reasons for New Party Policy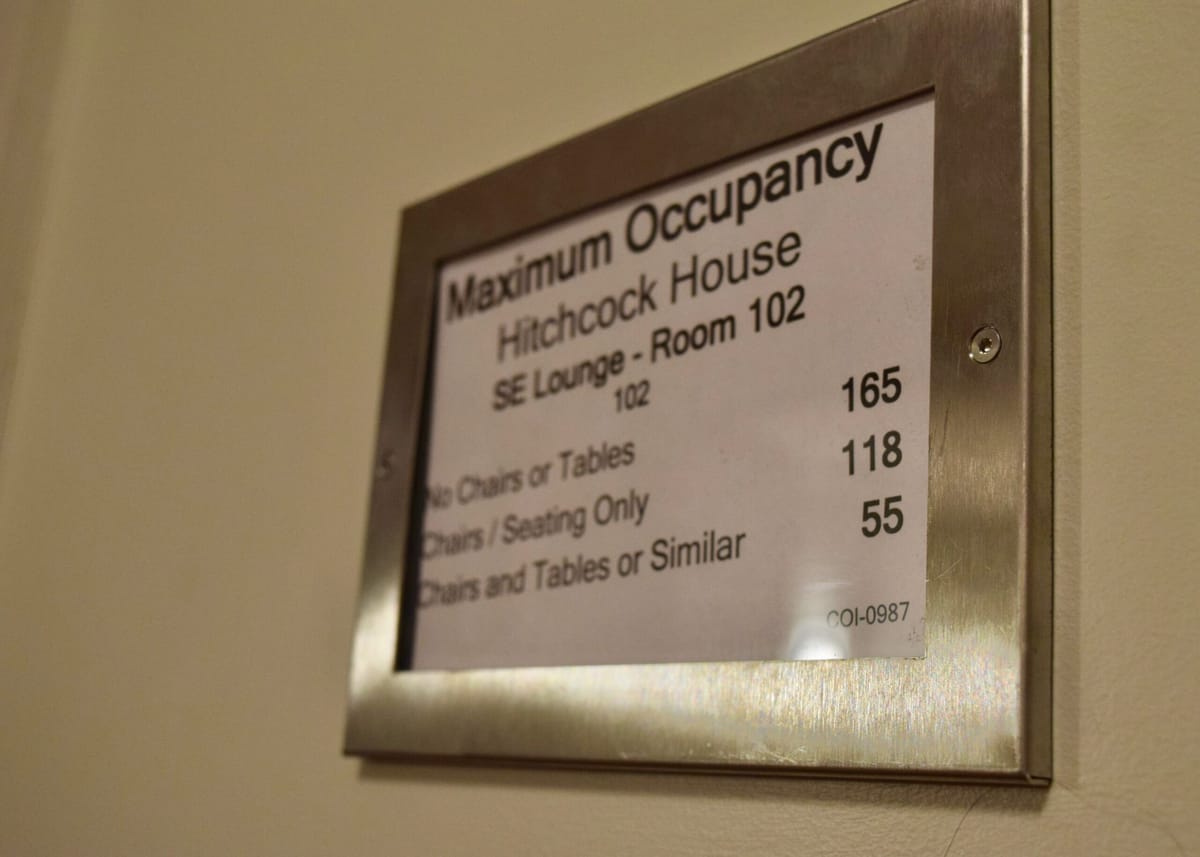 Data provided to The Student by a member of the Amherst College Emergency Medical Services (ACEMS) calls into question administrators' assertion that the college needed to overhaul the Party Policy at the beginning of the semester due to a significant increase in risks to student wellbeing.
Student Affairs released an updated version of the Party Policy on Jan. 26 to student backlash. Changes include requiring one party sponsor per 20 people as opposed to the previous 50 and expecting party sponsors to work with staff to manage attendance levels.
The college designates the authority to revise policies in certain sections of the Student Code of Conduct to specific entities such as the Committee of Six, College Council and Association of Amherst Students (AAS). Most but not all policy revisions undergo "some [community-based] vetting mechanism" such as a student body vote, according to Senior Associate Dean of Students Dean Gendron. The party policy did not.
Though the college usually makes edits to the document during the summer months, Gendron said there are times when administrators need to "be quicker than that and don't have the opportunity or maybe it's not appropriate even to have a long-term consensus building process."
"We might forego that process in very limited cases," he added. "Where local state or federal law has changed and where the college is now responsible for new expectations that need to be immediately translated into our code, or where … the college recognizes that there is some policy or some procedure or practice that is not appropriately protecting health or safety, we would put measures in place to protect health and safety without delay."
The revisions to the party policy, Gendron said, was such a case — focused on health and safety, not "social life scenes or some of the more student preference or student party culture aspects of this." Those decisions, he said, should be community-based and occur over longer periods of time where "student voice is large and where all students have the opportunity to weigh in."
Gathering information received through Amherst Town Police, Amherst College Police, residential and other professional staff, Keefe Health Center and ACEMS, the college ascertained that policies needed to change to protect against risks to fire and life safety. The college is seeing clear trends, Gendron said, in increased alcohol-involved incidents and hospital transports.
ACEMS declined to comment for the story, but according to an ACEMS member who provided data on conditions of anonymity in order to protect against possible consequences from administrators, an internal review found no statistically significant differences in proportions of alcohol-related hospital transports between the semesters of Spring 2015 through Fall 2017.
ACEMS responded to 17 alcohol-related hospital transports in Spring 2015, 24 in Fall 2015, 16 in Spring 2016, 14 in Fall 2016 and nine in Spring 2017. In Fall 2017, ACEMS responded to 26.
The Student examined the number of alcohol-related transports compared to total number of transports and found that in previous semesters starting from Spring 2015 and including Fall 2017, alcohol-related transports were approximately 30 to 50 percent of total transports. Last semester, they comprised 53.1 percent of transports, which is on the higher side of ACEMS statistics.
The internal review backs up the statement that "[l]ast fall, hospital transports related to intoxication exceeded transports for the entire previous academic year," as Chief Student Affairs Officer Suzanne Coffey and Gendron wrote in an email to the student body on Jan. 30.
The proportion of alcohol-related transports in Fall 2017, however, only surpassed that in Spring 2017 by approximately 3.1 percent.
The number of total hospital transports in Fall 2017 was in the 40s, a number in line with the total hospital transports in Fall 2015, Spring 2016 and Fall 2016. That number dipped unusually low to 18 in Spring 2017.
"There was no statistical evidence of any change between Fall 2017 and previous semesters in proportions of alcohol-related calls or alcohol-related transports out of total calls and transports, respectively," the ACEMS review concluded. "No ACEMS members, including those who have been responding to alcohol-related calls for multiple semesters, have reported subjective increases in alcohol levels in transported students."
ACPD Chief John Carter wrote in an email interview that 28 police calls involving overconsumption of alcohol required transportation to the hospital in Fall 2017, whereas 25 calls involving overconsumption of alcohol required transportation to the hospital in the 2016-2017 academic year. Additional numbers of calls not reflected in ACEMS' statistics occurred in locations outside its service area or while ACEMS was out of service.
Carter did not provide numbers for semesters prior to the last academic year or records from the Amherst Town Police.
"On average approximately 20 persons a fall semester are transported for alcohol medical reasons, but our heightened concern this year stems from the serious condition of many of last fall's transports," Carter added. "This is not purely an issue of numbers."
Director of Health Services Emily Jones said that Keefe Health Center has been implementing a tracking system to follow alcohol-related incidents since her arrival at the college at the beginning of the last academic year. According to Jones, Keefe receives emergency room reports, including laboratory data, on students transported to the hospital for alcohol or drug intoxication.
"These reports have indicated some extremely high blood alcohol levels this past semester," Jones said in an email interview. "This data is concerning as many of these blood alcohol levels have been high enough to cause loss of consciousness, and could even have been in the range of causing respiratory depression or death."
Jones could not provide data on alcohol-related incidents prior to her arrival.
According to Director of Residential Life Andrea S. Cadyma, students voiced particular concerns to Residential Life regarding occupancy at parties, which led to the addition of language including staff in assisting with attendance levels. "That was a measure that was intended to make students safer," she said.
"We acted as deliberately as we could to put measures in place to address occupancy and to bring to attention the abuse of alcohol," Gendron added. "Student safety is not something we're willing to negotiate with anyone."
Gendron also acknowledged students' concerns about architectural issues and lack of large gathering spaces on campus but said other administrators are working on space management to address the problem.
The process of policy revisions is overseen by different offices and committees depending on specific sections of the Student Code of Conduct.
The College Council holds authority over Section 1 — the Honor Code — but jurisdiction over policies past Section 1 depends on subject matter expertise or other governance structures. The Office of Residential Life oversees Sections 7 and 9, which relate to housing, while the Title IX review committee oversees Section 3, the sexual misconduct policy.
Student Activities is not as closely tied to specific sections in the code — the office is instead informed by the AAS, environmental health and safety standards, Five College risk management and Massachusetts state law, said Director of Student Activities Paul Gallegos.
According to Cadyma, Sections 7 and 9 have not changed since her arrival in July. "There typically isn't a whole lot of change, and as a practice, students would be notified in advance," she added.
In its revised party policy, Student Affairs originally required party sponsors to meet with staff prior to party authorization to discuss guidelines and expectations but changed the language on its webpage from "require" to "encourage" over the night of Jan. 29 — without notification to the student body. Gendron said this shift occurred once staff members felt the mandate would impede the process of party approval.
"While there is no prescribed mechanism for notifying students about changes to policy or procedures, it is our practice to send community-wide notice to students with as much notice as is feasible," Gendron said. He did not provide a clear reason for the lack of notification regarding the current change.
"Really, timing was the most challenging aspect of this because the semester was upon us and we wanted to not start the semester with one understanding and then a couple weeks into it, say, 'We're now going to do this because of fire and life safety,'" he said.
AAS President Aditi Krishnamurthy '18 said she is working with Coffey and Coffey's team to hold a town hall, which will be announced this week. Krishnamurthy maintained that while the party policy revisions were not necessarily unwarranted, the manner in which they were changed was "extremely sudden" and said administrators could have waited and listened to more input.
"[The town hall] will be an opportunity for students to come and engage with the administrators who put together these policy changes," she said. "There needs to be face-to-face, direct communication … I'm doing everything in my power to make that happen."
Kathleen Maeder '20 contributed reporting for this story.