ACPD
ACPD Reduces Reliance on Armed Officers, but Refuses Demands to Disarm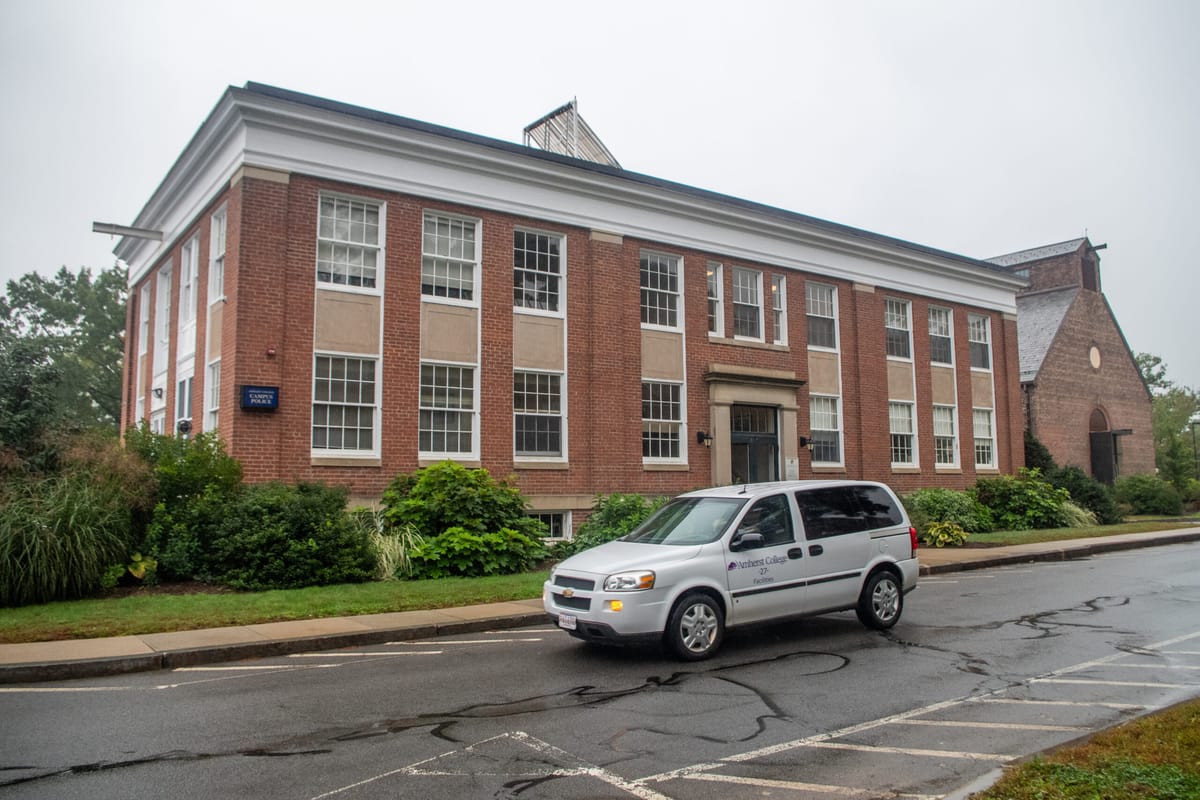 As part of its commitment to the Reclaim Amherst Campaign, the Association of Amherst Students (AAS) held a town hall with Chief of Police and Director of Public Safety John Carter regarding the state of the Amherst College Police Department (ACPD) and campus operations. During the virtual meeting on March 29, Carter announced the creation of a new campus operations position called Community Service Officers (CSOs), who will respond to non-emergency calls. Carter also discussed the reasons why ACPD will not be disarmed in the future and will continue to work independently from the Amherst Police Department (APD) in town. After Carter's address, AAS President Jeremy Thomas '21 presented AAS's recommendations for ACPD police reform, which included a call for disarmament. In the following Q&A, students questioned how other colleges, including Smith, Hampshire and Holyoke, have disarmed their police forces. Students also voiced their opinions on how the college can better support students of color.

Calls to reform, defund and dismantle police departments across the country were invigorated after the death of George Floyd on May 25, 2020. Since then, the AAS and college have both respectively pledged to facilitate and make changes to current police operations on campus.

The Reclaim Amherst Campaign, supported by the AAS, is a collaboration between the two creators of the Black Amherst Speaks Instagram account, Kyndall Ashe '18 and Haylee Price '18, and the Black Student Union's (BSU). The Reclaim Amherst document outlines a broad set of priorities for the college to meet in order to nurture a campus environment that is beneficial and responsive to its non-white students. The fourth of six broad arguments in the Reclaim Amherst Campaign addresses ACPD reform. "Safety is a necessary prerequisite for any college education … As long as ACPD is armed, Black students will not be safe," the document states.

In August 2020, the college announced its Anti-Racism Plan. In the plan, President Biddy Martin pledged to "reimagine policing" and noted that the college had prior plans to shift from an overreliance on ACPD.

In the November 23, 2020 update, Martin announced that "ACPD is no longer present in the residence halls unless called upon to support the CAs (student Community Advisers) or CDCs (staff Community Development Coordinators) or to respond to police, fire or medical calls."

Following the death of Floyd at the beginning of the summer, ACPD underwent a policy review, Carter said. The review found that the department already met the standards of the Massachusetts Police Accreditation Commission. For example, ACPD had previously banned the use of chokeholds, and bystanders are expected to stop incidences in which officers are using excessive force.

The college will neither disarm nor abolish its police force, Carter said. "We're still gonna have police officers. It remains our recommendation that the college maintain an adequately sized and equipped swarmed arm compliant to address crime and violence. Amherst College doesn't exist in a bubble. And the continued concern about hate violence and interpersonal violence has not abated. If anyone watches the news anymore, you can see that the danger from aggressive folks around hate crimes, active shooters and other violence still exist on a regular basis."

A key point of the town hall was that disarming ACPD would result in a greater reliance on APD. "[ACPD]'s dependence on the Amherst Police Department would rise substantially," Carter said. Armed ACPD officers currently respond to active aggressors, intrusion alarms in important buildings, panic alarms and incidences in which there is limited information. "I think they would be on campus more than you expected when you think about the duties that, I would think, require an armed police officer," Carter said.


ACPD will reduce its reliance on officers for non-police related functions. Instead, the new CSO position will patrol academic and administrative buildings, help with lock-outs and escorts, assist the Office of Student Affairs (OSA) with residence hall calls and respond to medical calls and fire alarms alongside ACEMS, OSA or ACPD.

In the future, ACPD may change the police officer uniform to a more casual style and remove markings from police cruisers. The goal of these efforts is to make officers more approachable.. "We have heard of experiences where seeing a police cruiser driving around doesn't make everyone comfortable," he explained.

ACPD is also considering adding body cameras to the uniforms of its police officers. "I think that when people know that an event is being recorded, civility rises on both sides, not just on the police officers side, but on other people involved," Carter said.

"I absolutely believe in this reimagined community safety and service model," Carter said to close his presentation. "I think that we can do more, and we can do better. And I think it best serves our community. I have talked about it with the senior staff numerous times. I have presented it to my own staff, I have worked with Student Affairs and they're on board with it. I will be making a presentation to the Board of Trustees in a few weeks, where we'll talk about this as well. I don't think it's the end of the work. I think it's the beginning of the work."

Thomas followed Carter's presentation by laying out the AAS's recommendations for ACPD. The AAS argued that ACPD should shrink its responsibilities and be disarmed. Thomas also advocated for doubling the number of counselors available in the Counseling Center and accelerating the implementation of the aforementioned policy changes.

According to the college's annual Clergy Report, which is published each year and reports the number and type of crimes committed on campus among other statistics, the majority of crimes on campus relate to alcohol and drug violations, followed by rape and fondling and burglarly. "None of these crimes are prevented by an on-campus police, and none require armed police interventions," Thomas said.

Thomas also noted the fact that in the past twenty years, ACPD has never fired its weapons and has only ever displayed them twice. Instead, ACPD has used pepper spray to detain two people. ACPD records show, Thomas added, that only 26 individuals have ever been arrested by ACPD.

Colleges near and far from Amherst have discussed and implemented similar changes as ACPD. In Feb. 2020, Smith College announced that its officers would no longer be armed and decrease the presence of police cruisers. Students at Clark University staged a tuition strike in Jan. 2021 to disarm the campus police and lower the cost of tuition. At Northwestern, Harvard, Yale and many other universities, student groups have called on their presidents to disarm their police forces.

At the start of the Q&A portion of the town hall, students expressed concern over the college maintaining an armed police force on campus. AAS Senator Cole Graber-Mitchell '22 questioned whether it would be "a dramatic shift" to rely on an unarmed campus police force if there has never been an instance of an ACPD officer firing their weapon.

Carter responded that "an unarmed police department is actually just a security department with some arrest authority. They are very limited in their ability to respond to quite a bit of things. If we were an unarmed department, the college's dependence on the town police will rise substantially." Carter claimed that ACPD's knowledge of the campus and the student body better equips the force to respond quickly and effectively to on-campus threats when compared to the town's force.

Several students questioned whether relying on the town's police force for security issues is more of a detriment than having armed officers on campus. Eve De Muheto '21 said, "I do not know if the distinction between an ACPD officer versus outside officer feels that different."

An alternative suggestion was made by AAS Senator Sofia Guerra '22: that arms could be stored in other places such as the ACPD building until there was an active threat as to reduce the threat of deadly violence posed by an officer.

The financials of the ACPD were another topic of interest for students. Margot Lurie '21 asked, "How much are we spending as a campus community on ACPD right now? Will these new reforms and changes being made to ACPD cost us?" Lurie noted that resources being spent on reforming public safety are not going towards other issues on campus like mental health.

In answer, Carter said, "I do not think I can give an exact dollar amount, but what I can say is we are doing a lot of the funding for the CSOs by reducing the number of sworn police officers. The number of 15 officers that Jeremy [Thomas] mentioned earlier was at our peak a few years ago. They are closer to 10 or 11 right now. By the way, I am included in that number and I do not do any police work. So, what we have been doing is reallocating money that already exists within the safety budget from one point to another." However, Carter and other administrators present did not provide an exact number for how much is being spent on the changes he outlined in the presentation.

Students also asked about how the powers of CSOs and ACPD officers would materially differ, especially given the disproportionate ways in which that power is exercised against people of color. Ayodele Lewis '21, senior chair of BSU, expressed that she was approached aggressively several times by CDCs for supposedly breaking Covid guidelines, despite not actually being in violation of any of those guidelines. Lewis wanted to know how these dynamics between students of color and officers would significantly change with the implementation of a unit of CSOs.

Questions of accountability were raised as well. AAS Senator Jerome Raymond '24 asked, "What is accountability going to look like in the future? Who will the ACPD be answering to?" Additionally, Guerra pointed out that an accountability mechanism without meaningful student representation might have little effect in holding the ACPD to its reforms.

In a statement to The Student, AAS Senator Jalen Woodard '23 emphasized the importance of student activism in creating change. "I believe that last Monday's meeting shows that if anyone is going to hold ACPD accountable, it will be us students. At the end of the day, it is students who are the ones living on campus and having to see and interact with armed ACPD officers the most," he said. "Therefore, our vision of what public safety should look like on campus and our opinions about the role of ACPD in safeguarding or compromising on-campus safety are arguably the most important. We should not and will not be ignored or patronized."

In addressing these concerns, Carter said that he wanted "broad representation" on the CORE Advisory Group, which is being created to advise and evaluate the ACPD on these reforms. The group is expected to have three students on it as well as members of the faculty and OSA.
Issues of finances, accountability, armed officers and the overall effectiveness of these reforms were at the fore in the Q&A. The town hall evidenced that there is persistent uncertainty among students regarding whether ACPD's proposed reforms actually do enough to address the threat the police force poses to marginalized students, particularly Black students and students of color.