News
After Protest Arrests, UMass Pro-Palestine Coalition Reaffirms Demands
Members of a new UMass Amherst coalition were arrested after holding a sit-in at the administration building. They urged university divestment from companies funding the Israeli military at a press conference at East Hampshire District Court after their arraignments on Tuesday.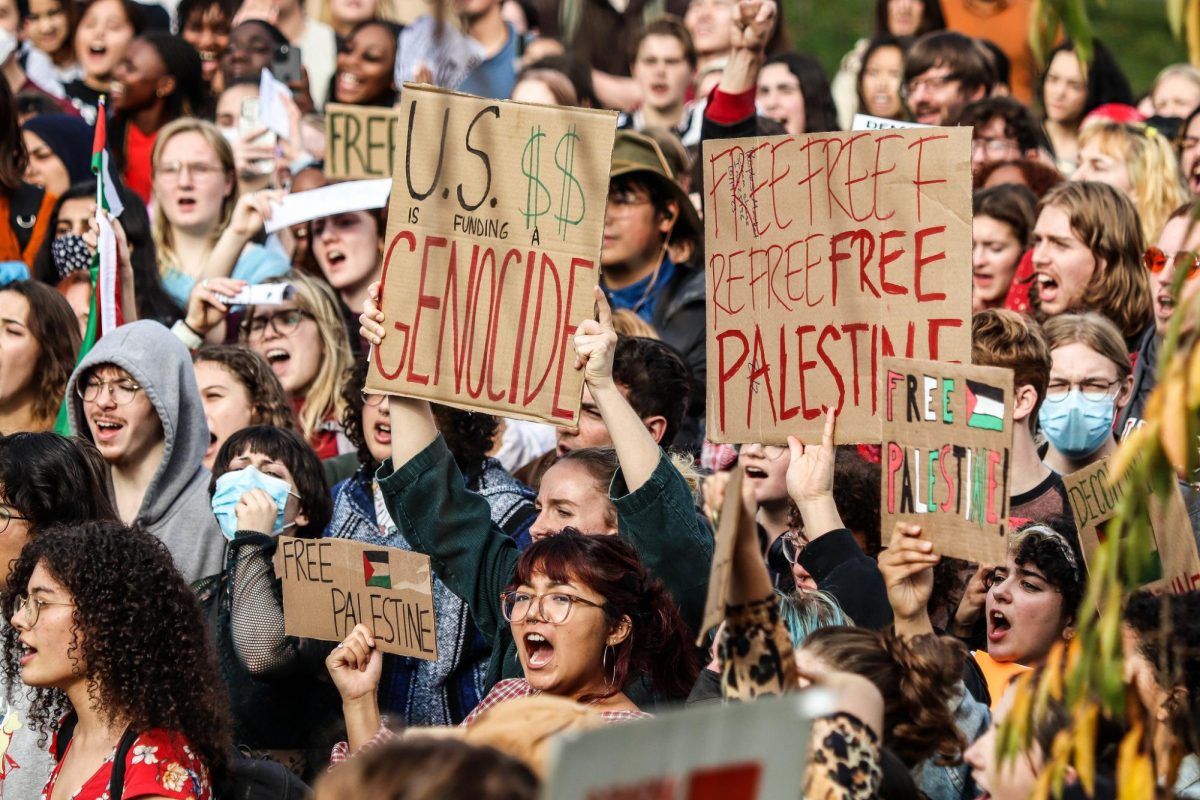 After the last of the 57 UMass Amherst students arrested last week during a pro-Palestine sit-in was arraigned on Tuesday, a new coalition of student groups behind the protest reiterated their commitment to ending the university's ties to companies funding the Israeli military.
Standing outside East Hampshire District Court in Belchertown, the organizers held a press conference discussing the newly formed coalition, their care for the cause, and the coalition's goals moving forward.
The students were arrested last Wednesday at a 500-person protest on the UMass campus calling for the demands urged by the new coalition.
Around 250 of the demonstrators held a sit-in in the Whitmore Administration Building, gathering outside UMass Amherst Chancellor Javier Reyes' office, according to The Massachusetts Daily Collegian. When the building closed at 6 p.m., 57 protestors stayed inside, and over the next five hours, the UMass Police arrested these students for trespassing.
The last round of arraignment hearings for the 57 students came directly before Tuesday's press conference. All pleaded not guilty to trespassing. Their pretrial dates have been set for December, with the exact day to be determined.
The student coalition behind the protest and the press conference encompasses UMass Dissenters, UMass Students for Justice in Palestine, and other student groups on campus. Its primary goal is to push UMass to divest from companies that fund or arm the Israeli military, organizers said.
The press conference began with three students reading from a written statement. "Since October 7, over 8,000 Palestinians, including more than 3,400 children, have been murdered with the aid of Raytheon's weapons," it read. "Our university supports this."
UMass Amherst partners with the major defense contractor through its Industry Partnerships program, which connects Massachusetts corporations with students at the college.
On Thursday, Oct. 26, students met with Chancellor Reyes, and presented their demands which, as one organizer put it in The Daily Collegian, are for the university to cut ties with Raytheon and send a campus-wide email "condemn[ing] Israel's genocide of the Palestinians."
Organizers at the press conference said that the chancellor did not consider their demands. "When we protest this, they arrest us," they read aloud. "When we try to talk to our chancellor, they ignore us, dehumanize us, and belittle us."
The group says that they do not plan to talk with Reyes again until "he is willing to meet with us in good faith." To the protesters, good faith means concrete actions in accordance with their demands instead of meetings filled with "empty words."
Moving forward, they will continue to pressure the administration to meet their demands. Students speaking at the press conference pointed to the coalition's new ability to reach more students and groups across campus, building new networks.
In addition to providing information about the coalition's current plan of action, students answered questions about the commitments that led them to take part in the movement. "What we're seeing right now happening in Palestine, and what we've seen for the past 75 years, … it's genocide," said one student organizer. "I think that any human being on this planet should be standing up."
"I am a Lebanese student, so my parents actually lived under Israeli occupation in South Lebanon," said another student. "I have friends who are Palestinian, who are currently losing many members of their family, their close friends. It is affecting us heavily."
Other students spoke about how their drive for activism also has to do with UMass itself. "It was a really helpless feeling to know that we're complicit," said one organizer. Now part of the coalition, they said, they've found more community and purpose to combat the helplessness.
One reporter asked students whether they had any regrets about being arrested. "Would you do it again? Do you think it's worth it?" they asked. "In a heartbeat," one of the students responded. Others resounded with "absolutely" and "yes."
A few students noted that they "stand on the shoulders" of many former UMass students who have protested their university's complicity in violence for many generations. They cited the university's past movements against the CIA, South African apartheid, and investment in fossil fuels.
"I spoke recently with someone who was arrested in the same hallway that we were arrested in … for protesting UMass' ties to companies that were active in apartheid South Africa," said one student organizer. "That person was recently arrested at the massive sit-in in Grand Central in New York. I think it's really important to note that this doesn't die when we leave."
Near the end of the press conference, one organizer stepped back to share broader reflections. "We're building a movement that's based around community, and based on keeping ourselves safe," they said. "And based on love."