News
Amherst Faculty Condemns Hampshire Administration in Open Letter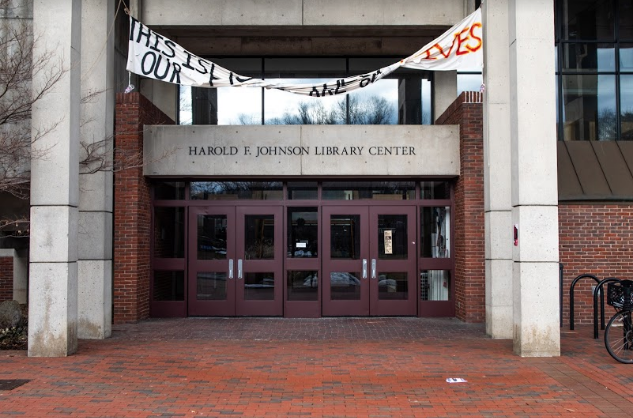 A group of concerned Amherst faculty members published an open letter in The Chronicle of Higher Education on Feb. 4 addressed to President Miriam Nelson of Hampshire College concerning the lack of transparency around the college's potential merger. The letter was signed by 137 Amherst professors and laid out complaints against Nelson's handling of Hampshire's financial situation.
Hampshire announced last month that the college's finances are unsustainable over the long term, prompting the institution to seek a strategic partner. For many in the community, the announcement came abruptly and without warning.
Since the publication of the letter from Amherst's faculty, Smith College members of the American Association of University Professors (AAUP) have released a letter condemning Hampshire for similar reasons.
"We write to you today to express our concern over recent decisions made by you and the Board of Trustees," the letter from Amherst faculty begins. "We fear that a number of these decisions are inconsistent with well-established norms of shared governance." The letter continues by making a series of requests related to transparency in decisions regarding finances and the future. Such requests, which are based on AAUP standards, include "meaningful consultation with the Hampshire faculty in decisions over the size or composition of the student body" and "[recognition of] the Hampshire faculty's primary responsibility to determine where termination of academic appointments may occur."
Nicola Courtright, professor of art history, was one faculty member who voiced her dismay towards Hampshire's decisions. "I signed the letter because I was shocked and heartbroken about what appears to be a sudden breakdown of the institution and its mission at Hampshire," she said in an email. "The financial crisis and the … ill-considered solutions were not shared with its own faculty, students, staff and least of all us at a neighboring college."
Professor of Philosophy Alexander George said he signed the letter "to remind the administration at Hampshire College of the rights of its faculty, as articulated by the American Association of University Professors, the primary organization of professional academics in this country, and also to show support for our colleagues at Hampshire who have been placed in a frightening crisis situation."
Though the open letter did raise issues about transparency, some professors supported the letter for other reasons. "I signed the letter because, in the course of my 30-plus years of teaching at Amherst College, I have developed many personal and professional ties to Hampshire College," Rhonda Cobham-Sander, professor of Black studies, Latinx and Latin American studies and English, said in an email. "Relatives of mine have been students and faculty members at Hampshire in the past, and at one time I even explored the possibility of working there myself. So, this college and its mission mean a lot to me."
"The timing of Hampshire's announcement seems unbelievably tone deaf, even cruel," Cobham-Sander added. "Many small private colleges in New England and elsewhere are facing financial challenges as population growth slows across the country, and perhaps it is inevitable that some may have to close. But nothing that I have heard about Hampshire's current financial situation seems to warrant the haste and secrecy with which Hampshire's executive board has acted in making its decision to reduce the size of its incoming class so drastically and to cut its staff and faculty by as much as 50 percent over the next few weeks."
In a phone interview with The Student, Nelson noted that Hampshire is not planning on taking immediate action regarding faculty. "We are not laying off any faculty in the next few weeks, and we don't know what percent it will be, but it will be proportional to what our student body needs," she said. Staff who will be laid off in the first round of layoffs, however, will be notified on Feb. 15.
"I am not sure if the Amherst faculty knows all of our physical realities," Nelson added. "We have been briefing our own faculty, but there is some information which we are unable to share. Every college has that. We have been briefing the deans and different committees that we have on campus so that we have a full understanding of what's going on."
In the future, Nelson hopes to make Hampshire's intentions clear while acting pragmatically in the face of crisis. "We have been as transparent as we can, and there are reasons. It is unsettling to post financial information or to state that you are considering to not take an incoming class, so we are being as transparent as we can," she said. "We are working with our existing structures to make sure we have a broad discussion about what the future looks like."
"It would be nice if everybody could rally around us," Nelson added. "Right now I think that there are a lot of attacks. If we are going to do layoffs, there are other colleges in the valley, so hopefully there might be opportunities at those colleges."
Update: Nelson has announced that staff who will be laid off in the first round of layoffs will be notified on Feb. 19 instead of Feb. 15. This article was updated at 2:32 p.m. on Feb. 15, 2019.