Sports
Amherst Men's Basketball Head Coach David Hixon '75: 'We Can Beat Anybody.'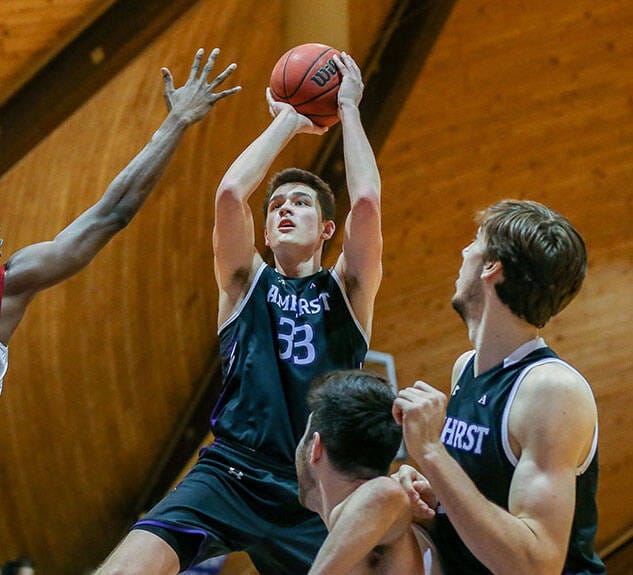 As head coach of men's basketball for 42 consecutive seasons, David Hixon '75 is used to taking calls from opposing head coaches and haggling over where they deserve to be in the regional rankings.
"Well, you guys beat a very good Nicholls team, so that should go a long way towards your tournament hopes," Hixon tells the Gordon College head coach before putting the phone down and taking a seat at his desk.
Across from Hixon, assistant coach and Amherst's all-time leading scorer Aaron Toomey '14 watches game film of Williams, the Mammoths' next opponent. Earlier this season, Amherst beat the Ephs with Toomey at the helm; Hixon could not attend.
"He's done a great job. He's a basketball guy through and through and there was no doubt in my mind that he would do a great job with the guys," Hixon said of his right-hand man. "We work really hard together, whether it's to decide what we're going to do in practice or decide how we're going to play defense. We have great fun putting in new plays against each other and trying to figure out which one is the best."
Looking around the office, the accomplishments of more than 40 years of coaching are easy to see: dozens of pictures, plaques and trophies litter the walls. Hixon notes that even after all of this time, new challenges often arise.
"I think that every day is different and that's the fun part about it," Hixon said. "Every practice is different, even though they may look the same. Our guys are reacting differently. There's always something that you have to figure out. Maybe it's been a tough week of classes. Maybe it's an exam week. Maybe you've got two guys sick. Whatever it is, you're moving the parts."
Despite the many hours that the 68-year-old Hixon has put into the program, he still feels like he has plenty more to give.
"I love coaching. I might be sitting here and it's a quarter to four and I'm beat," he said. "When I get down there [to the gym], it's like the batteries go in and I have energy and I get excited to do it. And then I might be exhausted after it, but I'll tell you what, the two, two-and-a-half hours that I'm down there, it's like heaven for me."
However, Hixon is confident that he'll know when it's time to call it quits. "I'll know when it's a good time to step to the side. I always ask my guys around me, 'Let me know if I'm doing okay.' And I feel like I am. Nobody, I guess, is willing to tell me that I'm not anymore. I'm a day-to-day, month-to-month, year-to-year kind of guy. There's one day I'll probably wake up and say, 'You know, it's time.'"
With a 20-3 record (18-3 at the time of this interview) and 19th overall ranking according to D3hoops.com, the season has gone pretty well thus far, although there's room for improvement according to Hixon.
"We laugh and say if we thought we could be 18-3 back on Nov. 1, we'd take it and run to the bank because there were a lot of road bumps in there and we've conquered some of them," he said. "So I think that's good but, you know, we're relatively young still other than Joe [Schneider '19]. This has been an interesting team to coach because they really are a team and on different nights, different guys do well. I'm happy with the 18-3 [record] and we've got a tough road ahead."
Hixon was noticeably excited when discussing the prospects of sophomores Grant Robinson, Fru Che, and Garrett Day, three of the Mammoths' four leading scorers.
"I think the ceiling is high," Hixon said. "Naturally, we have some pieces that we have to replace around them, but the fact that they can step up … All three of those guys step up. I mean, they really do. They step up and make big plays."
When asked about the upcoming weekend against two of the best teams in the NESCAC, Williams and Middlebury, Hixon said that "you're never 100 percent satisfied if you split, but I'd take a split over losing two. You have to win one to win two, so the Williams game is the game. I'm hoping that we go up there and play that with every ounce of energy that we have. I want one first. Let's get one and let's go one at a time."
Amherst wound up having its best weekend of the season, prevailing over both Williams and Middlebury on the road. Robinson led the Mammoths in scoring in both games, and they moved into first place in the NESCAC standings. If they beat Hamilton in Clinton, New York on Tuesday, they will clinch the top seed in the NESCAC tournament for the second straight season. While the path ahead won't be easy, Hixon thinks this team has what it takes to go far in the NCAA tournament — if they get in.
"We can beat anybody," Hixon said. "I'm not saying we'll beat everybody. We can beat anybody. I don't think anybody wants to play us because they know that on our night, we're tough. I think getting in [the tournament] will be the hardest part. If you let us in, watch out."