Sports
Amherst Names Four New Head Coaches As College Prepares for Canceled Fall Sports Season
In a changing of the guard for the Amherst athletics department, Director of Athletics Don Faulstick, has announced the appointment of four new head coaches over the course of the past month or so. The hires all have extensive resumes with previous stops at some of the top schools from across the nation. Valerie Jones will lead the women's volleyball team; Marlon Sears will head men's basketball; Busani Xaba will take charge of both the men's and women's squash programs; and Rashad Devoe will manage the men's lacrosse team. The hires are effective by August 1, but with Amherst's 2020 fall season canceled up due to the coronavirus pandemic, it is unknown when the coaches will be able to make their debuts, likely at some point in 2021. The new coaches, all four of whom are Black, join the department during a national reckoning on race and in the wake of Amherst's own attention to the racist environment athletics can facilitate.
Perhaps the most notable hire of the four, Rashad Devoe is tasked with leading a team in crisis following a racist incident involving three senior players chanting the N-word outside a Black teammate's dorm room. The confrontation led to the barring of formal team gatherings before November 1, a postseason ban for the 2021 season and the departure of head coach Jon Thompson, who Devoe, a Black man, will be replacing.
Bella Edo '21, a defender for the women's lacrosse team and President of the Council of Amherst College Student-Athletes of Color (CACSAC), is enthused by the hire but acknowledges that there's a lot of work to do. "I think it would be misguided to think that just hiring him will fix all of the issues on that team because if people don't want to change, if people aren't willing to learn, then they're not going to change the way they are." Edo also talked about what the Athletic Department can do to aid student-athletes in having discussions about diversity and inclusion. "I just hope that the Athletic Department doesn't think that they can just throw the new coaches in there and that's going to fix everything. It's not a magic wand and the department really needs to implement some programming that actually encourages the development of minds."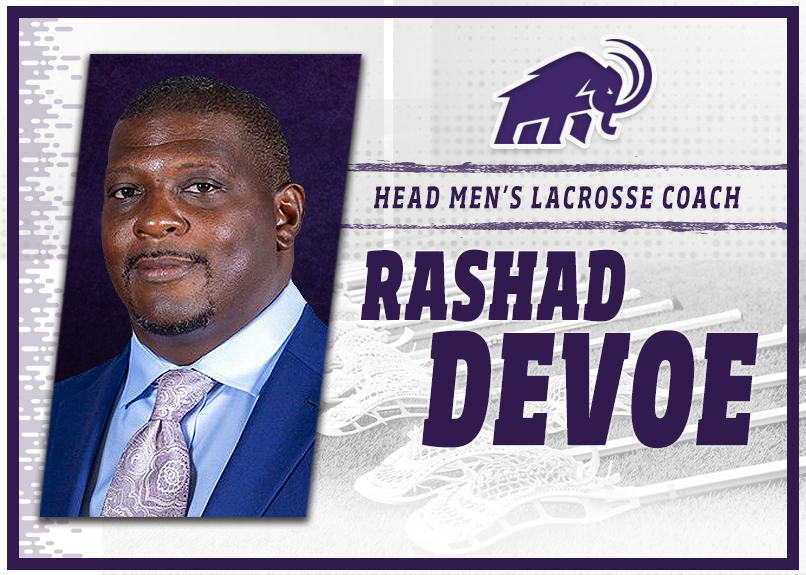 Devoe brings a wide range of coaching experience to the Mammoths. He started off as a strength and conditioning/assistant coach for the Rochester Knighthawks, a former indoor box lacrosse team of the National Lacrosse League. He's coached at the high school level as an assistant at Jesuit College Preparatory School of Dallas and head coach of the Naval Academy Preparatory School in Newport, Rhode Island. He's had two previous NCAA head coaching positions with Division III Beloit College and his former job at Division I Hampton University. Devoe is no stranger to the NESCAC, either, having served as assistant coach for Colby College from 2013-2015 where he helped Austin Sayre win the 2014 NESCAC Rookie of the Year award. Devoe will return a fair amount of players that made it to the 2019 Division III National Championship game, but won't get his first taste of postseason play until at least 2022.
Goalkeeper and President of the Student-Athlete Advisory Committee (SAAC) Gib Versfeld '21 expressed his excitement to have Devoe in charge. "We are pumped to have Coach Devoe as our next head coach. Given his familiarity with the competitiveness of NESCAC lacrosse, I think he is in a great position to offer perspective and leadership for the men of the team. In my Zooms and phone calls with him so far, his energy for the program is palpable and we're excited to work with him to build on the foundation that Coach Thompson had built," he said.
Just ten days before Devoe's hiring announcement, Amherst made public the hiring of another new head coach, this time for the women's volleyball team. When Sue Everdeen announced her retirement following the 2019 campaign, it marked the end of an era for Amherst women's volleyball. Everdeen had been the boss since 1986, racking up more than 700 wins, 34 straight winning seasons, three NESCAC championships, two NESCAC and New England Region Coach of the Year titles and a berth in the quarterfinals of the 2007 NCAA national tournament. Having previously headed the women's squash, lacrosse and softball teams in her time with the Mammoths, Everdeen holds the school record for most games coached at more than 1,500 and most wins with more than 1,000. While those are some big shoes to fill, Valerie Jones is well poised to do it.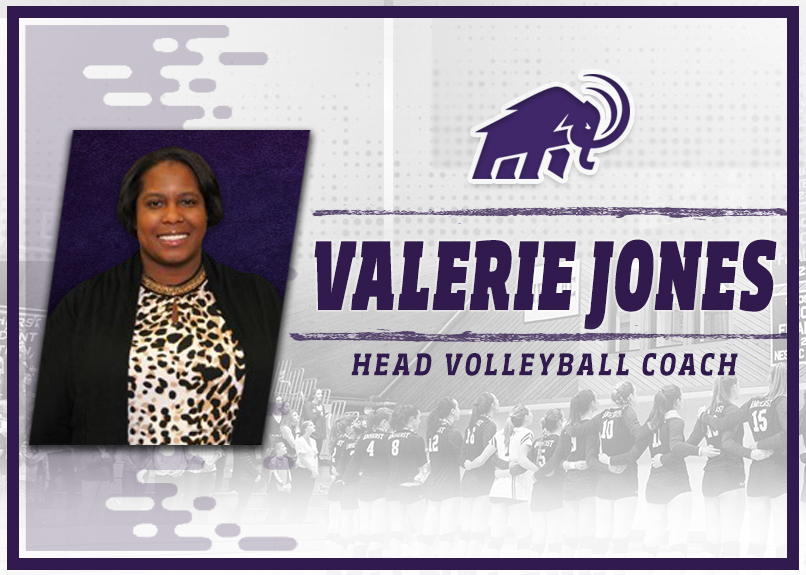 Jones worked her way through the college coaching ranks as an assistant at the University of North Dakota, Utah State University and Northwestern University before landing her first Division I head coaching gig at Kennesaw State University. After getting the program rolling, she also served as head coach at Division I South Carolina State University and Division II Clark Atlanta University, her most recent job.
Outside hitter Jamie Dailey '21 commented on the importance of having a woman of color at the helm: "As a member of a majority white team on campus, I am thrilled to have a Black woman lead our program. Coach Val shared her plans to bring more diversity to our team, which will undoubtedly strengthen our program, on and off the court."
"I'm very excited for the opportunity to be named the volleyball coach at Amherst College," said Jones.  "As we all move forward though this pandemic, this will be a very fluid time. And it's important to remain positive and adaptive during the next several months." 
All of the returning players had the chance to speak with Jones via Zoom during the hiring process in the spring, and they were impressed with what they heard. "In the interview, Coach Val explained to us how she typically runs a week of practice, and I'm really looking forward to the dynamic and high-energy environment she plans to create in our gym. She will definitely push us to compete and get better each day in practice," Dailey said.
Two weeks after Devoe's hiring announcement, on June 8, Busani Xaba was introduced as the new head coach of both the men's and women's squash programs. Xaba takes over for interim head coach Stuart George and is the first permanent head coach for the teams after the retirement of longtime coach Peter Robson. Robson had led the men's team since 1987 and the women's team since 2010. During his tenure, Robson had headed the College Squash Association Executive Committee as president for four years, won four Walker Cup titles with the women's team and led the men's team to the #2 ranking in the nation. He also chipped in four consecutive NESCAC titles as head coach of the men's tennis team.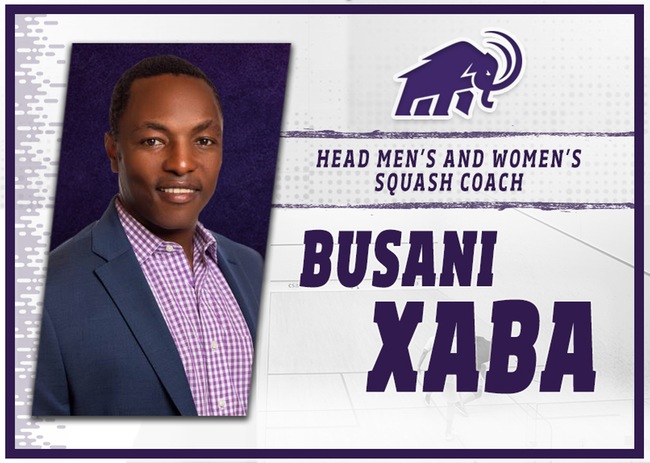 Xaba has a diverse history coaching squash at clubs (head coach of San Diego Squash and director of squash and athletics at University Club of San Francisco) as well as in the college ranks (assistant coach at Dartmouth College and head coach at the University of California, Berkeley).
Team member Reggie Brewster '21 explained what went into the decision. "For each of the head coach candidates, every member of both the men's and women's squash teams had the opportunity to get on a Zoom call with a potential head coach and interview them. After all of the interviews, the other captains and I consolidated everyone's notes and opinions from each interview and sent it to Don Faulstick and the rest of the committee tasked with deciding on a new head coach." Don Faulstick did not respond for comment.
Brewster elaborated on the significance of having a Black head coach calling the shots. "As a person of color, it definitely means a lot to see someone who looks like you in a head coaching position, especially in a sport like squash that struggles with diversity at both the player and coaching levels," Brewster said. "I think Amherst is both fortunate and unique in that we have fairly diverse squash teams, and hopefully having a Black head coach will help the teams attract a diverse pool of applicants. Of course, simply having a person of color at the head coaching position is not enough to attract a diverse pool of recruits, but after talking to Coach Xaba, I am confident that he is both willing and excited to put in the effort to build on a diverse and inclusive team culture."
It only took one day before Amherst tabbed its newest head coach, with Marlon Sears chosen to head up men's basketball and take the reins from interim Aaron Toomey '14. The move comes following Coach David Hixon's '75 decision to retire earlier this April. Hixon will go down as one of the best coaches in Amherst and NCAA history. He currently ranks at 15 for all-time in wins by an NCAA men's basketball coach with more than 800. His resume includes eight NESCAC Championships, seven Final Four appearances, two National Championships (2007 and 2013), five NESCAC Coach of the Year titles and two Division III Coach of the Year awards.
Jamal Wilson '97, one of the best players in program history and Amherst's fourth leading scorer of all-time, spoke about his time playing under Hixon. "As I began to improve and become a better player, there was no time in my basketball career playing overseas or in the CBA [Continental Basketball Association] did I have a coach more supportive than Hix. However, make no mistake that earning his trust, or that opportunity to lead or be great, was never easy under Hix. Nothing was given. It was earned and taken."
Wilson also voiced his displeasure that Amherst decided not to dip into their alumni network to find their new coach. "First let me say, and I think I speak for most if not all of us former players, that we wish Marlon Spears the very best as the next steward of Amherst men's basketball program … That being said, I personally was very disappointed that former players were not consulted more in the search for a new coach," he said. "Hixon's 42-year legacy has spawned some great branches from his coaching tree. I think what people don't realize is how hard it is to get one of these jobs, and if you don't get the opportunity at your alma mater, then where will you find it? Coaching is a tight fraternity of relationships and where you played and who you played for should count for something." Wilson's personal preference would have been Adam Hutchinson '93, a former player and assistant under Hixon and the current head coach at Kean University. "I can openly say I am biased here because one person I respect a great deal and consider a dear friend, Adam Hutchinson, didn't get the job. I personally wanted someone familiar with the unique experience of being a Black athlete at Amherst College [as Hutchinson] in particular to get the job." Above all, Wilson emphasized that patience is crucial. "We all need to be aware that a coach doesn't succeed or fail in a bubble. The entire Athletic Department must be committed to growth and be supportive of their new hire with no reservation. This goes for the Amherst community as a whole as well."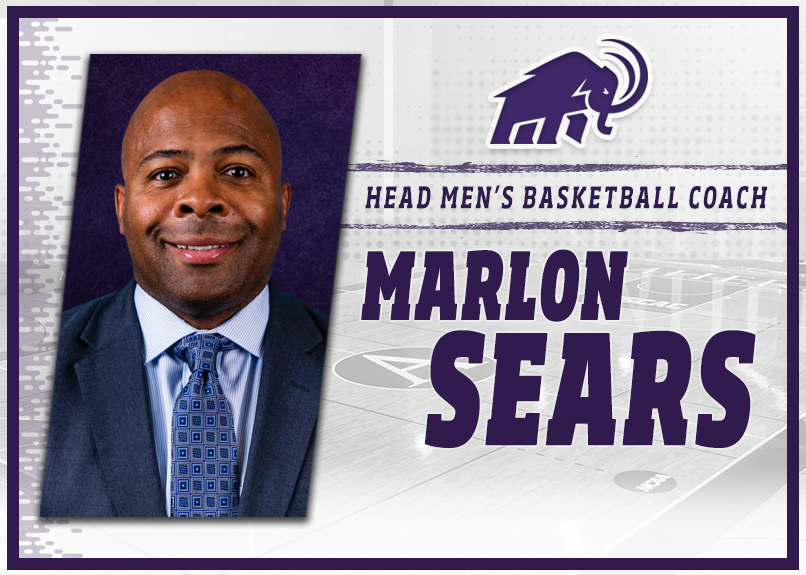 Sears exchanges the Ivy League for the NESCAC as he departs his post as assistant coach at Columbia University to accept the top job with the Mammoths. His previous experience includes assistant roles at Division I schools including Cornell University, High Point University, Wagner College and Binghamton University. His only head coaching experience was from 2015-2019 with Montclair State University.
"I am very excited to be the next Head Men's Basketball Coach," said Sears. "I would like to thank  Provost and Dean of the Faculty Catherine Epstein and Athletic Director Faulstick for the tremendous opportunity to lead a men's program with such a rich history of success. I will work hard to guide the Amherst program to a similar high level of achievement on and off the court to where our university and Amherst communities can continue to be proud."
Captain Grant Robinson '21 recognizes that Sears' wisdom can be the key to a great season. "I hope that he can use this experience and motivation to lead us to continued success on the court. I hope he can push us to reach our full potential both as individuals and as a team. Additionally, as a Black head coach, I hope that Coach Sears can strive to help the team learn about diversity and the importance of an inclusive culture." Robinson knows that he'll play a large part in how the Mammoths rebound from a frustrating season by their lofty standards that ended in the NESCAC semifinals. "As a captain, I think I'm supposed to be an extension of the coach on the floor. I also feel like this year, it's particularly important for me to communicate with the coach and make sure that he is welcomed into the program. Communication is really important for success in a program, so one of my goals as a captain is to lead this communication."
When three head coaches that had been in charge of their respective teams since at least 1987 retired within six months of each other, it was clear that a new day was on the horizon for the Amherst Athletic Department. Amidst a pandemic and tension over racism within societal structures, Amherst found four incredibly qualified candidates to lead the next generation of teams and student-athletes. Despite uncertainty over what the 2020-2021 sports season will look like, there is little doubt that the new coaches will achieve plenty of success, on and off the courts, at Amherst for years to come.