anti-racism
In Response to Atlanta Spa Shootings, Asian Students Grieve, Mobilize and Call for Action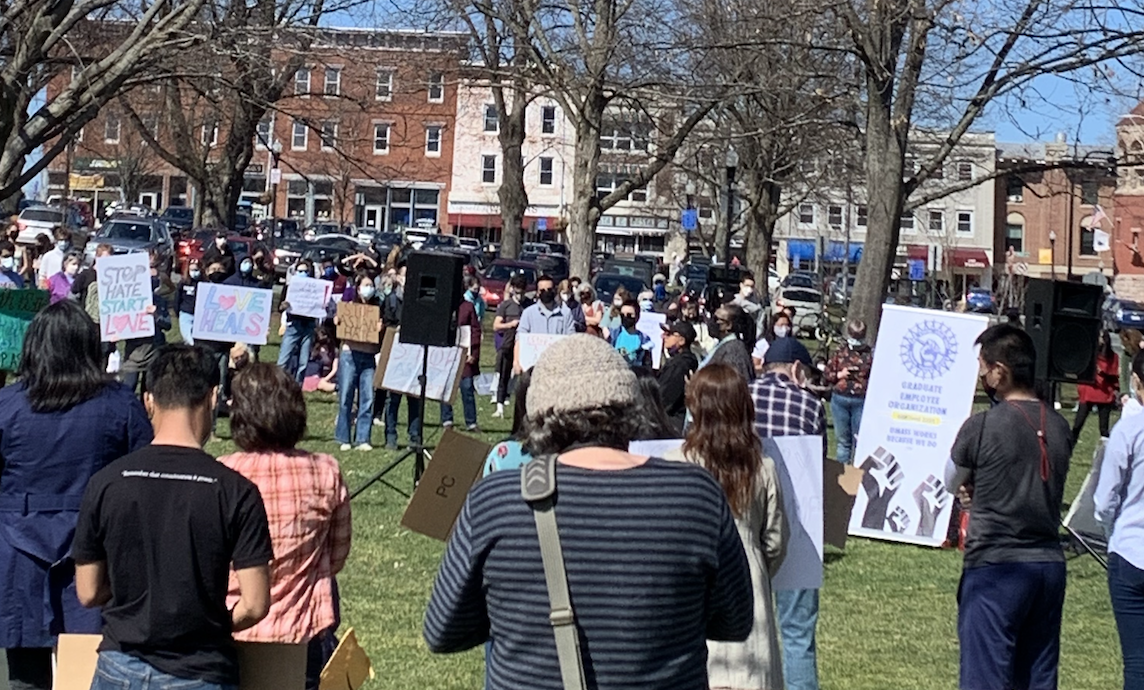 The killing of eight people, six of whom were Asian women, on March 16 in a series of three mass shootings in Atlanta, Georgia devastated the college's Asian and Asian American community. In an email sent the following day, President Biddy Martin condemned the attacks, offering resources and support to community members. But with the letter coming almost a year after anti-Asian racism during the pandemic first made it to the forefront of campus consciousness, many students found the administrative response to be deeply inadequate.
Fueled by misinformation surrounding culpability for the coronavirus pandemic, anti-Asian hate crimes have spiked 150 percent since the pandemic began. Stop AAPI Hate, a national reporting forum, received nearly 3,800 accounts of discrimination from last March to this February. It found that women reported 2.3 times more incidents than men. The shootings in Atlanta mark the deadliest of such attacks against Asian women during the pandemic.
When the shootings first came to light, students struggled to process their emotions, which ranged from shock to grief to anger, particularly with the way in which mainstream media outlets covered the events.
"Wednesday morning was so rough, because not only were we forced to process the insane amount of violence that happened, but the way that we were being fed this story felt extremely violent to me as well," said Seoyeon Kim '21. "Everywhere I looked, every article in the mainstream news was centering [the shooter's] face, his name and later that day, his ideology."
Denial by news sources that the shootings were racially motivated only added to students' distress. "I think when I initially found out [about the shootings], there was a bit of numbness and just confusion about how to react," said Mica Nimkarn '24, vice-chair of the Asian Students Association (ASA). "The way that the media framed it, it was as if it wasn't a racially-based crime, and it wasn't about Asian Americans, and I think that was something that a lot of us had to figure out on our own."
"I couldn't believe that it was even a debate whether this was a race issue or a sex issue," Kim added. "People weren't even considering that it could be both racial and sexual violence, and that stunned me, just the amount of ignorance that was happening."
In response to the events, the Association of Amherst Students (AAS) released a "Statement of Solidarity and Community Call to Action," that acknowledged the recent rise in anti-Asian prejudice, as well as the long history of xenophobia in America. "The Association of Amherst Students is clear: neither hate nor privilege kills people, people with the power to kill people," the statement read. "We remain resolute in our commitment to working to dismantle oppressive systems and remind all members of this College community of our commitment to 'enlighten the lands.'" The statement also called for the "creation of an individual department and major for Asian and Pacific American Studies."
Martin's email to the college community condemned the attacks, committed the college to the fight against anti-Asian racism and offered resources for students to seek support and report incidents of bias. "Our fight against anti-Asian racism is part of our college's overall anti-racism plans and our efforts to oppose white supremacy," she wrote. "I ask that each one of you find ways to support our Asian and Asian American students, faculty and staff and to show that support by intervening, should you witness any forms of racist harassment."
For many Asian students, the process of healing first began in spaces organized by Asian affinity groups on campus. In addition to club meetings within groups like ASA and the Chinese Students Association (CSA), ASA held two vigils on March 20 for the campus community at large, with the first taking place in-person at the War Memorial on campus and the second occurring later in the evening over Zoom.
Led by Sunghoon Kwak '22, senior chair of ASA, and Nimkarn, the in-person gathering offered an intimate space for students to speak about their feelings and reactions to the violence. Martin, Chief Student Affairs Officer Karu Kozuma and Director of the Counseling Center Jackie Alvarez were also present to provide support. The virtual gathering allowed for further discussion and featured 10 student and faculty speakers, including Jiajia Zhang '22 and Professor of American Studies Pawan Dhingra, who read excerpts of poetry, essays and literature and reflected on the campus response to the shootings.
Hannah Zhang '22, secretary of CSA, found the Zoom vigil to be candid and emotional. "I hadn't felt very connected to the community before that, but in that moment, it was just very overwhelming, and everything kind of clicked," she said.
"I really am grateful in times like these for affinity groups, especially the student leaders of those affinity groups," added Jess Li '24, who does outreach for CSA. "They're going through a lot right now too, and yet they're still taking the time and the effort, planning events for us and making sure that everyone else is okay."
"The Asian community at Amherst has been really proactive and relentlessly supportive, and I think that's the biggest thing that has gotten a lot of people through this," she said.
Although student leaders felt that it was necessary to organize healing spaces and appreciated the help and support offered by certain administrators like Kozuma, many wished there had been more proactive discussion on the part of the campus community as a whole. "Because so much of the administration is not Asian-identifying, we thought that it would probably be best if Asian students took the lead on this one," said Kwak.
"It is a little bit disappointing, though, that outside of Karu and some of the other administrators, there seems to be [more] muted discussion than I had hoped within the administration. Beyond Biddy's letter, there wasn't really much to address the community about the happenings," he continued.
Silvia Huang '22, president of CSA, added, "From what I can tell, the administrat[ors] that have been active in a lot of this, or actively reaching out to student leaders for the Asian affinity groups, are Asian themselves. I would like to see the other affinity groups, administrators and departments also get involved and offer support or resources."
Some students also expressed disappointment that faculty members did not take the time to acknowledge the shootings in their immediate aftermath. On the day that the news came out, "professors didn't really address anything and just jumped into their classes, as if everything was normal," said Nimkarn. "In one of my classes, we went around saying how we felt that day on a scale from 1 to 10, and everyone said, '8.5, 9, the weather's really nice today' or something, [while] I was like, '1, I'm really struggling.'"
She continued, "A lot of the professors didn't give us as much space as I wanted to have that day, [and the same was true] for a lot of my other Asian classmates as well."
"I think that [this lack of acknowledgment] contributed to a sort of internalized racial gaslighting that a lot of Asian American students have in our country and at our school," added Kim. "It's really hard for us to take our feelings in as valid, when they are not being acknowledged, when our tragedies aren't being acknowledged in a public space."
For both Nimkarn and Kim, such disappointment highlighted the need for expanded course offerings on Asian American experiences at the college. "The classes that did give me space were the ones that were about Asian identity, and I think that that just goes to show the merit of having classes like that at Amherst," said Nimkarn.
Indeed, the continuing failure on the part of the college to provide an Asian American studies major made it difficult for students to feel supported by what public acknowledgment the college did offer. "Biddy's letter was helpful, but we couldn't help but feel like it was a little ironic to say that Amherst College unequivocally supports its Asian students during this time and during this violence," said Kim.
Kim clarified that "it felt a little ironic, because student activists have been advocating for an Asian and Pacific American studies major at our school since 1972. This hasn't been a recent thing — it's a decades-long thing that's been going on."
Students took particular issue with Martin's use of newly hired Christine Noelle Peralta, an assistant professor who starts in the fall of 2021 and will teach in Asian American studies, to affirm the college's "commitment to educating students on the experiences of Asian Americans."
"People were upset that [Professor Peralta] had to be introduced in the context [of such violence] and in a way that didn't really highlight her or celebrate the work that she does — just as an appeasement offer, a hyperlink in a very long list of very long bullet points," said Li. "I think a lot of people are still unsure as to what's holding [the college] back from properly establishing an Asian American studies department."
Reflecting on the comparison between the college's response to anti-Asian racism last spring and now, Kwak said, "Honestly, it feels like the support then and [the support] now is pretty identical, in that there seems to be this, 'Oh, anti-Asian racism sucks,' but no tangible action being taken. I haven't noticed a difference within the campus community."
Several students saw that kind of tangible action as starting with changes in day-to-day interactions. "I think there is sort of an accepted culture within the U.S. of making small remarks or little microaggressions towards Asians and it being brushed off in a way that other sort of microaggressions aren't," Kwak said. "It feels wrong to overreact on such small things, but the buildup of [things like] that could lead to greater violence."
Indeed, even serious aggressions against Asian students are not often discussed or seen as problematic. "The fetishization and sexualization of Asian women is something that is very apparent on Amherst's campus and the dating and hookup culture here, and so I would like to see that addressed and talked about," said Nimkarn. "We talk about sexual assault and we talk about consent, but we don't always talk about the way in which race and sex coincide."
"Hyper-sexualization of Asian women is often thought of as a joke, as something we should be grateful for," elaborated Kim. "I hope people recognize that it is actually extremely debilitating to go through — the exhaustion of having to negotiate your presence and your worth as an Asian woman every single day — and realize that it's a threat to our livelihood."
"[It's] the casual dialogue surrounding what it means to be Asian [that hurts] — I just want us to be taken seriously, us and our issues," she said.
Opening up about their experiences feeling unheard by the college, students also hoped the administration would be more receptive to and proactive in enacting change moving forward. "It's difficult knowing that we are expected to be activists when our communities are hurting and grieving, that we are expected to be vocal about things that happen to us," Li said. "It sucks that we are either going to get pushback or we're going to get pushed aside or this might just be another incident of Asian activism that will be forgotten, just because that's not what people want from us, and that's not what people see in us."
"I think it's been exhausting for a lot of student activists to have to go through the same process over and over again," added Kim. "We're really hoping that we're actually being heard this time."
Within the Asian American community itself, student leaders are urging their peers to not give up even in the face of tremendous grief and setbacks. "As much as it sucks that it takes six women dying to start a conversation, this is the moment where we should be trying our hardest to make change," said Nimkarn.
"There's a lot of good things in this community that have been happening this week surrounding what happened in Atlanta, and there's a lot of things that need to be worked on," added Li. "To just keep that momentum going and keep being there for each other, supporting each other — that's the best we can do at Amherst."
In an email extending support to members of CSA, Zhang wrote, "My parents and grandparents, who thought it necessary to stay complacent and silent to survive in this foreign, and often cruel, country, did so so that one day, a generation of their sons and daughters wouldn't have to — that we could actually speak and not be afraid or chastised, and instead, be heard and validated in our experiences."
"I really, really hope we can be that generation," she concluded.