News
Derecka Purnell Kicks Off "Freedom Talks" With Lecture on Abolition, Organizing
Derecka Purnell, a human rights lawyer and author, spoke at the first installation of the "Freedom Talks" lecture series. She discussed police abolition, her personal experiences with police officers, and the role of relationships in organizing.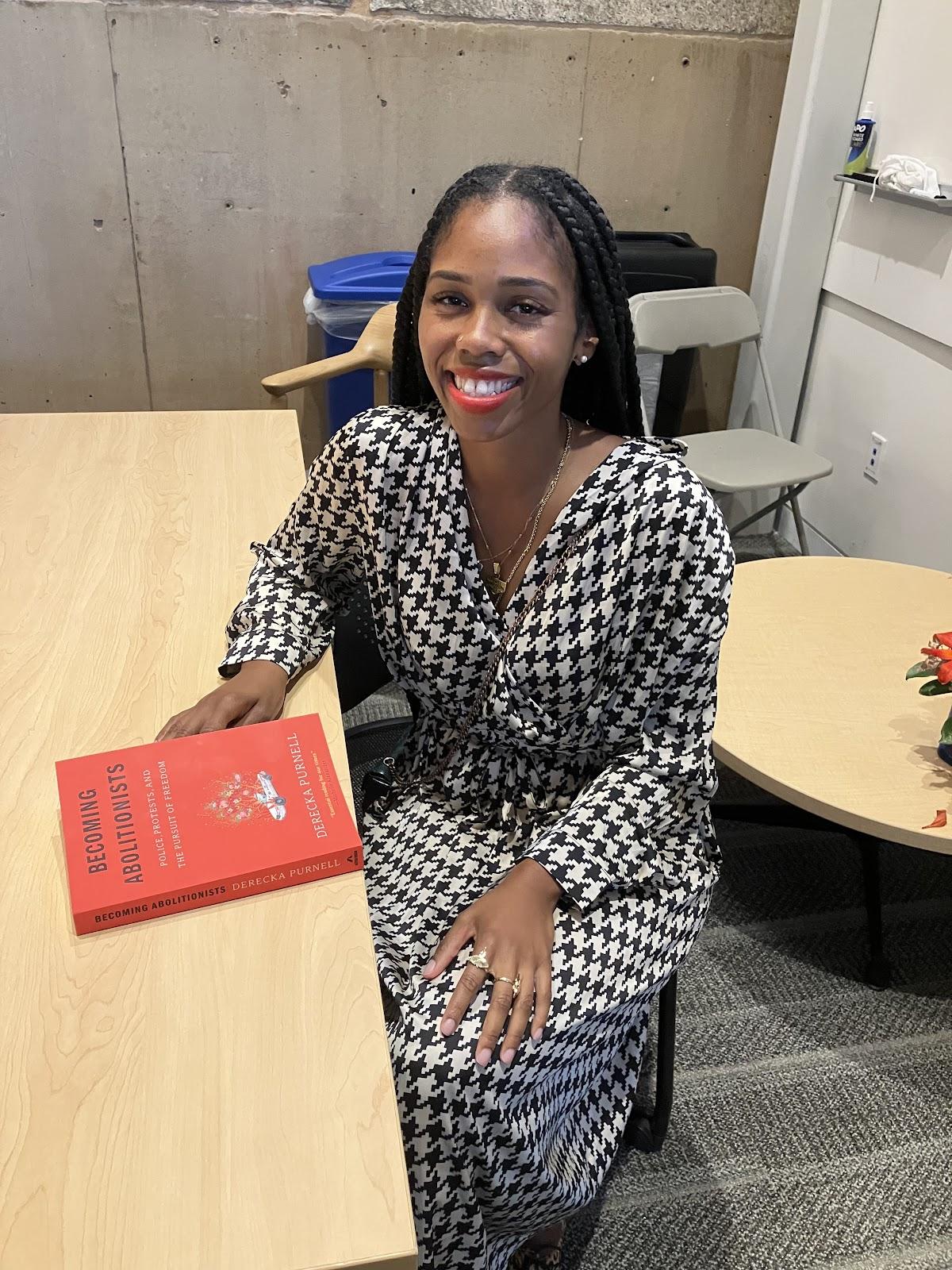 "I try to remember that at first we were free. How do I get back to that freedom?"
Derecka Purnell, a human rights lawyer and writer, asked this of the crowd at the Center for Humanistic Inquiry (CHI) Think Tank on Oct. 3.
Purnell, author of the 2021 memoir "Becoming Abolitionists: Police, Protest, and the Pursuit of Freedom," was the first speaker in the new Freedom Talks series, which invites scholars to discuss the theme of freedom in their work.
During her hour-long talk, Purnell discussed police abolition and moving away from individualistic ways of being in community. Police abolition is the movement that advocates for the replacement of policing and prisons with other methods of community safety.
The event was presented by the Black studies, environmental studies, and political science departments and was open to the public.
Purnell first spoke about police abolition as freedom, and how police work provides an illusory solution to social problems by responding to conflict in the moment but failing to resolve issues in the long term.
She spoke about the mixed experiences she had with police growing up — they ranged from officers who were her mom's friends, to those who detained peers. She recalled the constant fear of policing in her neighborhood, and the way in which the local jail was deceptively referred to as the "workhouse." While police were a "source of fear and tension," her political analysis didn't develop until she attended college at the University of Missouri-Kansas City.
Purnell stressed the importance of moving people incrementally as an activist, since strong relationships form the basis of any productive conversation. She encouraged the audience to envision new ways to connect to others, and said she sees forgiveness as a tenet of her relationships — although she acknowledged that debates about forgiveness are "delicate at best, messy at worst." For abolitionists, forgiveness is connected to the broader project of shifting away from a punitive criminal justice system toward a model of community responsibility.
Purnell also commended the rise of mutual aid, praising it as both an important intermediary and good alternative when social programs are insufficient.
"It is a reclamation of how people have lived in the world before capitalism," she said, while also noting the limitations of mutual aid without structural change. She also praised organizing movements locally, such as Building Up People Not Prisons, which has organized to advocate for a moratorium on prison construction.
When talking about mental health, Purnell said, "We're not gonna therapy our way out of poverty, or exploitation, or capitalism," noting that individualized mental health is ineffective for social problems.
Purnell encouraged people to "join a political home and debate your tendencies." She expressed concern for the state of student activism, and she discussed the current "lull of professionalization" in the organizing space. Many college students, she said, discard their activism after graduating. "We need student organizing right now more than ever," Purnell said. "And not the kind of organizing that you leave behind."
Future Freedom Talk speakers include composer Vijay Iyer and writer Mohammed el-Kurd. The next event will take place on Oct. 24, 2023.