Sports
Baseball Begins Season on a Roll With Solid Pitching and Hot Hitting Streaks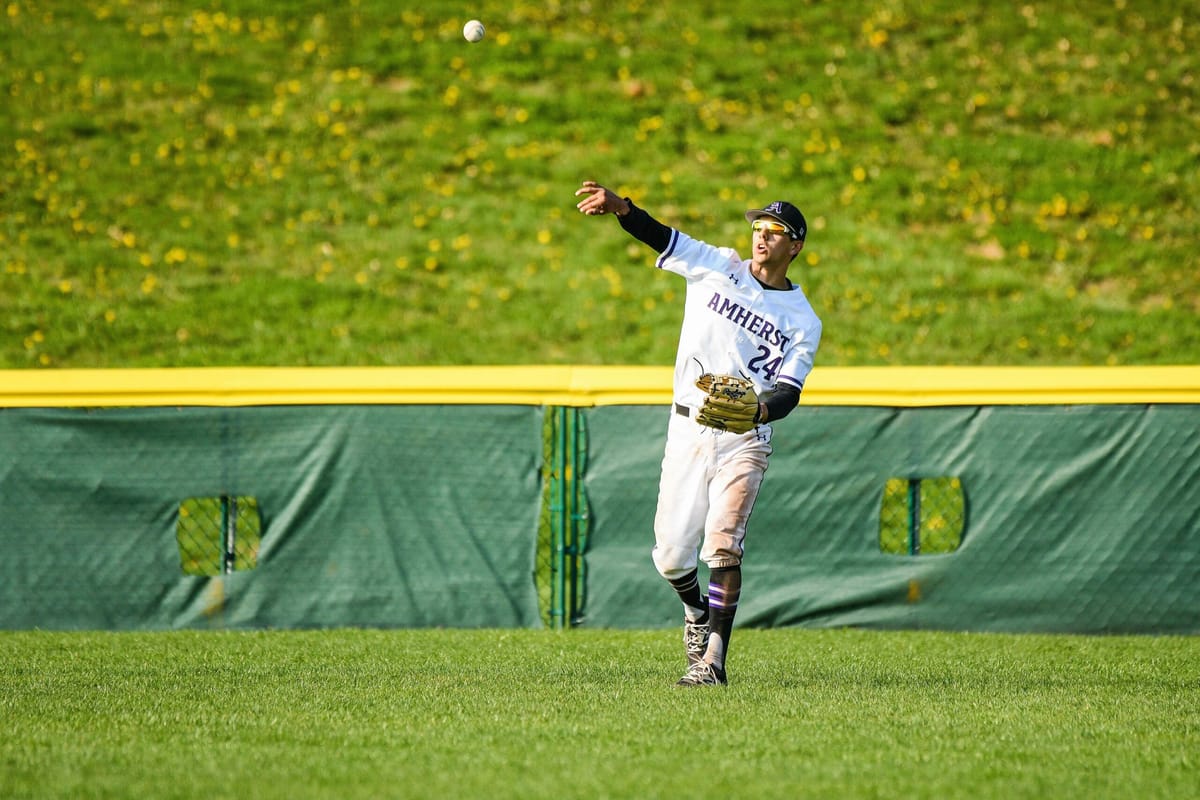 The Mammoths traveled down to Florida during spring break to begin their season, finishing the week with five wins and three losses altogether. Two of these losses came against ranked opponents, Concordia University Chicago and the University of Southern Maine.
Following their strong performance, outfielder Joe Palmo '21 was recognized as NESCAC Player of Week after batting .423 with fourdoubles, a triple and a home run.
Amherst opened the season quite rusty, surrendering nine runs in the first inning against Concordia. After that, they held the Cougars in check, but were unable to claw back into the game, eventually losing 13-3 after seven innings. Palmo and outfielder Will Murphy '20 each drove in a run, but the Mammoths would have to wait until their next game to really get their season rolling.
After the tough loss to open the season, Amherst put away Utica College in both games of a doubleheader the following night, winning by scores of 13-3 and 3-2. In the first game, Palmo and designated hitter Chase Henley '19 drove in a combined seven runs while Davis Brown '19 held his own against the Pioneer hitting. In the second game of the doubleheader, southpaw pitcher Andrew Nagel '21 struck out eight batters and gave up zero earned runs to power Amherst to a close victory.
Against UMass Dartmouth the following day, the Mammoths' offense led them to an 18-5 win, including an eight-run fifth inning. Henley, Palmo and Murphy kept their hot hitting streak and outfielder Kai Terada Herzer '21 had three RBIs. Wilson Taylor '19 pitched five innings with zero earned runs, getting the win for the game.
Amherst won a nail-biter walkoff win against Wisconsin-Stevens Point by a score of 6-5, including three runs in the bottom of the ninth inning.
The game looked lost after the Pointers went up 5-3 in the top of the inning, but a Palmo homer and a walk-off single by Murphy put the Mammoths on top.
This four-game winning streak would come to an end against 12th-ranked Southern Maine, as the Huskies walked off in the bottom of the ninth to spoil starting pitcher senior Andrew Ferrero's strong start. Amherst put up five runs in the third inning, but could not hold Southern Maine's hitting in check during the rest of the game and lost 5-6.
On their final day of spring training, the Mammoths split a doubleheader with Anderson University of Indiana. Amherst lost the first game 3-2 despite home runs from Henley and outfielder Kyler Kopacz '21 and strong pitching performances from Brown and Jack Harlan '20. Kopacz, who last year was unable to play due to injury, hit an important home run in his first collegiate at-bat.The Mammoths fared much better in Game 2, winning 11-3 behind the strong hitting of Henley, third baseman Nick Nardone '19 and shortstop Stephen Burke '21.
When asked about his team's performance over spring break, Palmo seemed optimistic about Amherst's chances going forward, saying, "We had a very competitive schedule in Florida and played well, so we are very confident going into the season that we can compete for another NESCAC title."
Given the team's NESCAC Championships win last year, there is reason to doubt him. The Mammoths have their home opener this weekend on Friday night against Dean College and will look to continue their winning ways from Florida.