Sports
Baseball Takes Series Against Rival Williams, 2-1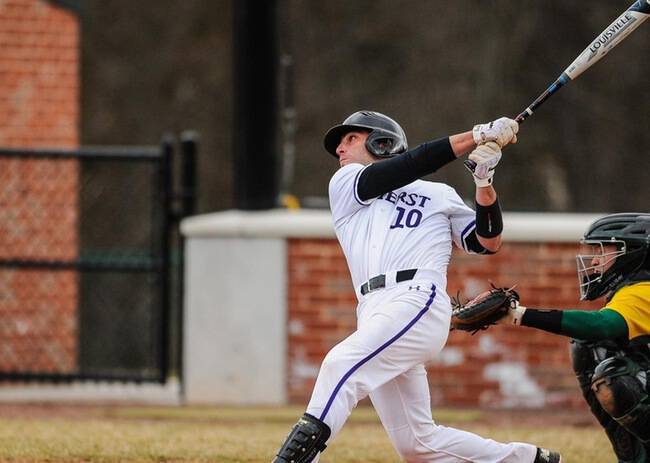 The Mammoths continued their strong start to the season in their series against rival Williams, sweeping both games of the Saturday doubleheader in Williamstown before dropping Sunday's game at home. After losing two of three games last weekend against Wesleyan, this was a strong rebound performance for Amherst. Andrew Ferrero '19 led Amherst to a 7-0 win in the first game of Saturday's doubleheader, pitching a complete game shutout with six strikeouts and only four hits allowed. For his performance, Ferrero was named NESCAC player of the week. With an outing like that, the Amherst bats didn't need to show up, but they certainly did. Designated hitter Chase Henley '19 and left fielder Topher Brown '20 combined for six RBIs, powering Amherst to victory.
The Mammoths fell behind early in the second game, only to put up four runs in the second inning. The lead held from there on out, with Amherst coming out on top by a score of 8-4. Davis Brown '21 held the Williams hitters in check to earn the win, while Amherst got contributions from up and down the lineup, with six batters driving in runs. Center fielder Kai Terada-Herzer '21 and second baseman Daniel Qin '22 each drove in a pair of runs, while Henley and Brown continued their contributions from the game earlier in the day, driving in a run apiece. The series moved to Amherst for Sunday's third and final game of the series, which Williams took by a score of 14-4. The game was tied at four after the fourth inning, during which Severino Simeone '20 hit his second home run of the season.
In the top of the sixth inning, Williams, however, reclaimed the lead with a seven-run rally. The Ephs would not relinquish this lead. After this, the only other production for the Mammoths came in the form of Simeone's second homer of the day and third on the year, a solo shot in the bottom of the sixth. After this series, the Mammoths are 11-7 on year and .500 in NESCAC play with a conference record of 3-3. Amherst will look to improve on that this weekend in their road series against Hamilton College, beginning with a game on Friday and followed by a doubleheader on Saturday.