News
Basketball Star Finds Success in Silicon Valley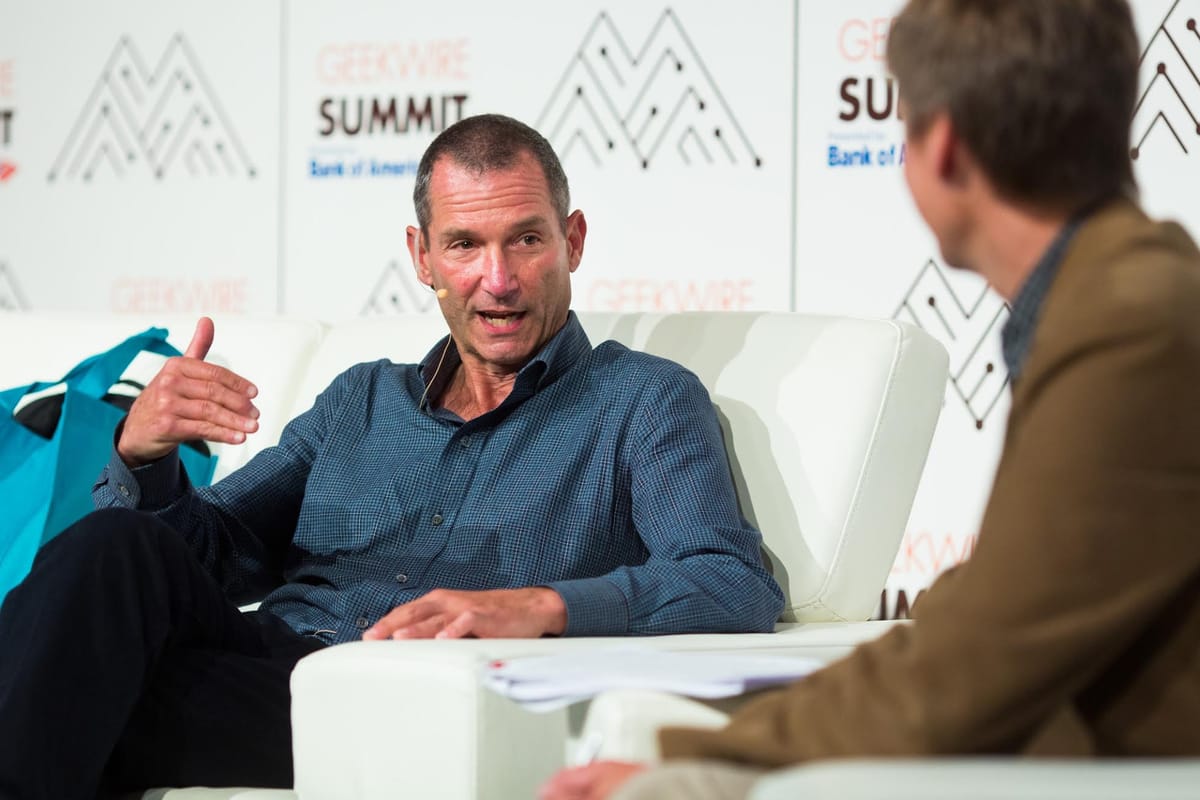 Jeff Jordan '81 is a lifelong learner, who is always up for the challenge. People have often recognized his perseverance and contributions in the workplace and helped shape the career he has today.
As a venture capitalist at Andreessen Horowitz, Jordan serves on the board of Airbnb and Pinterest and was formerly the CEO of PayPal and OpenTable. A father of two, Jordan is passionate about assessing and building companies, especially in their early stages.
*Growing Up and Amherst * Jordan grew up moving between Philadelphia and Washington D.C. and went to high school in northern Virginia, where he managed to maintain good grades while playing both football and basketball. When he was 15, his father passed away. Looking back, Jordan says this event changed his relationship with his community — he received an outpouring of support from everyone around him, which ensured the consistent presence of male role models in his life.
When the dean of admissions at Amherst came to visit his high school, Jordan asked if he could successfully pursue both academics and sports at the college. The dean responded: "Son, I like that question. No, I love that question. Yes, you can. You're just the kind of person we want at Amherst. You're in." With this answer, Jordan was convinced that Amherst was a good fit for him and so he made the trip up to Massachusetts in the fall of 1977.
At Amherst, Jordan struggled to find his footing at such a "bastion of white, male privilege." It was the late 1970's, and the school had only recently started admitting women, so a "frat driven" culture still dominated the campus.
"Here I am, a public-school kid who had no money and had recently lost his father," Jordan remembered. "I literally got asked in the school, 'What [company] does your father own?'"
On paper, Jordan was an ideal member of the Amherst community — a well-rounded student-athlete the dean of admissions predicted he would be. A political science and psychology major who graduated magna cum laude, Jordan was also a forward on the men's basketball team, a basketball intramural champion and a member of Phi Beta Kappa honor society.
Jordan would wake up early to complete all his homework before class and play basketball at night.
"[Jordan] never could jump very high; he was not super-strong, not super-fast, and he had absolutely no outside shot at all for many years," Charles Brewer '81, a classmate of Jordan's at Amherst and Stanford remembered. "But somehow he is an amazing rebounder and a great inside scorer. Somehow he just knows where the ball is going about a second before anyone else. And somehow he could always get around defenders just far enough to get off one of his scoopy, lay-uppy shots that always went in."
Internally, however, Jordan was struggling. Without the strong support network he was used to back home, he became depressed and lost around 50 pounds, going from "an undersized post [on the team] to a useless one." Jordan referred to his college years as his "angry man period," but he managed to "stumble out of Amherst unscathed."
Early Jobs and Business School After Amherst, Jordan followed his college girlfriend back to Philadelphia, where he cooked in restaurants. He then found work at a series of insurance companies but continued to cook on weekends. While at Cigna, a Philadelphia insurance company, his boss Rick Thatcher took particular interest in him. Thatcher mentored Jordan, got him onto good projects and ultimately, after Jordan had become one of the company's best employees, told him to go on to business school to further his career.
Taking his boss' advice, Jordan applied to Stanford Graduate School of Business and soon got a call from the dean of admissions — he had been accepted. At first, Jordan denied the offer because he simply couldn't afford to go to business school. He was making less than $13,000 a year at Cigna and needed to support his mother as well. However, the dean called Jordan back the next day urging him to enroll, even if he had to make use of loans and scholarships. Jordan ultimately accepted the offer and hasn't regretted the decision.
"At Stanford, I was able to make the leap, with a lot of effort, out of insurance jobs into much more interesting, higher potential and challenging jobs," he said. "I would credit [my boss and the dean] for launching me into a completely different career trajectory."
Working in Operations After business school, Jordan joined Boston Consulting Group as an associate consultant. While he enjoyed the job, he said that he didn't get to see the impact of his work and worked mostly with failing companies.
After a few years in working in consulting, Jordan moved to The Walt Disney Co.'s strategic planning team.
After a while, Jordan moved to the position of CFO of the Disney Store to work more on the operating side of the business. After eight years and with growth beginning to slow down at Disney, Jordan left the company and became the president of Reel.com, a subsidiary of the video rental shop Hollywood Entertainment. While Jordan now admits that this was "a dumb leap because it was a bad business," the move was a major turning point in his career, because he became one of the first internet executives just as the internet began to commercialize.
Foreseeing the eventual downfall of the movie rental industry, Jordan looked for other options. Megan Whitman, the CEO of eBay at the time, who had formerly worked with Jordan at Disney, convinced him to join her at eBay. At first he was skeptical of the company, which he associated with selling Beanie Babies and thought lacked potential after the company went public. However, he changed his mind after meeting "really high-quality people" at the company and listening to their visions for eBay. Today, he considers the company "one of best the business models ever to have been associated with me."
Jordan joined eBay as one of 200 employees, but by the time he left seven years later, the company had grown to over 11,000 employees. In that time, he went from "having never really having run a business to managing one person to five, six thousand. You make a lot of mistakes, and if you're successful, you learn really quickly."
Jordan led eBay in the successful acquisition of PayPal because at that time eBay didn't have an efficient online payment system. When he was offered the opportunity to serve as CEO of eBay, Jordan turned down the opportunity and instead chose to focus on running PayPal.
"I thought about it a lot and I told [Whitman] that I didn't want her job, because I actually loved the early stage," Jordan said. "She lived in a plane. The company was huge. I was so proud I was able to scale with the company but I had less fun doing the job as eBay got bigger and bigger. So, I told her I didn't want her job."
Under Jordan's leadership as CEO, PayPal became the online payment service of choice. He described his time at PayPal as "an experience I wouldn't trade for anything in the world," but added that "they were dog years." He quickly felt burned out, and after two years as CEO, he left PayPal.
After taking time away from the business world, Jordan's next career move brought him to OpenTable, where he served as CEO of the restaurant-reservation service provider. The job was the perfect fit, because Jordan already had familiarity with the restaurant industry and was looking for a smaller time commitment. Under his leadership, the company experienced high levels of growth.
Investing in People and Business By the time he assumed his position at OpenTable, Jordan had already experienced a long and illustrious career in operations. Most would be ready to relax and rest on their laurels at this point, but that was never in Jordan's personality.
Instead, feeling that he had learned everything he could about operations, he took a turn and "jumped across the aisle to become an investor."
In 2011, Jordan started his current position as fifth general partner at Andreessen Horowitz, a leading venture capital firms. Throughout his tenure, Jordan has played an instrumental role in some of the firm's largest investments, including the $112 million investment for Airbnb in July 2011 which valued the now now $31 billion homesharing company at $1.3 billion.
Today, Jordan serves on the boards of Airbnb, Instacart, Lime and Pinterest and loves the "mentally challenging and interesting" task of dealing with a company's most important questions.
As a venture capitalist, Jordan receives pitches from executives of new technology companies. "We have the smartest people in the world coming to try to convince us of their vision of the future. Every day is something new," he said.
This is the last full-time job I'll have. I still love coming to work and am still learning and being challenged. Venture has such long lead times and you have to plan to be on a board for 10 or so years. I'm 59 making 10 to 12 year commitments every day," he added.
Basketball and Business After playing basketball at Amherst, Jordan carried his love for the sport to graduate school and beyond. He remains deeply involved in the Stanford community, staying in touch with many of his classmates, serving as a member of the Stanford Athletics Board of Directors and often hosting dinners at his home for different sports teams.
Jordan has organized basketball games with former and current college and professional athletes in the Stanford courts ranging from people in their early 20s to people his age. "It's a way to stay connected to 50 really interesting people," he said. "While I love athletics, I love what it does to bring people together for a higher mission."