News
Campus Cast Into Turmoil After Decision to Move Students Off Campus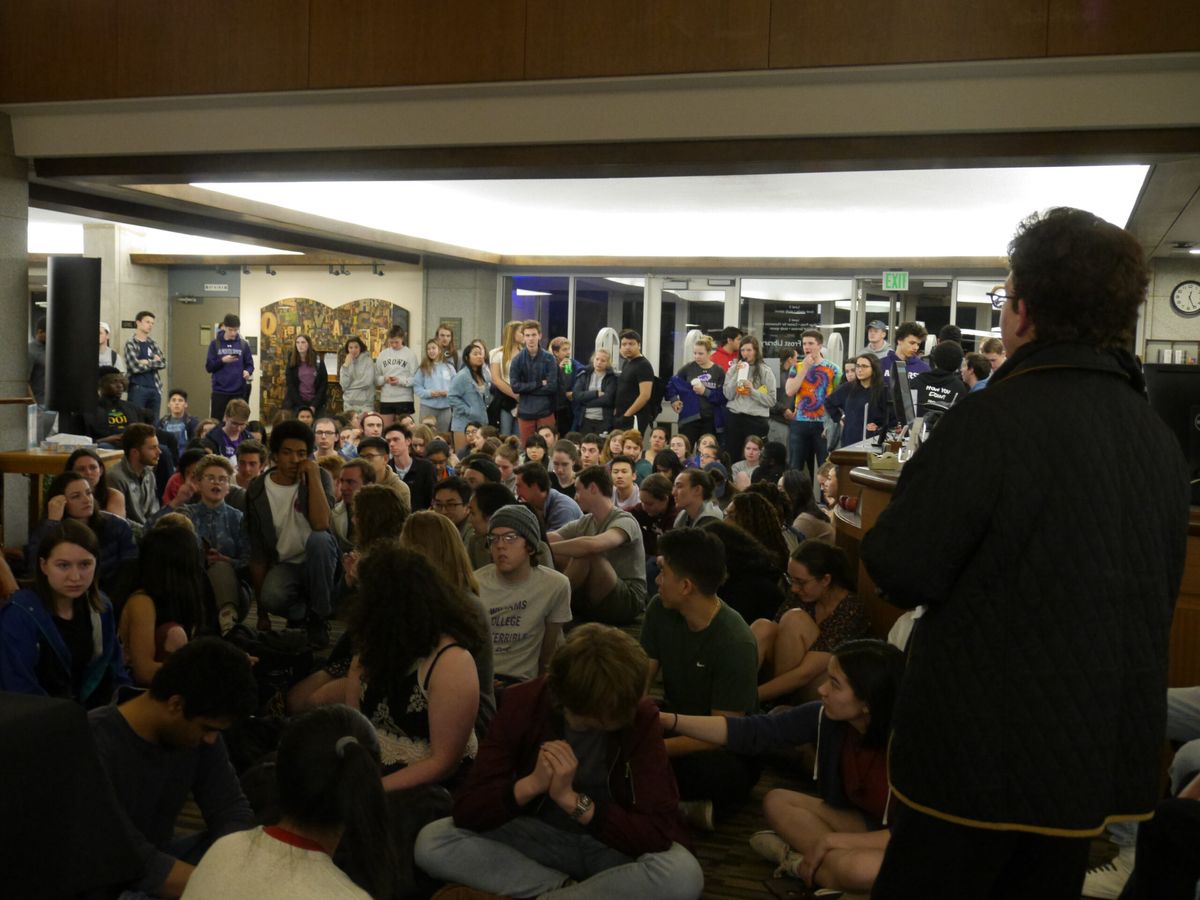 All classes will move online starting on March 23, and students must leave the campus over spring break in an effort to mitigate concerns over the spread of coronavirus (COVID-19), according to an email sent just before 8 p.m. on March 9 by President Biddy Martin. Since the announcement, student pressure has caused the departure deadline to be moved from March 16 to 18. Faculty and staff will continue their regular schedules, but classes on Thursday and Friday of this week are canceled to allow time for the community to adjust. These changes are to remain in place indefinitely until the spread of COVID-19 stabilizes.
Massachusetts, which has 92 confirmed cases of COVID-19 as of March 10, is among the 19 states that have declared a state of emergency. Although there are no cases of COVID-19 at the college or in Hampshire County, where the college is located, the widespread travel associated with spring break meant that "the risk of having hundreds of people return from their travels to the campus [was] too great," as Martin wrote in her initial email, prompting the college to take measures "to keep members of our community as safe as we possibly can." Most students, who are generally young and healthy, do not face a high risk of serious harm from COVID-19, but older adults and those who are immunocompromised do face a higher risk, according to the Center for Disease Control and Prevention (CDC).
The decision to move students off campus was not explicitly communicated as a possibility to the student body until the Monday announcement was made, although the potential of remote learning was discussed with faculty in a meeting on March 2. For many in the community, the announcement was unexpected, leaving a sense of shock around the campus and a number of open questions about both the rationale and implications behind the decision.
Forty minutes after the release of the statement, Dean of Students Liz Agosto, Senior Associate Dean of Students Dean Gendron and Chief Student Affairs Officer Karu Kozuma held a Q&A session as part of an Association of Amherst Students (AAS) meeting. The session wasn't publicized, but nevertheless, nearly 200 students attended.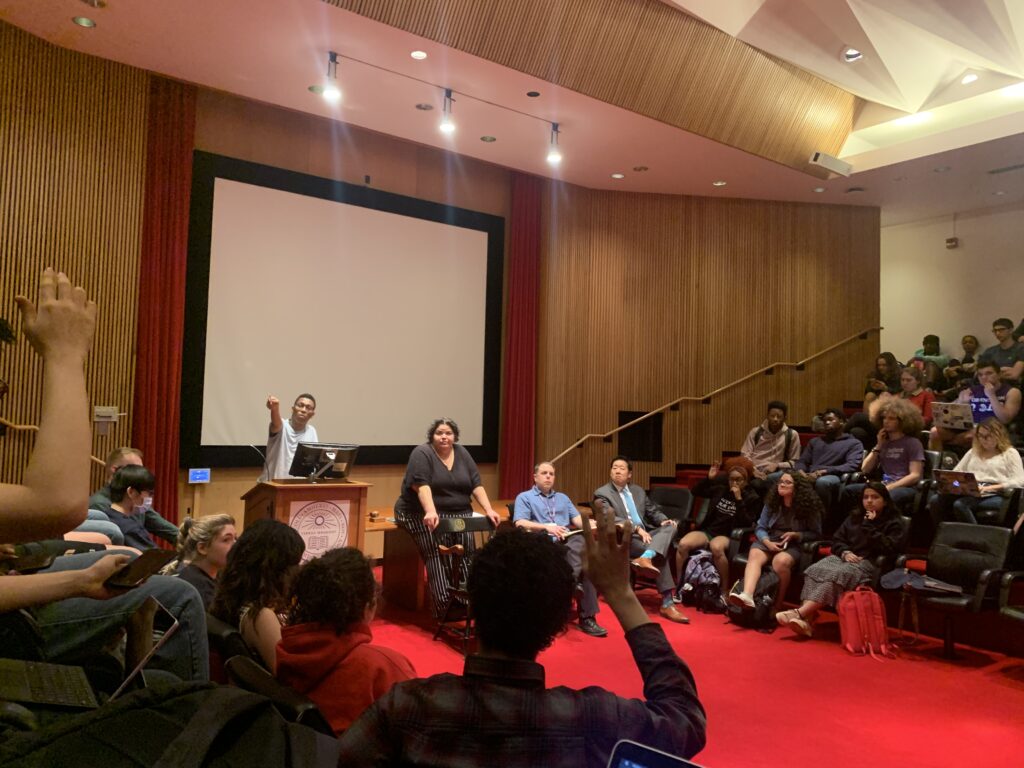 Agosto began the session by offering some baseline explanations and details for the decision. She noted the influence of other colleges' decisions to move classes online and the lack of adequate facilities on campus as two key motivations for the shift. She also noted that there would be a committee that reviews petitions for students to remain on campus. The deadline for submitting a petition has shifted from the March 11 to 13 in the time since Agosto addressed the AAS. For those who do ultimately stay on campus, they will all be moved into single rooms in a select number of dormitories. The deadline for submitting petitions has since been moved to March 13, according to an email sent by Agosto on March 10.
Agosto said that there is no exact capacity on the students that can stay on campus, but that the overarching goal is to get as many students off campus as possible. However, the administration has since given a range of between 200 and 300 students for the number of students that it expects will be able to stay on campus with the petitioning process. Agosto also urged students to keep an eye out for additional information that would be sent the following morning, noting that the college is working with the other colleges in the Five College Consortium to adjust for students taking courses at the other colleges.
In the AAS meeting, Agosto, Gendron and Kozuma then fielded just under 50 questions from several students in the audience. At the top of students' minds was support for communities that might be particularly impacted by the sudden change, such as low-income or international students; the situation around the possible refund of room and board costs; the logistics of remote learning for activities without clear online equivalents; and the conditions under which students would be allowed to return to campus. For each of these, Agosto, Gendron and Kozuma only noted that different offices were working through the specifics of each question, and that they would be able to offer more concrete answers at a later date. However, they were able to assure that students without a place to travel to would receive priority for staying on campus, and that the legal status of non-U.S. citizens are not in jeopardy.
A number of students raised questions concerning the transparency of the process, with accusations that the college had sidelined students — especially those in traditionally marginalized groups — in their decision-making process, as well as pleas for the administration to improve its engagement on the issue with the community on a more regular basis in the future. To that end, Agosto committed to establishing a "drumbeat of communication" in terms of providing regular updates moving forward.
"We've been doing what we can to share information as decisions are made. The idea of moving online, it's been a thought but not necessarily a plan," Agosto said in an interview with The Student after the session. "We should have maybe had a different conversation with students. I'm not sure that we thought that we were going to be there in the ways that we are now, because this has been a fast-moving decision that just happened, and so we're catching up."
Other notable announcements include the suspension of the all spring sports' seasons, the continued payment of students with on-campus jobs even if they can no longer perform their duties while off-campus, the continued operation of dining services and health services and the continued discussions on whether the college will cancel commencement and reunion — which currently remain scheduled as planned.
A large contingent of students, still seeking answers and wanting to spark a more explicit conversation, started a demonstration outside of Martin's house around 11 p.m., which quickly evolved into a sit-in at Frost Library. Although the sit-in initially started with under 50 people, the size eventually grew to over 150 people at its peak and lasted until 2 a.m., with Martin and Agosto arriving to answer questions starting around midnight until the sit-in's close.
Students at the sit-in expressed many of the same concerns as the students at the Q&A session. After deliberating in small groups, the larger group decided on three overarching concerns, drafted onto a white board: 1) the college isn't properly accommodating students who want or have a need to stay on campus; 2) the college has been especially poor in communicating with the student body or involving students in decisions about process, and when it has done so, it has lacked empathy; and 3) the college hasn't provided a clear path for students to access necessary resources, including internet access, a computer or other necessary hardware, in the case that they leave the campus. There was also a sizeable group of seniors that expressed concern over having their theses interrupted as well as being forced to say goodbye to their friends on a four-day timeframe.
For Eliza Brewer '22, one of the students attending the sit-in and the president of the Amherst QuestBridge Low-Income Community, the need to go through a petition process to stay on campus is unnecessary and overly onerous on students who have reasons to stay. "We should be allowed to stay if we sign a contract agreeing to self-quarantine, to not leave Hampshire County," she said. "Why is that less ethically optimal than y'all's decision?" Many students agreed with Brewer, decrying the need for an application of sorts to stay at a school to which they've already been accepted as well as the pernicious atmosphere of competition that it might create, as students imagine vying against each other for spots on campus.
Agosto argued that the college doesn't "have the amenities to let [everyone] quarantine safely," specifically pointing to the fact that there are only about 11 single rooms with individual bathrooms, which are necessary for quarantine.
Martin agreed with this sentiment, pointing to how an outbreak of infected students could limit medical supplies for those at higher risk. Specifically, she cited a widely circulated graphic that shows the importance of controls on transmission. "The more this goes on, the more transportation is limited, the more supply chains are limited," she said. "We are not able, in this community, to handle an outbreak."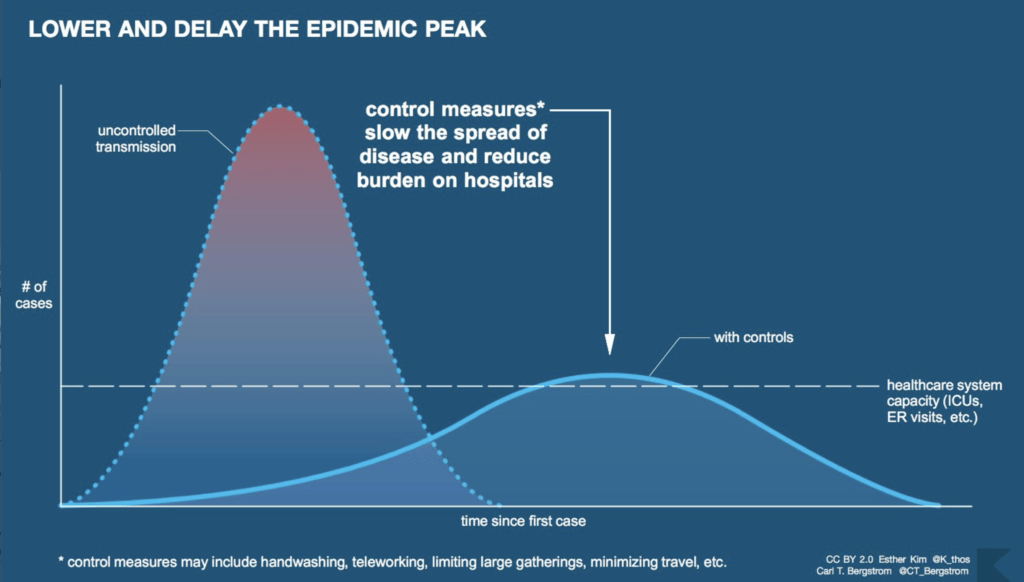 According to Martin, the changes were proactive responses that she expected other colleges to soon adopt. She noted that she spoke to the presidents of other well-known colleges and universities, and that a number of them would be following suit shortly. While the University of Massachusetts Amherst sent an email to its student body explicitly noting that they would not be moving classes online or asking students to return home after Amherst College's announcement, Harvard University, Smith College and Mount Holyoke College all adopted similar plans of moving classes online and asking students to return home; these announcements came the day following Amherst's.
Some students concurred with Martin and Agosto's rationales, but others disagreed, countering that they would have to travel through heavily-trafficked and higher risk areas and return home to elderly community and family members, causing an increased risk regardless. At times, the disagreements grew contentious, with some people accusing Martin of making the decision to offload responsibility and avoid lawsuits or to be otherwise held accountable.
One of the broader areas of agreement between the students and Martin and Agosto came on the topics of tone and timeline. Martin was receptive to comments asking for future communications to be less bureaucratic and more personal from the start, as to better convey the message at hand. Both also expressed that they would look into offering more time for students to make the necessary preparations for finding a way home.
After the event, a number of organizers drafted an open letter to the administration summarizing many of the ideas and concerns articulated during the sit-in. The letter outlined a set of commitments and requests to the administration, chief among them the option to choose whether to stay or leave the college. Over 300 students, faculty, staff and alumni signed the letter.
The day after, Agosto announced in an email that the college would be extending the deadline to file petitions to stay and the deadline to leave the campus, along with additional promises of constant communication. Martin also informed the community in another email of a set of forums, organized by class year, to address specific concerns in an open dialogue.
Martin also offered an apology for the circumstances at hand in the email. "I learned a great deal last night and in the early hours of this morning in exchanges with some of you. I went to sleep and woke up only a few hours later with your feelings of surprise, disappointment and anger on my mind. I feel terrible that you have to suffer because of the impact of this pandemic," she wrote. "I am sorry I did not do more to acknowledge just how hard this would be or provide more information in that first communication."
Faculty have also struggled to adapt to the changes. Many of them intend to take training sessions in Zoom, a video conferencing software, in the next few days and over spring break to transition their classes online. A key challenge for faculty in this process comes in courses without clear digital pedagogical equivalents, like science labs, community-based learning and equipment-dependent or performance-based classes, and it is a challenge without an easy answer in many instances.
Nevertheless, the college is moving forward with its plans. Agosto sent two additional emails detailing steps forward with requests to remain on campus, clarifying that she, along with a small committee, would review the requests and that there would be an appeals process, and describing the process that students must undertake in packing their belongings and leaving the campus. Gendron sent an email to residents of Moore, Morrow and Morris Pratt Dormitories notifying them that they would be constructing storage spaces from their respective common rooms. These three dorms will also be the dorms that the college will consolidate students into.
Many of the particulars remain uncertain. The administration has promised to continue to engage in dialogue with the community but has offered no concrete timeline as to when specific questions would be answered. In the meantime, the college community is left to wonder what comes next and when there might be a return to normalcy.