News
Changing the World, Incorporating Identity and Education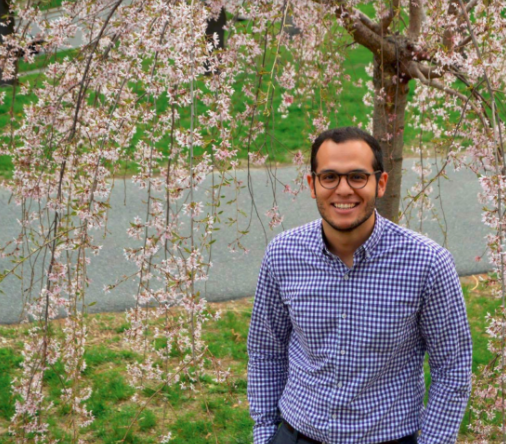 Jeremy Paula, who had originally looked for a small liberal arts school that was similar to his high school during his college search, reflects on the impact that Amherst College has had on him throughout his four-year experience.
"Amherst has made me much more confident … being able to speak up for myself and to find my voice," he said. "[It has] also taught me to be compassionate and vulnerable … [We] gain the skills to be human beings and to reach out and talk to our friends."
Living Abroad in Italy
Paula grew up in Washington Heights in New York City, but started studying in a boarding school, The Hotchkiss School, at the age of 13. Because of his strong interest in studying Latin and Greek in high school, Paula decided to study abroad in Viterbo, Italy during his junior year of high school.
"I was looking to do something different … I would never have another opportunity to do this," Paula said, when talking about his initial interest.
"We would take trips to churches or to different archaeological sites or places of history, and we would learn about how people had lived," he said.
While in Italy, Paula stayed with a local Italian host family — an experience that taught him the difficulties of adapting into a new culture and adjusting to a foreign family.
"For the first three months … I didn't really know the language well enough to communicate, so it was just phrases or a lot of pantomiming … to get across my dinner conversations with my host family," he said.
However, Paula felt that he was able to gain a lot from the experience by learning to be independent and integrate himself into new environments.
"The clicking and and understanding of everything really started happening, I would say, by November," he said. "This really put me out of my comfort zone."
Amherst Experience
As a first-generation student, coming to college was something new for both Paula and his family.
"It is a big endeavour. There are a lot of people who come from my community who haven't had the same chances as I've had," Paula said.
However, the independence and and the ability to adapt that Paula gained from his experience in boarding school and studying abroad in Italy allowed him to transition into his first year at Amherst College more smoothly.
"Living independently and being able to do things independently came in handy coming to Amherst and also just being in uncomfortable situations … like going to office hours and feeling like I can feel comfortable talking to professors," he said.
While at Amherst College, Paula double majored in psychology and sociology. He developed a close relationship with Professor of Sociology Leah Schmalzbauer, who hired Paula as her research assistant. Schmalzbauer later became his thesis advisor.
"He's really passionate as a student. I've just watched him be so enthused and excited about what he's studying so that's always really fun as a professor," said Schmalzbauer.
She also addressed the ways Paula has influenced her own experiences at Amherst. "He really boosted my confidence as a teacher and I know I learned things from him. That's why I asked him to be my research assistant," she said.
Paula focused on Latino students and their identity at Amherst College for his senior thesis, something that was central to his own identity and personal experiences.
"I was speaking to students who questioned their Latino/a identity and why that arose and how that happened," Paula said. "The hardest part was … analyzing all that data and being able to speak on their experiences accurately and also trying to find themes that related across students."
Despite the challenges Paula faced when writing his thesis, Schmalzbauer still describes him as being "very reflexive … he's always able to read, work, and put his own life experience and his own lens into dialogue with what he's reading."
"He has such a good perspective about community and difference," she continued. "I think he's someone who really has friends across many boundaries of social difference and I really appreciate that about him."
Schmalzbauer's description of Paula as a caring member in the Amherst community is evident in his involvement as a Student Health Educator (SHE) and a resident counselor. In his interview, Paula spoke about his passion for fostering community with his residents, and they certainly appreciate him for his work.
"[Jeremy] represents a home. He's probably my safest home here," said Emera De Los Santos '17, one of Paula's residents and good friends. "I can't imagine what it would've been like without him."
Using Education For Systemic Change
Paula wrote a psychology paper during his junior year at Amherst College on Shirley Chisholm, an educator and author and the first black U.S. congresswoman, whom he cites as one of his main inspirations.
Chisholm "saw urban poverty definitely as an issue and she thought early education was one way of tackling that," said Paula. "She always spoke about being the voice for the voiceless. I think she's definitely someone that I think I would aspire to be like … [someone] who challenges the status quo and stands up for what's right."
The importance of education in benefiting society is something that Paula has incorporated in his future plans of doing Teach for America after graduating from Amherst College. Paula will be teaching in New York for two years and will likely be a social studies teacher because of his degree in sociology. Through Teach for America, Paula will also be getting his masters in education and is also thinking about becoming involved in policy afterwards.
"I think we need a lot of people in policy who can help to make systemic changes, especially in how we run government and run organizations … so there's access to good education," Paula said as he discussed his interest in policy and education. "I think that that's really complicated right now and I just think that education is one way that I can learn about those issues."
Like Chisholm, Paula also sees education as a way of fixing poverty. "I think it would be great to be in the classroom and to work with kids," he said. "Knowledge is power and they will be able to gain a lot from being educated and I also hope to be a mentor as well to them … those are big things that I hope to do."