News
Charlotte Blackman: The Pragmatic Idealist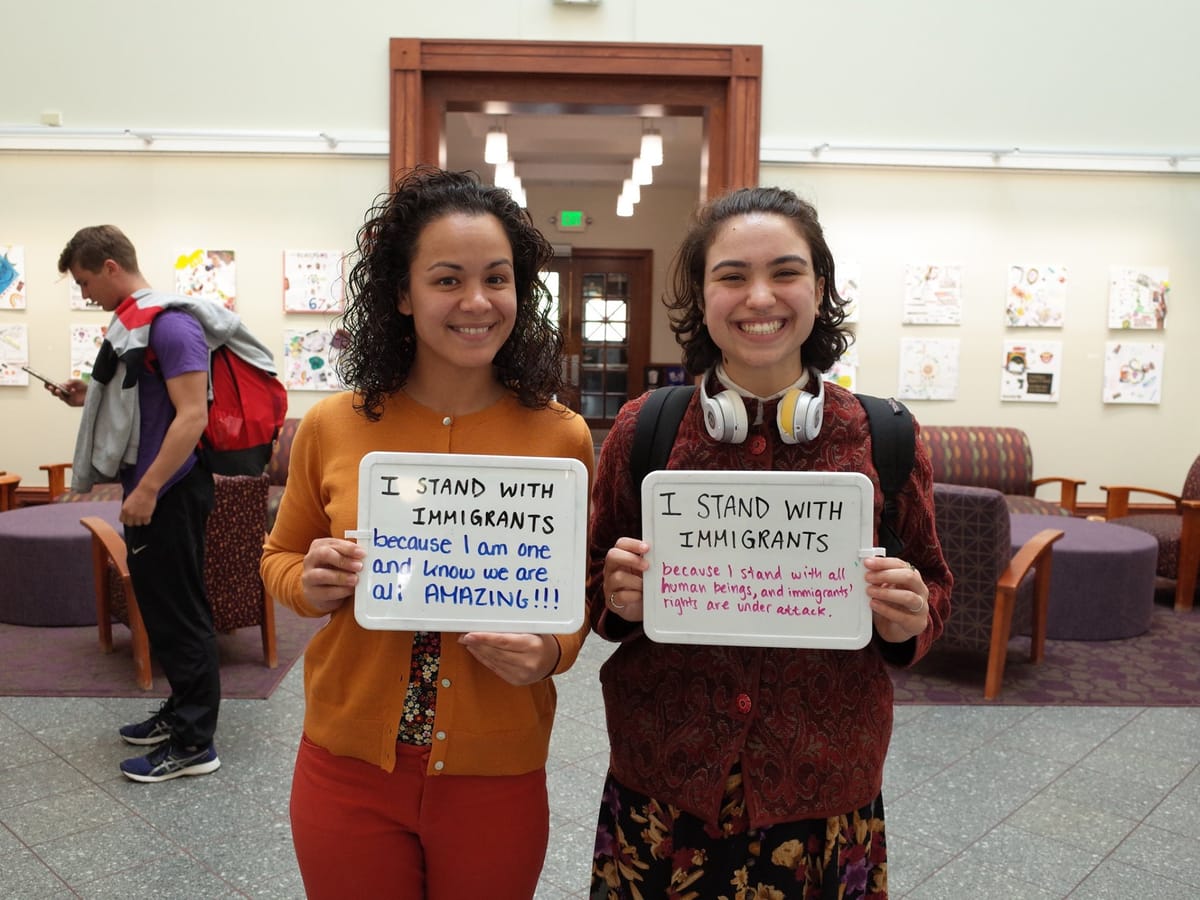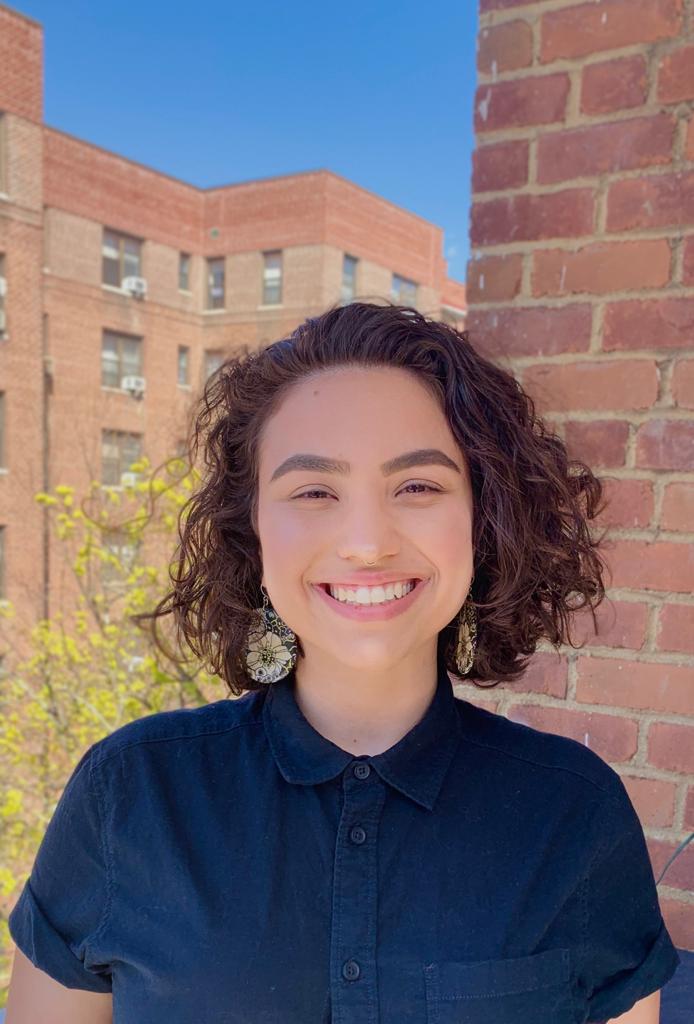 When talking with Charlotte Blackman '20, one thing that becomes immediately clear is her drive to improve the lives of those around her and leave the world a better place than she found it.
This is something she has demonstrated countless times at Amherst through her work with the Women's and Gender Center (WGC), where she has served as a graphic designer, program coordinator and education coordinator on projects such as the healing mural — which still hangs in Keefe Campus Center — or her work to start a support group for survivors of sexual violence, which would have been launched near the end of the semester but was upended by the coronavirus pandemic.
At the end of my interviews with her friends, coworkers and professors, I understood that Blackman is also someone who always goes the extra mile and makes the extra effort. She has taken more responsibility each year at the WGC and continued to pursue side projects, such as her work with content warnings, and uncredited work, such as her continued graphic design work, in order to improve the WGC and the college. She participated in Choral Society where she was a natural leader, taking the time to hash out the issues her peers had and doing the work to make sure they got solved.
Blackman's thesis advisor Sean Redding, the Zephaniah Swift Moore Professor of History, described the combination of this drive to make the world a better place and the hard-working nature to get it done best, saying "[Blackman] has an unusual combination of idealism and pragmatism, she wants to get things done but she also wants to adhere to very high ideals."
Going to Amherst
Blackman was raised in the Bronx by the women on her mother's side of her working-class Italian American family. From them, she learned the value of community and closeness: her grandma lived next door to her and her mother, and her aunt lived on the other side of the building.
She began her education in her local public school, P.S. 24 of the Bronx, but received a scholarship to attend Ethical Culture Fieldston School, a private preparatory school, in sixth grade. She is the only person in her family to have ever attended private school, and the introduction to a whole new world of wealth and privilege felt culturally foreign to her. This culture shock spurred Blackman's involvement in activism, as she was forced to contend with both her disadvantages as a low-income woman and also the privileges of her whiteness. Though her experience in private school was jarring, the availability of better education and resources gave Blackman the opportunity to truly think about her post-secondary education in a way that hadn't been an option before.
Even so, she described being "iffy" as a high school junior about whether or not to apply to college. "I felt like it wasn't fair to use the advantages [of prep school] over people who hadn't been as fortunate," Blackman confessed to me. However, she figured she would ultimately be able to do more good for her community and for the world at large if she chose to get a college education and use it to benefit those who are most disadvantaged, sharing that she had told herself: "You were put in this place, now you have to use that power to help other people."
Her older sister was the first person in her family to go to a residential college, choosing Barnard which was close to home. Blackman wanted to take a bigger leap of faith and try something that would take her out of New York and out of her element. So she chose Amherst. "I was drawn to Amherst for its environment, which is so different from New York, but also for the culture of sustainability, activism, art and music that I saw in the Pioneer Valley. I also felt like the [Five College] Consortium would give me a good opportunity to branch out and try different things if I didn't like the small size [of Amherst]," she said.
Learning Something New
Blackman describes her choice to major in history as though it were made almost at random. As a first year, she was determined to make full use of the plethora of academic options available at the college to both learn something outside of her planned mathematics major and gain a fuller understanding of the world around her, sharing. "I wanted to know more about systems of power and how they impact people so I could use my education to try to work against the power systems and imbalances I saw around me," she said. She thought first to try sociology, which would pair nicely with her intended math major, but opted to lean even further into the humanities, taking the risk of a history course in her second semester.
The risk paid off. By the end of Blackman's first spring semester, Dean of New Students and Professor of History Rick Lopez, who taught her in Struggles for Democracy in Modern Latin America, had even suggested that she consider a history major, something wildly different than her initial plan to major in mathematics.
That summer, she had an epiphany. Blackman realized that the best way to give back to the world was to learn about people and their societies and to work with them directly, things a history major would prepare her to do. She took Lopez's suggestion and asked him to be her history advisor that fall. She never looked back, only returning to math at the end of her senior year.
After this initial success with Amherst's open curriculum, Blackman branched out even more. She signed up for political science, music, Black studies, art and French courses. She ended up sticking consistently with the latter two over the course of her time at Amherst as well as joining the Choral Society in order to continue her experience with music.
Her work in the history department culminated in a thesis on French propaganda efforts directed at Algerian women during the Algerian War. Redding summed up the thesis as an attempted answer of the question "Who gets to decide what's an appropriate role for women?" It's a question Redding said was unsurprising coming from Blackman who has done a lot of work surrounding gender and its political implications.
Activist and Community Leader
"She doesn't revel in that title," Luz Lim '20, a close friend of Blackman's, said when asked about Blackman's activism. She elaborated that Blackman was someone driven by a moral code and a desire to truly engage with diversity of people and ideas around her rather than by any longing for personal commendation.
Even so, Blackman has already made good on her goal of improving the lives of those around her. Through her work in the WGC, she has launched several projects aimed at healing and helping survivors of sexual violence, normalizing content notices in classes and working to make the WGC more inclusive, especially to the trans community who have often felt more at home in the Queer Resource Center (QRC), another resource center she has worked in.
Initially upon arriving at Amherst, Blackman was bombarded by campus activism surrounding two major events, one local to Amherst College, and the other national. On the campus level, there was the controversy surrounding a men's cross country email chain labeling various women who had slept with members of the team as "off-limits" and updated throughout the semester. On a national level, there was the 2016 election of Donald Trump to the U.S. presidency. These events made her feel less safe both on campus, she said. "Together they made me realize that everyone's health and safety was on the line," something she said gave the necessity of activism more of an urgent sense. After both events, the campus sprung into action with powerful activism campaigns, such as the "Meat Slabs Fight Back" campaign, that impressed Blackman in their immediacy, efficacy and ferocity.
To take her own immediate action, she applied in the spring semester for a graphic design position in the WGC, but she wasn't ultimately hired. At the start of her sophomore year however, she ran into the director of the WGC, who offered her a dual-position graphic designing for both the QRC and the WGC, which she happily accepted. Even after it was no longer her responsibility, "[Blackman] continued to do a lot of art as well because the rest of us somewhat lack in that department," shared her WGC co-worker Theo Peirels '20E, noting how generous Blackman was with her time.
By fall of her junior year, Blackman had become a program coordinator, a position she thrived in by cultivating a new healing mural project. The project was initially the WGC's effort, aimed at survivors of sexual violence, but it eventually broadened to become a multi-resource-center project aimed at providing art as a method of healing to anyone who was a victim of systemic violence or oppression.
In her senior year, Blackman took on even more responsibility as an education coordinator, taking the lead on two new major projects: a survivor support group and a trans inclusion education initiative. She said that she hoped that the WGC would continue her work on these fronts in order to make these projects a reality, as she was prevented from realizing them herself due to the pandemic. Outside the WGC, she worked on her own project to normalize content warnings in classes, initially thought of as a project to help survivors of sexual violence. Blackman had organized a faculty meeting with a student panel on the subject, but it was delayed due to the pandemic.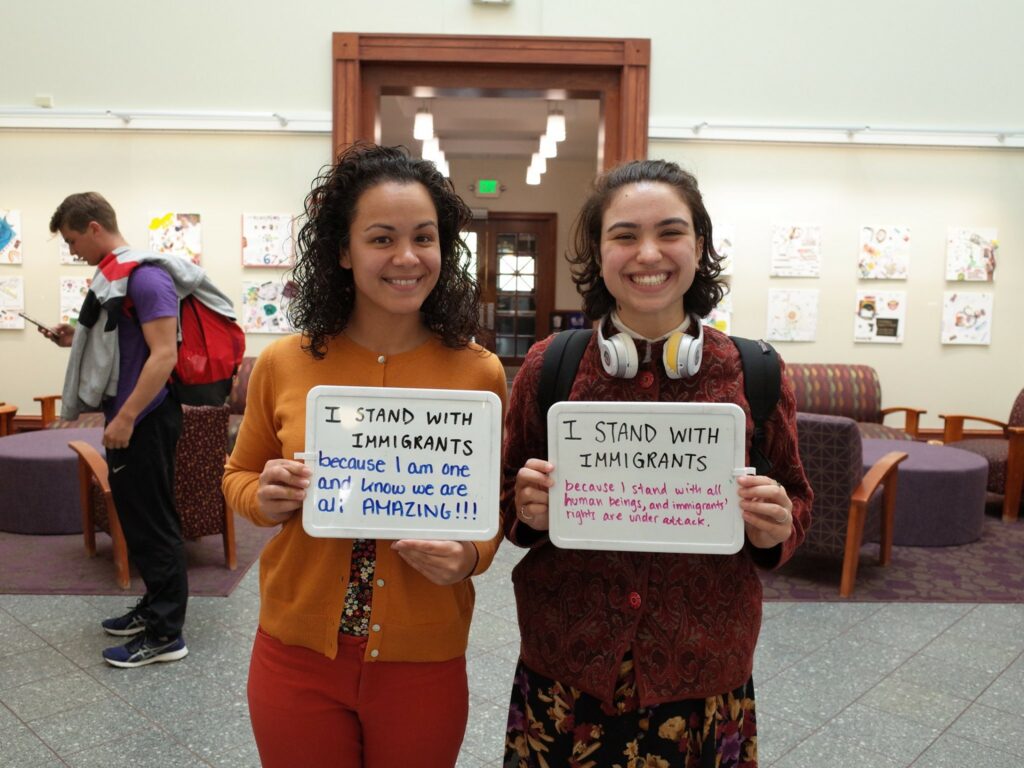 Coronavirus and the Future
Fortunately for Blackman, her own future plans have not been called off due to the coronavirus. She won an FAO Schwarz fellowship to work as an educational coordinator at the Museum of the City of New York (MCNY). While she had initially planned on working to support field trips, she will now instead plan educational engagement with MCNY's Saturday Academy program.
"Nonprofits are tricky because it's hard to know how to best serve the community," shared Blackman, "Even though I think about different options every day, I always come back to education as the best way to put good into the world."
Blackman hopes to use her experience planning education at MCNY in order to lead herself into a career as a public school teacher, giving back to the disadvantaged communities around her home and giving more students the chance to better their own lives and better the world. Ultimately, Blackman has contributed immensely to making our own community a safer and more comfortable place for people who don't have the power to do that for themselves, and, given her goals and plans, it looks like she will do the same for our world in the future.