Covid-19
College Changes Quarantine Protocol for Vaccinated Students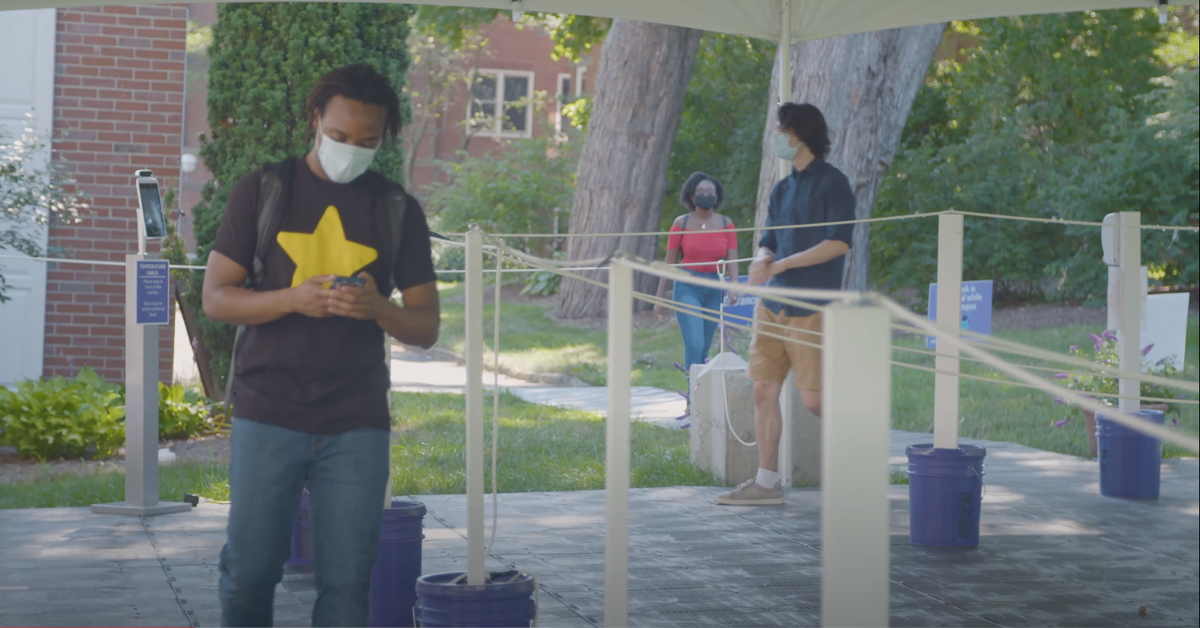 The college has slightly adjusted its Covid-19 protocols for vaccinated community members. Persons who are fully vaccinated do not need to quarantine after an exposure to individuals with Covid-19, Dean of Students Liz Agosto told The Student. The change comes just after the Centers for Disease Control and Prevention (CDC) issued Interim Public Health Recommendations for Fully Vaccinated People on March 8. Vaccinated community members, including students, staff and faculty, must, however, continue to wear masks and socially distance.
The CDC guidance details best practices for those who are fully vaccinated and applies to non-healthcare settings. It states that vaccinated individuals may interact with other fully vaccinated people indoors without wearing masks or physical distancing, visit unvaccinated people from a single household who are at low-risk for severe Covid-19 disease indoors without wearing masks or physical distancing and can opt out of quarantine protocols following a known exposure to persons with Covid-19 if asymptomatic. The CDC website states that even with the vaccine, individuals should continue to wear masks and maintain physical distance in public, avoid medium to large in-person gatherings and get tested if experiencing Covid-19 symptoms. Individuals are considered fully vaccinated two weeks after receiving both doses of a vaccine from Pfizer-BioNTech or Moderna, and two weeks after receiving the single-shot Johnson & Johnson vaccine.
The Student has previously reported that a small percentage of students, faculty and staff on campus — those with pre-existing conditions, who work in a medical setting or otherwise qualify for the vaccine — are fully vaccinated.
Yet as more students and community members receive the vaccine, the college does not plan on loosening Covid-19 protocols like masking or physical distancing for vaccinated students during the spring semester.
"We are following the updated CDC guidance regarding quarantine of individuals who have been in close contact with someone that has tested positive. Those individuals who have been vaccinated will not need to quarantine," Agosto said, adding that they should instead practice increased vigilance in terms of symptom-monitoring and rule-following.
"The college will certainly change and adjust protocols as more community members at the college and in the area become vaccinated, in response to increased research and information, and in response to updated guidance from the state and federal governments," she said.
Though widespread vaccination efforts are necessary to end the pandemic, there are many unknowns regarding whether the vaccine can stop individuals from asymptomatically transmitting the virus. The Pfizer vaccine trial data, for example, showed that two doses are effective at curbing symptomatic Covid-19, though the "data do not address whether vaccination prevents asymptomatic infection," and, likewise, transmission, the vaccine efficacy report stated.
"It does seem it is still possible for fully vaccinated people to contract Covid-19 and to test positive for it," Dr. Emily Jones, director of student health services, said. "We still don't have great data on how likely this is and it may vary by vaccine. But, based on early data from vaccine rollouts, especially in highly vaccinated countries like Israel, it seems that the likelihood is low."
As for how likely it is that vaccinated individuals transmit the virus, despite a paucity of data, the likelihood is low. "It is thought that if a vaccinated person were to be exposed to a positive person — and they were to have virus in their nasal passages as a result — they would be much more likely to have a very low viral load and therefore likely be less contagious," Jones said. The likelihood of transmission becomes smaller if mask and physical distancing protocols are followed, Jones added.
It's possible that the college will distribute vaccines before the end of the semester if the state of Massachusetts allocates a vaccine supply. The state approved the college as a Covid-19 vaccination site, joining the University of Massachusetts, Amherst nearby, in mid-February.
"The state has said that higher educational institutions will be able to distribute the vaccine only when there is 'a vast and unconstrained supply' of it," Jones said.
For now, the college encourages off-campus students to receive the vaccine whenever they are eligible. On-campus students who are eligible may work with the college to leave campus and obtain the vaccine.