News
College Community Protests, Organizes Against Jeff Sessions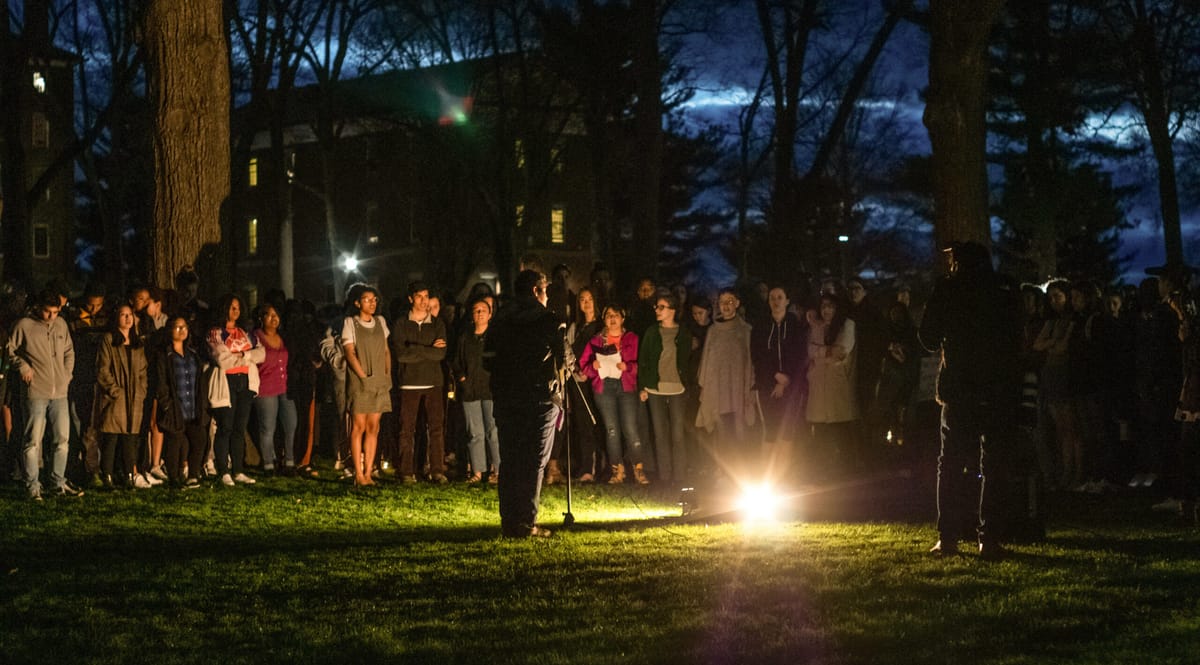 The Amherst community demonstrated against former attorney general Jeff Sessions in a variety of ways on Wednesday, April 24, as his scheduled talk at 8 p.m. in Johnson Chapel loomed over campus.
A former Alabama senator, Sessions was appointed attorney general by President Donald Trump and overturned a number of Obama-era policies during his time in the position. Sessions resigned last November amid increased tensions between Sessions and Trump after Sessions recused himself from the investigation into Russian meddling in the 2016 election.
Though the Amherst College Republicans (ACR) had been planning Sessions' visit since February, the college was only notified of it by conservative youth organization Young America's Foundation (YAF) in early April. YAF is a sponsor of Sessions' visit.
The event kicked off to a smelly start. An unknown person deployed a stink bomb as audience members were still trickling in and sitting down.
Then, five minutes into Sessions' talk, nearly 70 students stood up and exited in a coordinated walkout. As students filed out of Johnson Chapel, their cheers and shouts were marked with exhilaration. One student waved a rainbow pride flag.
Amherst Students Walk Out in Protest of Jeff Sessions' Talk from The Amherst Student on Vimeo.
Video courtesy of Alex Liu '19
Photo courtesy of Marco Sanchez '21
The crowd made its way to the first-year quad, where the Direct Action Coordinating Committee (DACC) and other organizers had set up tables with food and drinks. Members of local organizations also tabled.
"No justice, no peace! No racist police!" a protestor led the gathered crowd in chanting. "Ain't no power like the power of the people because the power of the people don't stop!"
Photo courtesy of Matai Curzon '22
More than half of Johnson Chapel was left empty after the walkout.
For many among the walkout participants, the demonstration was a show of solidarity with members of the community directly affected by Sessions' policies, "especially in light of recent controversies here on campus and the college's complicity in addressing these inflammatory acts," said Tara Guo '20.
The AC Republicans were embroiled in scandal earlier this semester after The Student published screenshots of their GroupMe showing transphobic comments. Following a complaint, the Judiciary Council, a branch of student government, announced penalties for the club that required all current executive board members to step down and an ACR statement in The Student condemning the comments. ACR did not do either.
These events followed a report by The Student on a swastika incident involving members of men's lacrosse and campus-wide divides after the Office of Diversity and Inclusion released the Common Language Document.
Logan Deming '20 participated to show that "we don't support what Jeff Sessions is doing and the legacy he stands for."
Some may argue that the community should engage each other across political divides, but Andrew Rosevear '22 said the walkout "is our contribution to the conversation."
"If the ACR and Sessions want a 'better' contribution, they can start by entering the conversation honestly and earnestly, something Jeff Sessions made clear from the moment he stepped on stage that he was not interested in," Rosevear said in an online interview.
Sessions does not deserve a platform to speak — at this institution or anywhere, said Samantha Schriger '20. "I attended the walkout because I wanted to join in a collective with my fellow students and take a stance, and I also believe in the walkout because in the DACC [planning] meetings, an emphasis was put on — basically, we're fighting for the world we want, and Jeff Sessions stands for one world, one very much in the past, … and another world is possible. The goal of the walkout was to basically leave Jeff Sessions' world and enter a different world where we can engage in activism in the valley."
Photo courtesy of Matai Curzon '22
After a land acknowledgment by a member of the college's Indigenous and Native Citizens Association, the gathering on the first-year quad transitioned into a spotlight on community activists from around the Pioneer Valley.
"When Amherst College Republicans and the Young America's Foundation, went out of their way to invite Sessions to this campus, they knew very well that the action was one of power, not of free speech," said a statement read aloud by a DACC member. "We suspect that they intended to provoke students of color to react in such a way that would paint student-organizers of color as aggressive, fitting neatly into the narrative that has vilified racialized bodies in this country for centuries. We oppose not only Jeff Sessions, not only the Amherst College Republicans and not only the Young America's Foundation, but the global system of white supremacy which created them, which funds them, which feeds them. We stand firmly against global hierarchies that attempt to maintain themselves through the veneer of 'free speech' rhetoric. We stand for the power, the sanctity and the love of every human being. And we decry the cowardice, on this campus and off, which allowed for Sessions — and those like him — to continue waging a war on marginalized people."
Other speakers included representatives from The Shoestring, the I-Collective, Hamp Rise Up, Western Mass Students for a Democratic Society, UMass Alliance for Community Transformation, UMass Graduate Employee Organization, Great Falls Books Through Bars and the Pioneer Valley Workers Center. The event closed with a unity clap.
Photos courtesy of Matai Curzon '22
"It was a really wonderful event, and incredible what they put together," Deming said. "It was so cool to hear from people in the larger community and have that point of unity while also learning a lot."
The campus reverberated with sound from multiple directions on Wednesday night. While the DACC gathering took place on the quad, the Keefe Campus Center End-of-Year Community Celebration was hosting food trucks, a bonfire with s'mores, a self-care corner, wellness activities and an outdoor jazz concert. The celebration, which ran from 6 to 10 p.m., was not intended to coincide with Sessions' talk, but was publicized as an alternative event among the community.
Photo courtesy of Shawna Chen '20
Carrying food from the food trucks, Sabrina Lin '21 said it was "heartening to see people organizing in the way they are."
"It says a lot about the community at Amherst, and I think I'm glad to see people come together formally or informally, whether or not it's in response to Sessions," she added.
For Avery Farmer '20, the celebration also served as "an event that reflects the highest aspirations of our community to be together instead of the lowest depths of divisions into which we can descend."
President Biddy Martin was among the faculty, staff and students mingling in the midst of the various activities in and around Keefe. "Like a number of students, staff and faculty on our campus whose lives are directly and negatively affected by the decisions Mr. Sessions made as attorney general, I attended gatherings on Wednesday evening organized by the staff in Keefe Campus Center as part of a week of celebrations," she wrote in a statement to The Student. "It is part of my job to defend academic freedom and freedom of expression and assembly for the good of the whole. The celebrations at Keefe offered one way of exercising those freedoms. The peaceful protest on the first-year quad was another. Attending the talk and asking good questions of the speaker was a third. I applaud the students, faculty and staff of this college for the ways they chose to use their freedoms and take responsibility. It gave me confidence in the moral groundedness of the college."
At 8:30 p.m., the Powerhouse lit up for another alternative event called The Session, a party hosted by Renai Foster '19. Students gathered for food, boba and music. On Facebook, the event was advertised as a way to "be in community and turn up on a Wednesday night with people who believe in civil rights!"
According to Foster, the event was an avenue for engagement without having to drain emotional energy. "I was telling someone that our campus politically mirrors our nation," she said. "Every week, there's something that requires a divisive mentality or is the source of some conflict. Our school has 1,800 students; there's no reason why there should be this consistent attack on people's identities."
She felt that Sessions was not the right person to invite amid recent controversies involving the ACR. "I completely understand people having their political ideologies and believing in that, but at some point it's very clear that they encourage and promote an atmosphere that is violent and prejudiced, whether it's stupid group chats or [something else]," Foster added. "It's one thing to bring Sessions to talk; it's another thing to actively engage in that behavior that questions and mock people's identities and make people feel unsafe unapologetically."
Professor of Political Science Thomas Dumm said the college should not have allowed Sessions to speak in the first place. Dumm sent a strongly-worded email to Martin shortly after her announcement about Sessions' visit. The ball was in the college's court, Dumm said, because the college as a private institution does not have to accept that any individual can speak on its grounds.
"This is a man who is a racist and misogynist, a person who served in Trump's administration and promoted policies having to do with separation of parents from children," Dumm said. "He promoted policies that would continue mass incarceration, who promoted policies that would continue to deny women the right to choose in regards to abortion, who generally followed the path of an extremist. I thought this was something that was wrong."
Dumm acknowledged that the college can be in a difficult position, but he called on colleges and universities to take a stand. "Academic freedom is different than simple free speech," he added. "People are trying to treat the current Republican party of the U.S. as though it is part of a traditional bipartisan divide in terms of ideology, and it's not … It is a party that has gone down the authoritarian rabbit hole, and to the extent that people do not realize or recognize it or speak as loudly as they can against it, this country is in serious and deep trouble."
Students mobilized around planning for the public demonstration within a day of Martin's confirmation of the Sessions visit, which was announced in a community-wide email on April 18. Because the event was only open to Amherst faculty, staff and students and required a ticket reservation, a number of students decided to boycott the talk by reserving tackets and not showing up.
At a protest planning meeting organized by DACC on April 21, students expressed feelings of cynicism about constantly protesting but wanted to maintain productive momentum. Others were apprehensive that the media or other community members supporting Sessions would misconstrue motives for protesting. Plans for a walkout and subsequent event featuring local activists were finalized by the end of the night.
Ahead of its event, titled "The Community Speaks! No to Sessions; Yes to Valley Activism!", DACC said in a statement to The Student that "our politics are about materially improving the lives of people who are on the front-lines of local, national and international struggles for liberation. We organized this event to celebrate all who are building movements of resistance against individuals like Jeff Sessions and the wider, violent structure of white supremacy his actions uphold. We intend to amplify the voices of collective power, of black power, of community agency, anti-racism and immigrant justice and radical acts of love that envision a better world."
A number of Amherst College Democrats (AC Dems) participated in the walkout. A statement from AC Dems President Ben Gilsdorf '21 said that "we see Jeff Sessions as a reminder that the laws and ideologies of the Jim Crow South are still alive and well in today's America. We think it's sad that the Amherst College Republicans felt that Sessions was someone who needed to be brought to campus, when his views are so antithetical to our campus values. There's nothing we can do to change the fact that he is coming, so our response to his visit is what will show where our priorities lie. While we're not telling anyone specifically what to do, we do encourage people to participate in protests to show that we stand against Sessions and his attacks on civil rights."
The English department also refused to allow the college to use the Bruss Room in Johnson Chapel as a green room to host Sessions. The Chair of English Anston Bosman wrote in a statement to The Student that "the Bruss Room is dedicated to Professor Elizabeth Bruss, who died in 1981 while serving as chair of the English department. The Memorial Minute for Professor Bruss records that 'she was committed to creating a society in which people of all races could participate fully and equally, and in which boundaries of class and privilege would no longer stand in the way of the full development of anyone.'"
"The Bruss Room is our department's home, a sanctuary to the memory of our colleague Liz Bruss, and we feel it would be counter to our and her values to have Mr. Sessions there," Bosman added.
ACR President Rob Barasch '19 said he respects people's right to protest but wishes people had "more of an open mind." He was particularly troubled by the form of protest taken by a number of students: reserving tickets and not showing up.
"By engaging in this protest, you're not allowing other people to hear what Mr. Sessions' views are, and I think that's not okay," Barasch said. "I think that goes against our values, of trying to be open-minded, of trying to listen to viewpoints that aren't your own."
Correction: An earlier version of this article incorrectly quoted a chant by demonstrators on the first-year quad. The slogan was "No justice, no peace! No racist police!", not "No justice, no peace! No racist beliefs!" This article was updated at 10:31 a.m. on Thursday, April 25.