aapi
College Community Shows Solidarity in Stop Asian Hate Rally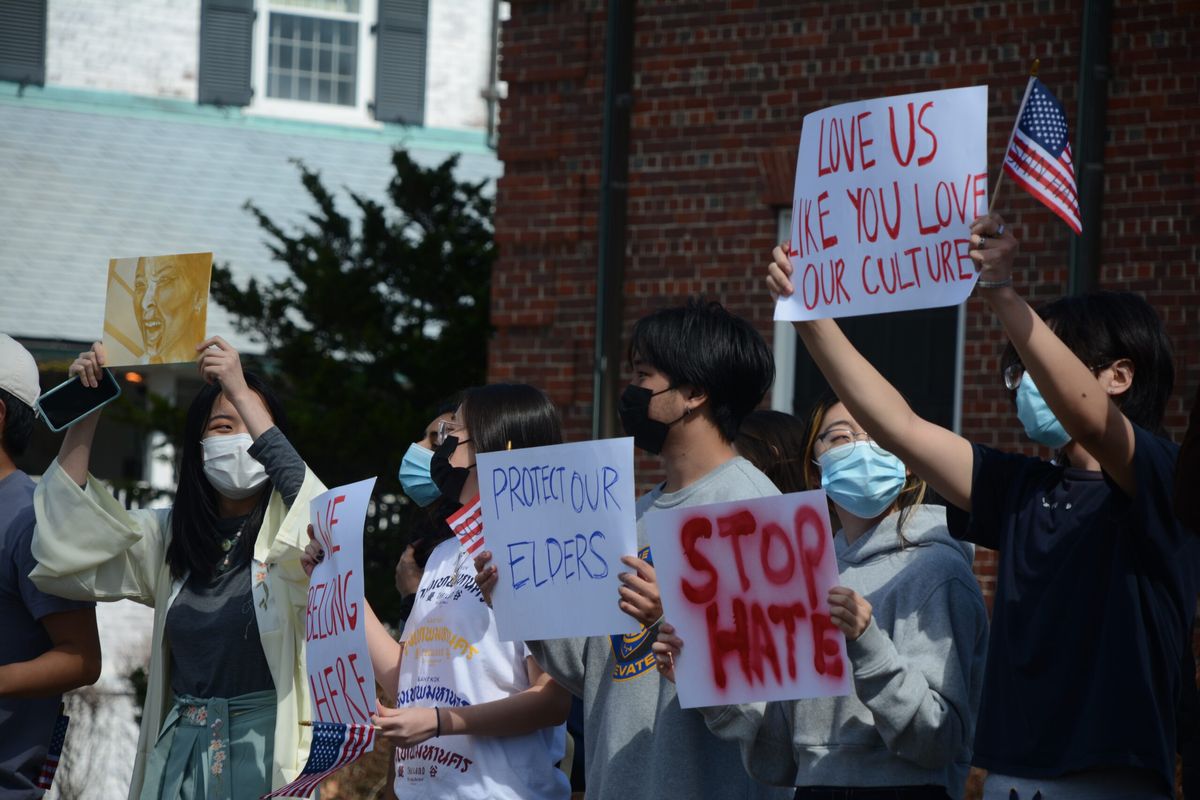 Header photo courtesy of Jess Li '24.
A Stop Asian Hate rally following the recent Atlanta spa shootings was held on Saturday, March 27 in front of Porter and Garman House. The gathering of Amherst students, staff and faculty was part of a larger public rally organized primarily by two graduate students at the University of Massachusetts, Amherst, which took place across the street in the Town Common. The rally was dedicated to  Asian American and Pacific Islander (AAPI) women who face racism and sexism in their daily lives.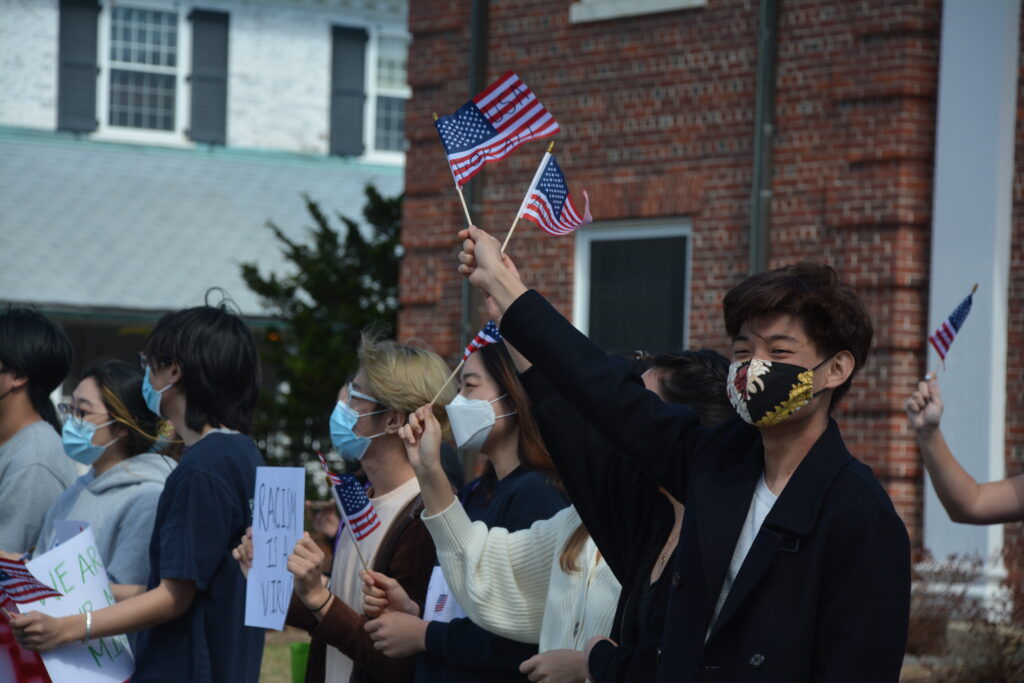 The Asian Students Association (ASA) worked with Dean of Students Liz Agosto and Chief Officer of Student Affairs Karu Kozuma to allow students to attend from within campus grounds. Because the Town Common is outside of the campus bubble, students were not allowed to join the public rally, but the administration secured a microphone and speakers so that students could communicate with the other side. Community Safety Advisors were also present to ensure that the students gathering remained separate from individuals outside of the college bubble.
The rally began with opening remarks by the organizers of the public rally before opening the floor to community members, particularly AAPI women, to speak about their experiences.
During the rally, several students, including Jiajia Zhang '22, Haoran Tong '23 and Jess Li '24, weaved through the crowd taking photos of the scene and the attending students. Zhang, who co-chairs the Asian Pacific American Action Committee (APAAC) and took the lead in organizing the format of the rally, explained that the photography was an intentional effort to document this moment of Asian American activism.
"When APAAC met with [the college] in the past to talk about the establishment of the Asian American studies major, there was kind of an assumption that we just started asking for Asian American hires and that we weren't doing enough activism or had just started doing activism," she said. "But research on the actual institutional history [showed] that the activism by Asian Americans for Asian American issues at Amherst started in the 1960s."
"I didn't want this moment to be lost to history again — I wanted it to be in the archive."
Zhang emphasized the long history of activism and anti-Asian violence in the speech she gave at the rally as well. "Remember when we had those fire drills and we covered our ears but the sirens were so loud they were impossible to ignore, forcing us to leave the building?" she asked the crowd. "Those sirens are the eight fatal shots that Robert Long fired, that building is complacency and that person leaving it is a lot of people I know."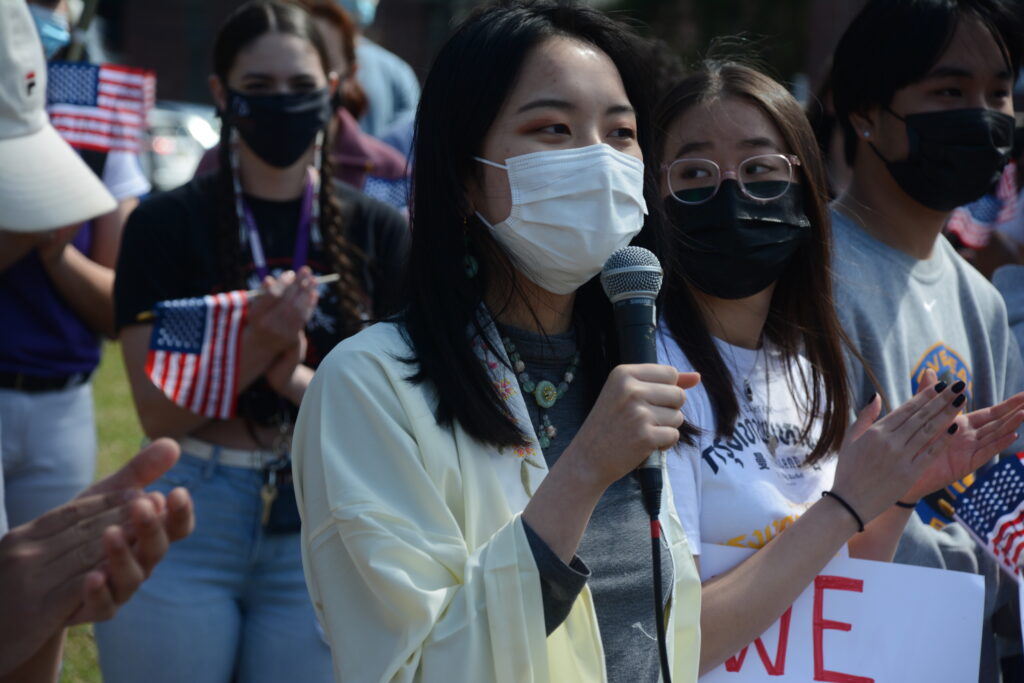 "[But] even though eight gunshots were too loud to ignore, many of us managed to ignore 3,800 reported anti-Asian hate crimes in the past year," she continued. "Was it because we covered our ears? Not all of us covered our ears. Some of us marched, rallied, held town halls, wrote to representatives — and we've been doing it for centuries."
Due to the difficulties in coordinating with the public rally beforehand, few other students on the college's side got a chance to speak. Additionally, some felt that the rally lost its focus on highlighting the voices of AAPI women as it went on. "I just wish there had been more coordination on [who would speak], as opposed to an open mic," said Zhang. "A lot of people who weren't necessarily talking about the issues at hand started speaking on the town side."
Mica Nimkarn '24, vice chair of ASA, elaborated that it was odd to see certain people using the rally to "advertise and market themselves" and their work in a way that didn't seem to genuinely support the Asian community.
"What the API community wanted out of [the rally] was to empower the API women of our community," added Sunghoon Kwak '22, senior chair of ASA. "It was a little disappointing to see that people didn't provide that space for that population as much as I thought they would."
Nonetheless, attendees found that the personal stories shared were crucial to acknowledge the struggles faced by the AAPI community, and AAPI women in particular. Recalling a story that one speaker shared about her white husband downplaying the discrimination she faces as an Asian woman, Nimkarn said, "I think that was powerful, because when you're in a primarily white environment or when you have people close to you who are white, it's easy to brush off some of the microaggressions that happen."
"Just hearing her story and hearing her verbalize that was something that I think was really validating," she added.
John J. McCloy '16 Professor of American Institutions and International Diplomacy Franklin Odo, who attended the rally, reflected, "I wish there had been more people who could have listened to [the] personal stories and been inspired to think that [their experience] is something that doesn't need to be sequestered or hidden or submerged in order for them to survive — that it's something they don't have to be embarrassed by."
Some attendees of the rally also felt it allowed them to better understand experiences and identities that were different from their own. "I thought it was really important to be able to hear the stories and voices of others, [of] locals within the community and [of] students," said Javier Londono '23. "It was really eye-opening to see how prevalent racism really is among every community."
"One thing that got debunked for me [at the rally] was the model minority myth," he continued, explaining that the stereotype was ingrained in the community he calls home. "I came from a low-income high school full of brown and Black people, Latinx as well, and it's just another example of how constructs are able to just divide marginalized communities, [when] we're really all being oppressed in the same way."
Overall, those who took part in organizing and supporting the rally reported being heartened by the size and diversity of the crowd. "I was really happy and surprised about the turnout," said Zhang. "I wasn't expecting so many people to show up within a day of notice."
"On our side, we had international students, domestic students, student athletes, non-student athletes," she continued. "We had a lot of native students come out to support us, Black students, Latinx students, obviously Asians of all identities, as well as faculty and staff coming in from the greater Pioneer Valley community."
Students appreciated the opportunity to feel not only solidarity with fellow members of the college community, but also connection to the town. "It was good that we were all there and that we could feel the sense of community with everyone in the town of Amherst, especially because we've been so disconnected lately [in] the bubble," said Nimkarn.
"Although it was only across the street, it was still pretty impactful for me to see so many people [from town] again gathering for a cause that I very much support and identify with," echoed Lianbi Ji '21. "It was really nice to feel like we were together and feel the emotion in the crowd, although we couldn't really be in contact with them."
When reflecting on the rally, several also noted the importance of recognizing that it is just the beginning of more sustained action and change. "We are a small college, but we are never absent in this critical moment of call for social justice and for critical improvement or critical progress," said Assistant Professor of History George Qiao, who distributed posters for the rally in addition to attending himself. "If there's one message I want to send out today, [it's that] I hope our college and our students can maintain that sense of social responsibility and continue to fight for all kinds of social justice and progress in this society and in societies across the world."
"For those of us who've been watching closely, we know that racism has always been here and never has disappeared," added Odo. "If people can begin to get a sense that this is a marathon, not a sprint — that it's a long-term issue we have to confront — I think that's a good start."