News
College Hosts First Family Day Since Pandemic Began
The college held its first in-person Family Day event in two years on Oct. 23. The outdoor celebration included various student performances, fall-themed New England food, pumpkin painting and a cozy evening around the campfire.
On Oct. 23, the college celebrated its first in-person Family Day since 2019. The event was highly anticipated, with the college seeing its largest-ever number of registrants for a family event, according to Director of Regional and Parent Programs Kim Roeder.
The excitement of students to reconnect with their families was palpable on campus as the day approached. When the awaited visitors finally made it to campus, families shared warm hugs and hellos to make up for lost time.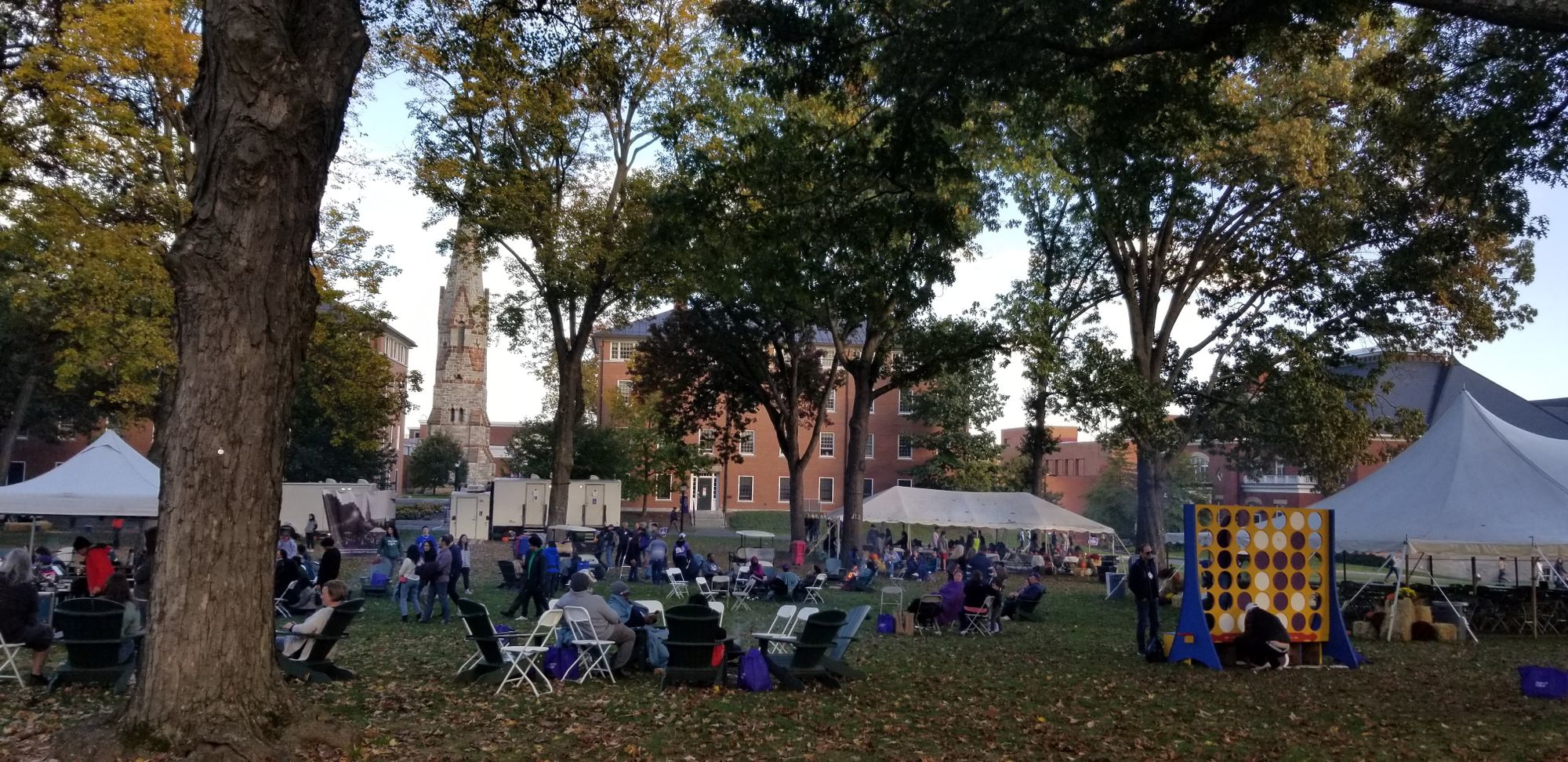 For many families, this event provided a much-needed reunion. Therese Quijano and her dog were able to reunite with her son Kieran Quijano '25 for the first time since he had been dropped off at college. They "ran and hugged [each other] and the dog went crazy," Therese Quijano said.  
"The last time that [my parents] were both here was when I was moving in as a freshman, so it's been nice to reintroduce [them to] the campus," said Caitlyn Lambert '25.
Check-in began bright and early on Saturday at 8:45 a.m. on the Main Quad. Upon arrival, families checked-in at a tent with their proof of vaccination and received name tags and other Amherst College memorabilia. They enjoyed bagels, refreshments, and lawn games like giant Connect 4 and cornhole.
The event included student performances, pumpkin painting, lawn games and relaxing by fire pits on the quad. "With the current health and safety guidelines in place, our focus was on choosing outdoor events that would give visiting families a little taste of campus life and the opportunity to connect with their children and with other Amherst families," Roeder said.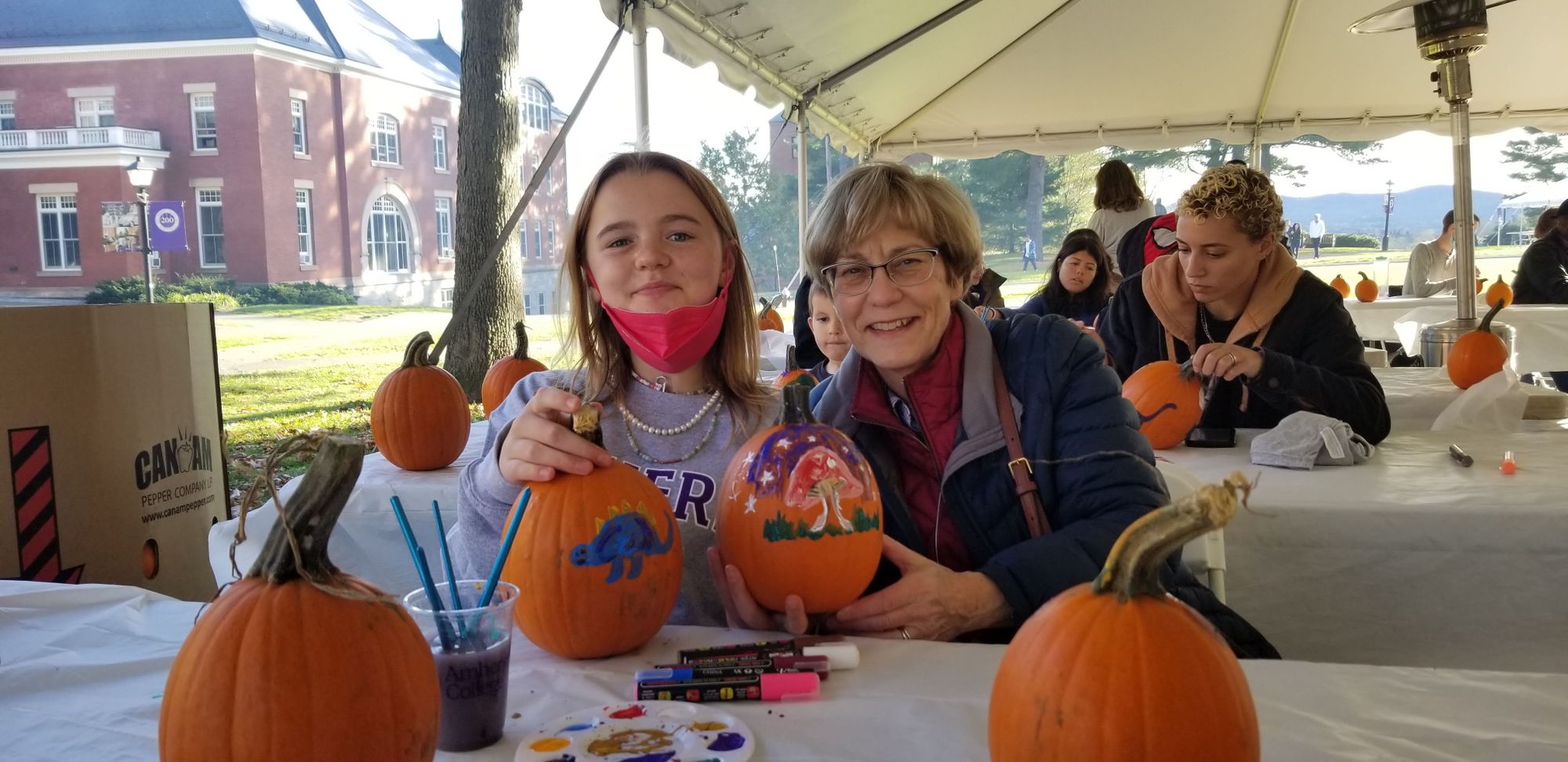 But even before the in-person family events began, the college kicked off the weekend on Friday, Oct. 22 at 8 p.m. with the annual Family Weekend Choral Concert, which featured the Glee Club, Chorus, Concert Choir, and Madrigal Singers in Buckley Hall for students and staff. Families could attend the concert via livestream.
For many student performers, this was the first time in two years that they had the chance to showcase their talents in front of a physical audience. "It's been a long time; we're really excited to perform for everyone again," said Mina Lee '22, a senior member of the choral society.
Following a conversation with Provost and Dean of Faculty Catherine Epstein at 9:30 a.m. on Saturday, President Biddy Martin took to the mainstage at 11:00 a.m. to address the families, give updates on campus happenings, and provide a Q&A session to address families' inquiries, particularly those regarding the college's recent announcement to increase financial aid funding and end the practice of legacy admissions on campus.
At noon, families and students headed to a community lunch designed to "bring the community together to celebrate the students, families and friends of Amherst College," Director of Dining Services Joe Flueckiger said in a statement to The Student. Valentine Dining Hall closed for lunch to make way for the self-serve selection of fall-themed New England foods provided by Dining Services in a tent on the Valentine Quad. Choices included baked mac and cheese, BBQ pulled pork sliders, salads and hot mulled apple cider, as well as options for those with dietary restrictions.
The food was accompanied by student performances by the jazz group Storm Clouds and the Choral Society at the main stage. Some families took their lunches to the fields to support their students in their field hockey, soccer and football games. Others traversed the Pioneer Valley's many hiking trails or shopped in the surrounding towns.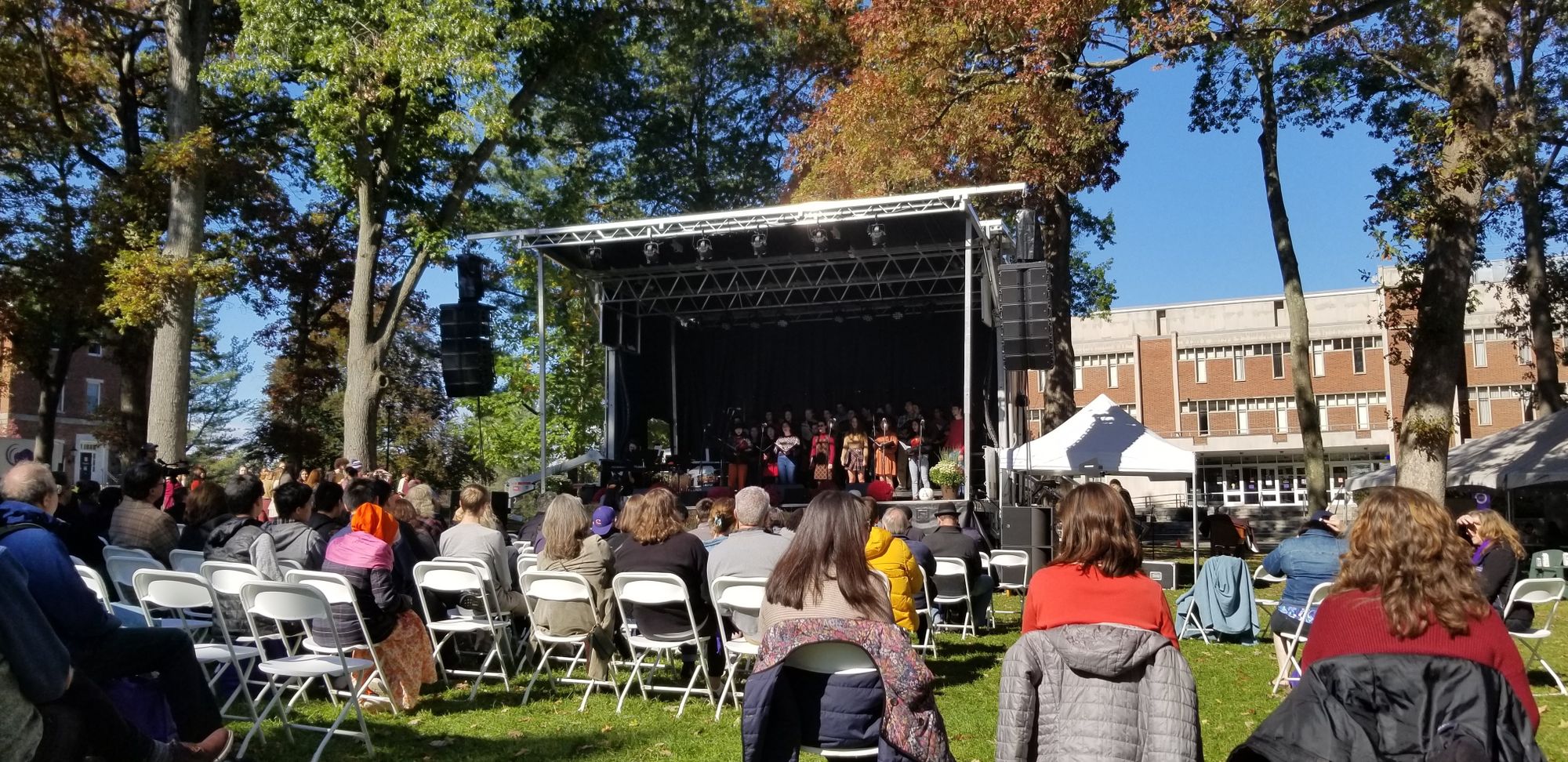 Families convened on the main quad again at 4 p.m. to paint pumpkins, play lawn games like corn hole and Connect 4 and grab dessert from a cannoli truck. The student performances continued into the night, with showcases from the a cappella groups, Mr. Gad's House of Improv and the Green Room. Student summer research projects in STEM were also displayed on the patio and amphitheater on the west side of the Science Center. Families and friends gathered around the fire pits to watch, warm up and chat as the sun set over Memorial Hill.
Students whose families were able to attend were thankful for the reminder of home. "I was starting to feel homesick. There are parts of home that I miss a lot and having [my parents] here is really nice," said Karen Lee '25.