News
College Placed on Lockdown Following Reports of Armed Person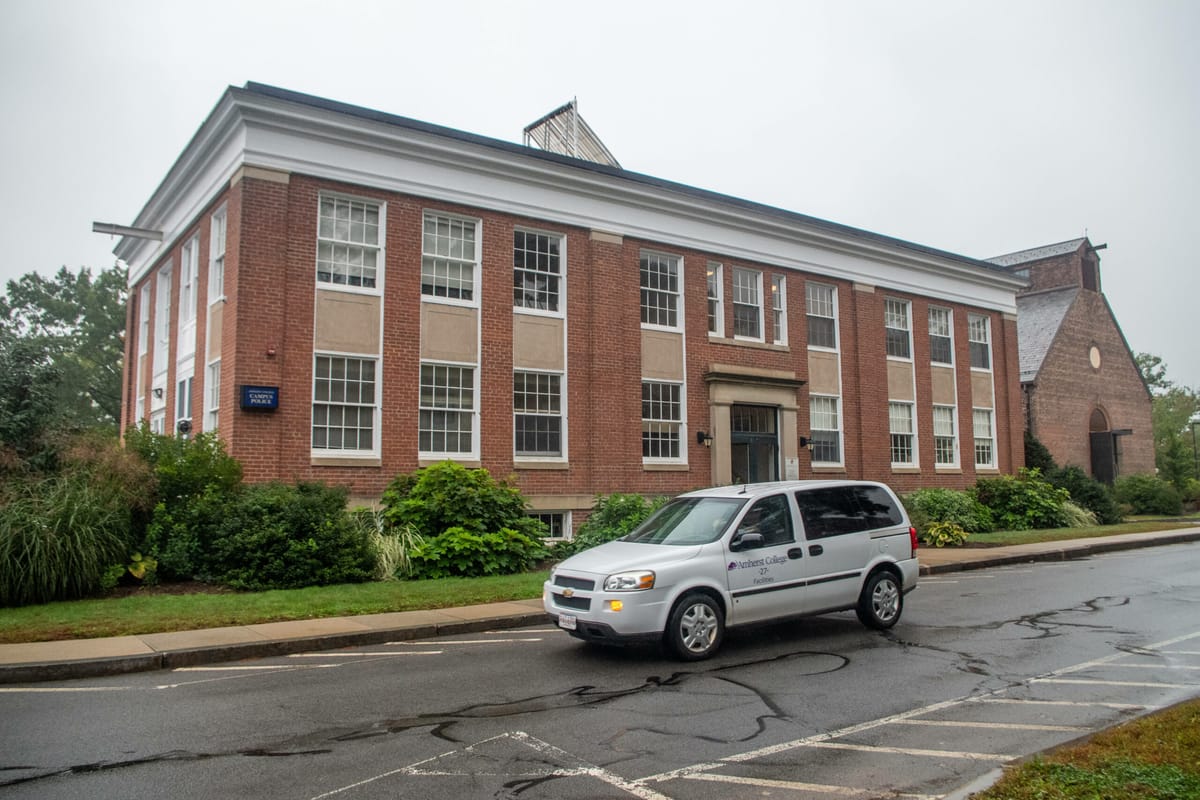 Editor's Note: This article mentions suicide. Resources for any person who is feeling depressed, troubled or suicidal are listed at the end of this article.
The college was placed on lockdown on Wednesday, March 13 amid a police search in the woods south of campus for a potentially suicidal person with a firearm. An AC Alert sent at 9:12 p.m. notified the college community to remain sheltered inside of a locked building; the shelter-in-place lifted shortly past 11 p.m.
The search began after the person involved called the Amherst Police Department (APD) indicating that they intended to harm themself. The call sparked a joint search with the Amherst College Police Department (ACPD), APD and Massachusetts State Police to track down the individual.
In an email sent to the community, ACPD confirmed that the person involved had no known affiliation with the college. The Town of Amherst has not authorized the release of any other information regarding the incident, according to the email.
Several local news outlets have reported that the person involved died from an apparent self-inflicted gun wound by the time authorities arrived.
Chief Student Affairs Officer Hikaru Kozuma advised in an email to the community to "avoid passing along unconfirmed information," adding that the college has not been given any more details.
Students who were on campus at the time of the incident described feelings of fear and uncertainty. Dana Kulma '21 said she was walking from Greenway to Newport when the AC Alert was released. After she had seen the notification, she took shelter in Seelye, the nearest building to her at the time.
"I was walking kind of near town, so I saw police lights just going past," she said. "I was freaked out."
Kulma added that the span of time between AC Alert updates was long, causing more confusion and anxiety. "[A friend] called ACPD and asked for updates, because they called a lockdown and said nothing. We wanted to know if we were fine," she said.
Donna Roscoe '21, who was also on campus, said the situation was "shocking and out of the blue." Though she had not seen the AC Alerts immediately, she said that there was significant buzz about the incident during the lockdown.
"It was crazy how in touch all of Amherst seemed to be," she said. "I got texts from people who go to UMass and people who weren't on campus asking about it."
Though the incident did not occur on central campus, Chief of Police John Carter noted that it did occur on property owned by the college. The Clery Act requires ACPD to act if there is a serious ongoing threat to the community.
"Events that occur in the immediate area of the college that may impact the safety of our community are monitored," Carter said in an email interview. "An event that occurs off campus but nearby can impact the campus as much as an event on the campus."
Carter added that the college has invested in resources to prevent and respond to firearm-related reports. AC Alerts, an external loudspeaker system and a full-time director of emergency management are part of the system of response in firearm-related scenarios.
ACPD also works closely with Amherst Police and Massachusetts State Police in such events. While Amherst Police's primary jurisdiction falls on off-campus property — including non-academic property like faculty rental buildings and the Inn on Boltwood — their jurisdiction overlaps with ACPD. "It can be a little complex, but none of these agencies would allow public safety to suffer over jurisdiction," Carter said. Massachusetts State Police is involved anytime there is a death, he added.
In the event ACPD needs to administer a lockdown, all exterior doors are automatically locked, with community members still able to access shelter with their ID cards. All room doors on campus are also able to lock from the inside without a key, and instructions for doing so are posted inside of all classrooms on campus.
Though Carter reaffirmed ACPD's commitment to responding to firearm-related incidents, he also emphasized student preparedness. He advised all students to check that they are signed up for AC Alerts and look over the college's emergency handbook, which is available online.
"Knowledge is the first line of defense," he said.
Because the incident involved suicide, Kozuma listed in his email the resources available for students, including the Counseling Center, the Office for Religious and Spiritual Life, Student Affairs and Residential Life.
"Each of us will react to last night's events in our own way, and we need to be respectful of each other in that regard. Some may experience anxiety, others sadness, others irritability or anger, and some may not have much reaction at all," he wrote. "There's no single 'right way' to react. Whichever way you are reacting is okay, and we are here to support you, should you have a need."
Any person who is feeling depressed, troubled or suicidal can access an Amherst College counselor by calling 413-542-2354 at any time. People can also reach trained counselors by calling the National Suicide Prevention Hotline at 1-800-784-2433 or texting the Crisis Text Line at 741741.