News
College Remembers Gerald Penny '77
In a ceremony on the 50th anniversary of his death in Pratt Pool, the college community remembered Gerald Penny '77, who drowned during a college-mandated swimming test.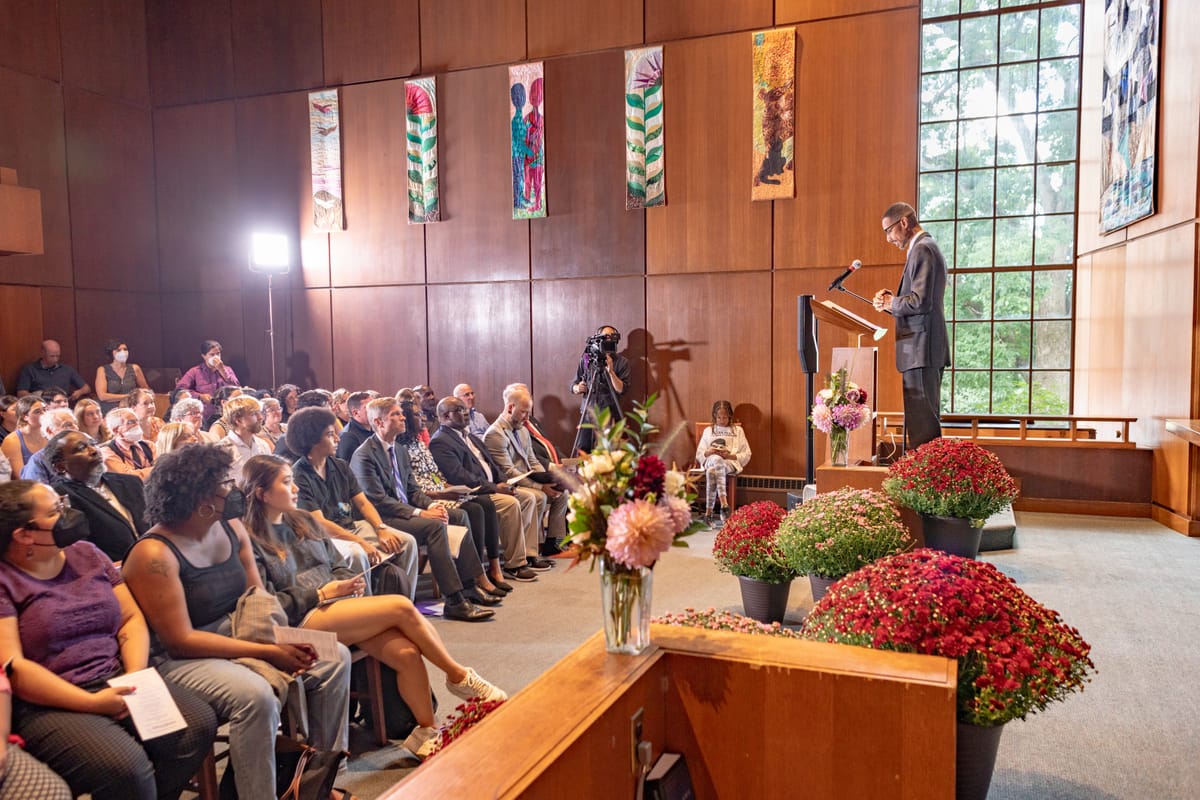 The college held a ceremony of remembrance on Sept. 12 in honor of the 50th anniversary of the death of Gerald Penny '77, who drowned in Pratt Pool in 1973 while taking a swimming test, then a requirement for new students. In addition to the ceremony, an exhibition dedicated to Penny's memory is up at Frost Library throughout the fall semester, featuring his academic record, the original Amherst Student article on his death, and the program from his 1974 memorial. Additional events are planned for Black Alumni Weekend, on November 10-12, 2023.
The event began with remarks from Professor of Black Studies and History Stefan Bradley, filling in for Special Assistant to the President Allen Hart, who could not be in attendance on Tuesday.
Bradley discussed Penny's life and the structural inequities that led to his untimely death.
An African American student from New Orleans, Penny had been a standout basketball player, served on student council and graduated as salutatorian at his prestigious all-Black Catholic high school, St. Augustine High School. But upon arriving at a nearly all-white campus in the fall of 1973, Penny was required to either swim four lengths of Pratt Pool or take a remedial class. Since segregation had limited access to public pools and beaches for many African Americans in the south, Penny had never learned how to swim.
"The path to inclusion should not demand assimilation," Bradley said and repeated.
Sheree Ohen, ​chief equity and inclusion officer, also spoke about the factors that led to Penny's death. She quoted from the 2006 Convocation Address of former President Anthony Marx, who said, "Looking back today, had we tried to be more aware then, Gerald Penny might now be alive. This community must yet confront how Gerald Penny, tragically, was swallowed in the waters of our ignorance."
The college removed the swimming test as a graduation requirement in 1973 after Penny's death. The following year, a room in the Octagon was named the Gerald Penny 1977 Memorial Black Cultural Center.
Robert Bellinger '77, a classmate of Penny's and his friend during the short time they knew each other, reflected on the kind of person Penny was. He discussed Penny's openness and affability. "I may be a Penny but I'm worth a lot more," Bellinger recalled him often saying.
"Penny was known for saying 'hi' to everyone he knew," The Student reported in 1973 after his death. "Within just one week on campus, Penny was known on all four floors of James. His friends would call him Penny."
Bellinger felt it was important to speak at the ceremony. "I came not to speak for my class but to represent my class," he told The Student. "To pay honor to Gerald and to be part of this memorial."
The entire men's and women's swim and dive team was in attendance for the ceremony.
Will Taylor '24, captain of the men's team, was particularly struck by one moment: "I'm a swimmer and I swim everyday," he said. "The pool is a place where I find a lot of peace, … a lot of happiness. So to hear [Bellinger] say, 'I can't go back,' remembering the pool as a place of institutionalized violence, that was really shocking." Bellinger had told the crowd that he had only ever returned to Pratt Pool once since Penny's death.
"The idea of Amherst having a swim test, it's obvious the sort of socioeconomic discrimination that instills," Taylor added.
Bellinger said that he believed that the college did not properly reckon with Penny's death at the time. "I think that they were not sure how to deal with it and really not willing to take full responsibility," he said.
He added, however, that he really appreciated the event and that the college was honoring Penny's memory.
"It was wonderful to see people coming out who want to know about him, to want to pay tribute to him," he said. "And he is now part of the college's story. Not something that's swept to the side and forgotten about but something that is going to be central and centered and will inform future generations of students."
Ohen expressed a similar sentiment. "The 50th anniversary of the Gerald Penny Commemoration was a beautiful moment of community building and togetherness," she wrote in a statement to The Student. "We did not shy away from the painful truths of our past or its connection to the racial realities then and now."
While Ohen stressed the progress Amherst has made in the half century since Penny's death, she also emphasized how much work still needs to be done. "We have made significant strides in diversifying the student body on many dimensions. The racial and ethnic demography and socio-economic diversity of the students has increased in meaningful ways," she wrote.
She also mentioned in her statement to The Student the creation of the office she heads and the college's transition to thinking about "an equity and inclusion framework that asks us to assess how our programs and practices serve all of our students," as steps in the right direction.
But her speech concluded with more hesitation. "A dear colleague said to me recently, 'Remember that if you think you have arrived, what it tends to mean is that you have that much further to go."'
Bellinger's speech was followed by a reading of a poem Sonia Sanchez had composed for Penny's 1974 memorial. Sanchez was the first black woman on the faculty at Amherst College and the chair of the Black studies department at the time of Penny's death.
"There is nothing which does not come to an end, / And to live seventeen years is good in the sight of God," its final lines read.
The event also featured two moving musical performances with vocals by Vanessa Ford, who sang "Lift Every Voice and Sing," often referred to as the Black National Anthem, and "You Raise Me Up," composed by Rolf Løvland.
The event concluded as it began, with remarks from Bradley. "I don't want any people to think life is so different now than it was in 1973," he said.
"I feel that changes for the positive should come about, and I want to be in that number when this trend begins," Penny had written in his application to the college.
"You know what's not different now as well? The spirit for young people to want to be in that number," Bradley added.
Bradley closed by asking the audience to say Penny's name. "Gerald Penny," the audience replied in unison.