News
College Seeks to Modernize Information Systems in BIG Initiative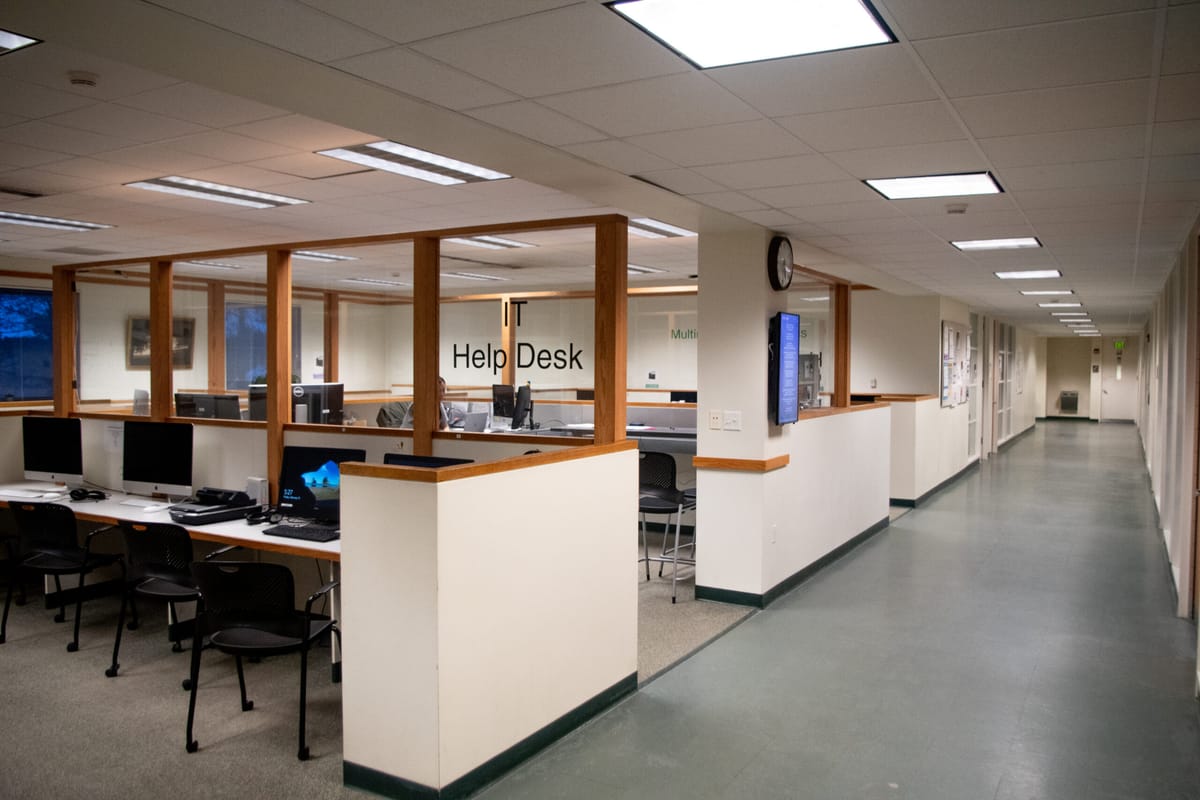 This past July, the college started implementing the first phase of its Business Improvement Group (BIG) Initiative, a project designed to modernize business processes at Amherst. The initiative seeks to overhaul the college's nearly two-decade-old business management software and consolidate workflow — from payroll and human resources activities to student advising and registration — on a new digital cloud-based system, replacing existing tools such as ACData and migrating paper-intensive activities online.
The first phase of the BIG Initiative, which has an expected completion date for the end of June 2020 and will be implemented shortly thereafter, is tasked with migrating Amherst's existing finance and payroll systems from Ellucian Colleague, the college's current resource planning system, to Workday. The new system will largely eliminate the use of paper forms in payroll or reimbursement-related matters, instead requiring forms to be completed online, according to Chief Finance Officer Kevin Weinman.
Formally scheduled to begin after the first phase is complete, the second phase of the BIG initiative will focus on transitioning the student experience to Workday over an 18- to 24-month period. While "the planning phase hasn't begun yet" for this student module, Chief Information Officer David Hamilton said, processes that will likely be redesigned include "registrar activities, student advising, grades, student activities and other things." Hamilton also noted that, unlike the first phase, the second phase will be implemented gradually as it is being developed, as opposed to integrated all at once.
According to Hamilton, the BIG Initiative was the culmination of years of discussion and planning on how to deal with the "collective frustration" from the campus community with regards to the "cumbersome process of using existing tools." Although informal dialogue about the project budget began among administrators as early as 2014, the college began more formally explored the project between 2016 and 2018, when it launched human resources, information technology and finance evaluations that confirmed "how badly this project was needed," Weinman added.
"Another way that the student voice was heard was just the collective expression of frustration with how these things rising to a crescendo over a period of years," Hamilton said. "There are a lot of students that have trouble with getting a grasp on how the registration systems work or using their phone to interact with the systems. We get tickets and support requests from people. It was a known thing among us."
According to a 2017 internal report obtained by The Student, "investment in administrative technology and systems has not been a high priority." The report acknowledged it would be critical for the college to move to more efficient and transparent information systems.
Hamilton also pointed to a "cultural change" as one of the key reasons this project was necessary. "When we licensed Datatel, as [Ellucian Colleague] used to be called 20 years ago, it did not substantially change over that 20 years. It was patched for regulatory compliance issues and some features were added over the years, but if you contrast that with the modern cloud era, you know, Facebook is patching daily, Gmail is patching daily," Hamilton said. "These tools that we're licensing increasingly change at a much faster cadence than historically how we've managed these big enterprise systems."
"That's one of the major appeals of this. We're licensing a system that's going to get better and improve over time. It's not as though we're stuck with something like a car we bought 20 years ago that's not getting all the updates of the newer models. This is a cloud-based product. Every six months, Workday comes out with a new release point, and we will automatically mold to that updated product," Weinman added. "As they come up with better data security and better functionality, we get that as part of our annual licensing fee from them."
The BIG steering committee, which was tasked with "simplifying Amherst's processes and modernizing our systems" as stated by the BIG Initiative website, formed in January 2018 with Hamilton and Weinman as co-chairs. After a series of consultations, primarily with faculty and staff groups, as well as research into best practices for redesigning the college's existing systems, the committee received approval and funding from the Board of Trustees to proceed with the BIG Initiative in May 2019.
"We've presented at a lot of different faculty, staff committees. We joke that by the end of this, that certain individuals, because of the different committees they sit on, that some people will go through our presentation six or seven times, so it gets a bit boring," said Hamilton. "But it's really important for the community to hear and be ready for it, to be excited for it but also know that it's a challenge to get it done."
Both Weinman and Hamilton acknowledged that they hadn't engaged in much direct student consultation. However, Weinman noted that "the bulk of student consultation is still to come, because the student module is phase two. So, I expect there will be more interaction with students as we get into that phase."
As to why they chose Workday, Weinman and Hamilton pointed to measures of security, efficiency, cost and accessibility, among others, as some of the key reasons. Notably, Workday is mobile-native, meaning it is designed to run smoothly and comprehensively as a mobile app.
"They disrupted the market. They're not the market leader in terms of percentage of students using the tool, but they're getting all the contracts at an increasing rate because they are disrupting the market," Hamilton said. "We ran a process to evaluate different tools and vendors and spoke with a number of third-party consultants who don't have any stake in which system that we chose. And consistently, the feedback came back to Workday being the best in-class tool here."
Due to the large scope of the BIG Initiative, the college has also formed a relationship with an implementation partner, Alchemy, and hired six term-length employees to help bring the project to completion. Outside of that, around 20 people are working on the project "on a regular basis," according to Hamilton.
It is currently unclear whether there will be a third phase of the BIG Initiative or whether the project will only have two phases. Weinman and Hamilton both expressed that they thought there was more work to be done, particularly with alumni and advancement data, but they were unsure whether it would fall under the scope of the BIG Initiative.
Some students expressed support for the initiative. "All the links on ACData are close together and not organized very well, which makes things quite confusing and difficult to use," said Bethany Letendre '22. "So, I'm looking forward to seeing the new system implemented."