News
College Welcomes Class of 2023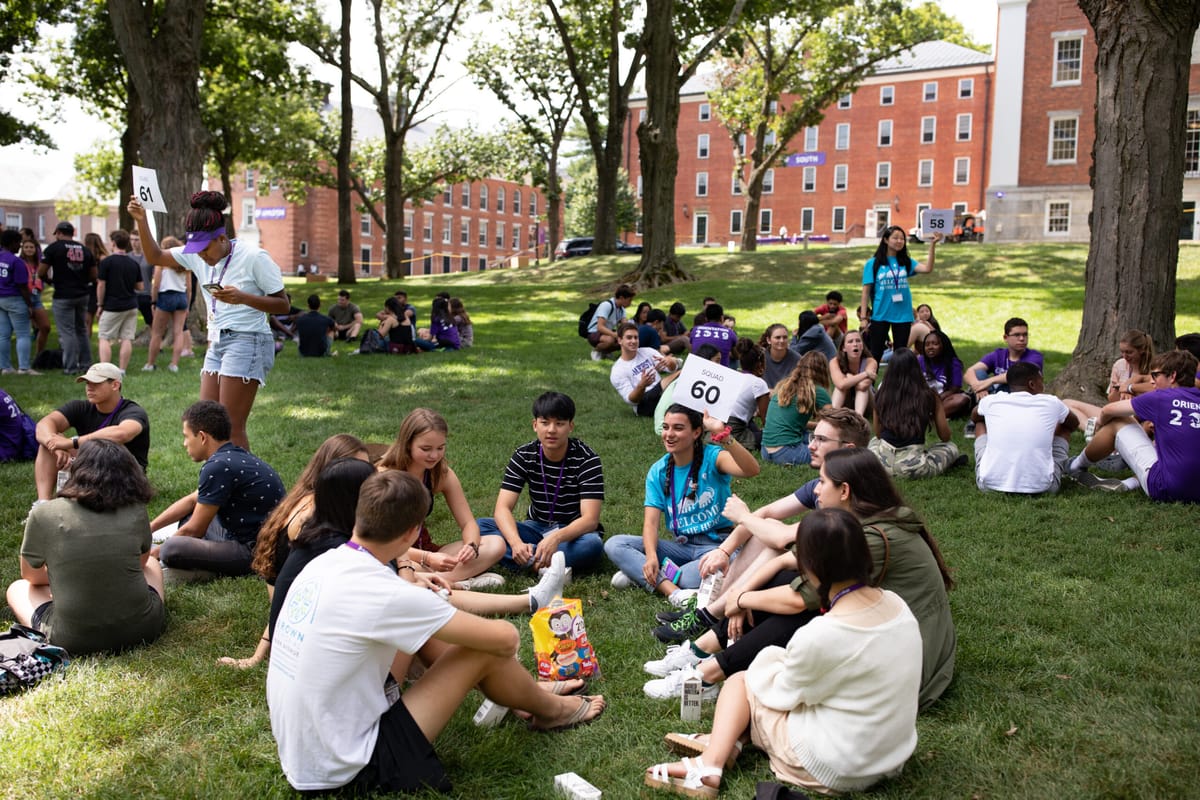 New Student Orientation began on Aug. 27, when the campus opened the doors on its freshman quad to 469 new students and their families. According to the Office of Admission, these students are among 1,195 students accepted into the class of 2023 and among 10,567 students who applied, representing an admissions rate of 11 percent and matriculation rate of 39 percent.
Students traveled across the country and the world to attend, representing 41 different states and with 11 percent of the class coming from countries other than the U.S. The new students draw on a diversity of backgrounds, with 45 percent identifying as domestic students of color and 39 different languages spoken at home.
According to the Amherst website, Jack and Sarah were the two most popular names in the class of 2023.
This year's orientation followed the same goals of building community through student-centered, small-group conversations, continuing many familiar programs while implementing new ones. This week, familiar events such as game nights, Voices, Sexual Health Educator Skits, Title IX and Sexual Respect information sessions and squad meetings commenced. The annual DeMott lecture, to be given by visiting professor and writer Min Jin Lee, is also scheduled on Sept. 1.
These programs have been staples since 2015, when orientation was completely revamped, said Dean of New Students Rick Lopez in a phone interview. "We're making them much more student centered, with small groups and conversations. We're continuing to build on that, and we've come up with some new ideas on how to implement that more effectively," he said.
Many of these changes have been initiated by Marie Lalor, the college's director of new student programs. For Lalor, whose tenure began on the first day of orientation in 2018, this is her first year directing these programs.
This year, the Learn, Explore, Activate and Participate (LEAP) programs again included First-Year Outdoor Orientation Trips (FOOT) as well as Community Engagement Orientation Trips (CEOT), as well as two new trips: Green Building Green Valley, which takes place in the Hitchcock Center for the Environment on Hampshire College's campus, as well as High Five Adventure in Brattleboro, Vermont.
The topic of Green Building Green Valley is similarities between valley structure and their main building. This trip focuses on sustainability and the green resources in the area. High Five Adventure is geared toward outdoor, experiential learning. These programs were selected after the college's partner for FOOT trips, Adventure In Adventure Out, cut back on the number of programs offered, said Lalor.
According to Lalor, college administrators had "incredibly detailed" conversations with LEAP program partners prior to these trips. Student LEAP leaders also had opportunities during training to work with these program partners in explaining the culture of the student body. When asked what these conversations entail, Lalor said, "We talk about, overarchingly, how to find a sense of belonging on campus and with your peers. You can't feel like you belong on campus when you're at High Five, but you belong with the people you're with in the program you're in and develop some very good relationships."
Additionally this year, a new Arabic language reception for students and their families was implemented. Multilingual receptions for families, which were initiated by Dean of New Students Rick Lopez five years ago, also include events in Spanish, Mandarin and Korean. "This is a chance for families who are more comfortable in those languages to ask questions," said Lopez.
A major procedural change for move-in day was the new system for regulating traffic on campus. This year, the college blocked off large sections of Route 9 and Route 116 in all directions. Rather than allowing parking on the lawn of the first-year quad, the new process made sure families pulled into campus from the police station entrance, unloaded quickly, and parked in the lot near the tennis courts.
"This makes it a pleasant experience for everyone," said Lopez. "Students can play frisbee on the quad, hang out, sit and read, or have coffee." Iced coffee was indeed provided in the parking lot during the move-in process. "It's a good experience for families as well," he added. "Instead of waiting in the line and worrying about backing up traffic, they can sit back and get some nice swag and meet each other."
Unlike at other schools, the success of orientation programs relies on the work of student leaders and volunteers, said Lopez. Orientation leaders arrived on campus on Aug. 20 for four days of training.
"Here, it really is students talking to students and us trying to make that possible in every kind of way, and none of this would work if we didn't have the really great orientation leaders, the RCs, the LEAP leaders, and all the other students who come and volunteer on move-in day," he said.