News
Community Honors Memory and Legacy of Professor Franklin Odo
John Woodruff Simpson Lecturer Franklin Odo passed away on Sept. 28. A renowned scholar and inspiring teacher, he left his mark on both the field of Asian American studies and the lives of many students.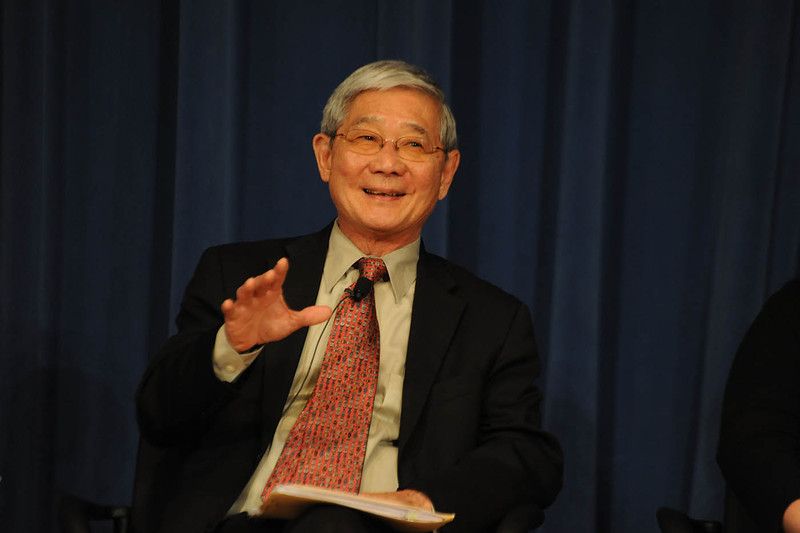 Franklin Odo, John Woodruff Simpson Lecturer and former John J. McCloy '16 Visiting Professor of American Institutions and International Diplomacy in the Department of American Studies, passed away on Sept. 28. He was 83 years old.
Odo came to the college as a visiting professor in 2015. For several years following his arrival, he was one of only two faculty members teaching Asian American studies at the college. Among many contributions to the college community, Odo served as an advisor to the Asian Students Association, supervised multiple theses in Asian American studies, and played a key role in advocating for the establishment of an Asian American studies program at the college.
In an email sent to students, faculty, and staff on Sept. 30, Dean of Students and Chief Student Affairs Officer Liz Agosto and Provost and Dean of the Faculty Catherine Epstein spoke to Odo's legacy as both a pioneer in the field of Asian American studies and a valued member of the college community.
"A renowned scholar, activist for racial justice, steward of Asian American culture, and internationally recognized leader in the field of Asian American studies, Franklin focused his life's work on the history and lived experiences of Asian Americans," they wrote. "He was educated at Princeton and Harvard and went on to serve in many important roles over the course of a long and distinguished career, including as founding director of the Ethnic Studies Program at the University of Hawai`i at Mānoa; president of the Association for Asian American Studies; senior advisor to the National Park Service's National Historic Landmarks Program; chief of the Asian Division of the Library of Congress; and founding director of the Smithsonian Institution's Asian Pacific American Center."
"At Amherst, Franklin taught courses on race and public history and memory, among other topics, inspiring our students inside and outside the classroom," they added. "His loss will be deeply felt."
In a note to The Student, Associate Provost and Associate Dean of the Faculty Pawan Dhingra also remarked on Odo's mentorship of students and contribution to his field. "[T]o see him interact with students was so joyful," Dhingra wrote. "How someone of his age and stature could inspire and be inspired by students was amazing to watch. He received the Lifetime Achievement Award from the Association for Asian American Studies. He has accomplished so much, he could have received it twice."
ShoYoung Shin '19 recalled her experience taking classes with Odo at Amherst. "Professor Odo had an incredible way of bringing both deep wisdom and great fun to the classroom," she wrote. "I have many fond memories of the conversations we had and will remember the light chuckle that would follow his jokes. I remember being so fascinated during his courses, feeling enlivened by his vast knowledge and stirring storytelling. He showed great care for his students through everyday gestures, and it meant so much to me, and many others, as a student, to be understood and advised by him."
For Jiajia Zhang '22, who chose to attend Amherst in large part to be able to study with Odo, he was much more than just a teacher or advisor. "In my acknowledgements and dedications, I always called him my hero, mentor, and best friend, and that was exactly what he was to me," she said. " … He was one of my favorite people in this whole world."
In their email, Agosto and Epstein invited community members to share kind thoughts and memories online on the college's In Memoriam page, or on notecards available in the Multicultural Resource Center, which will be compiled and shared with the family.
"The family wishes to have a private gathering at this time and we will work with them on any future opportunities to honor Professor Odo's memory and legacy," they wrote.