Arts & Living
Content, Creation, Come-Up: Lauren Dinhofer '23
In this edition of 3 C's, Columnist Kobe Thompson '24 talks with Lauren Dinhofer '23, a multi-talented musician who has cultivated her craft since an early age.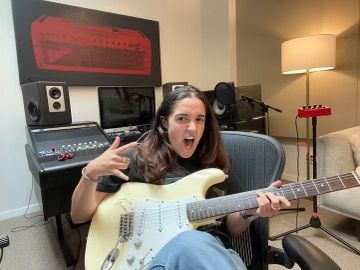 "I think I'm ready. I say that now, I'll probably cry later." Lauren Dinhofer '23 reflects on some of her firsts and lasts at Amherst in this edition of 3C's. I got the chance to ask her about the "Context" of her life-long passion for music, the "Creation" of various songs in her classes at Amherst, and what to expect on the "Come Up" as the reality of music graduate school approaches for her.
"No one knows how to pronounce [my last name]," Dinhofer told me, explaining how she settled on her stage name: Lo. "Someone called me it, actually, in college … and I was like, 'Oh, that's different. I can't think of anybody else who has that name.'" But she said that she warns folks to not get too attached to "Lo," because it's a name she is looking to change. Preferring her own first and middle names, "Lauren Haley," Dinhofer admits that her current mononym can be difficult to find on streaming platforms in spite of its uniqueness.
A changing name also comes with her own change as an artist. The expansion from "Lo" to "Lauren Hailey" more closely mirrors her own artistic expansion, as she fills out her musical talent and continues the passion she started when she picked up her first guitar at the age of three. Dinhofer thanks her parents for being able to pursue music. "Growing up, I'm very fortunate that my parents let me do whatever I wanted to do," she said. Her initial interest was in the guitar, so she took lessons and eventually joined some children's rock bands. She also involved herself at a young age in musical theater. "Since I was four I've been doing musical theater. Which is funny because [for] the musical group that was running in my town, you needed to be at least five." Dinhofer's insistence on defying the age-limit led to her first casting in musical theater. "I was Gretl in the 'Sound of Music' … they skipped my line."
Dinhofer began to teach herself how to play the piano by transcribing what she knew how to play on the guitar into chords on the keys. This self-driven, methodical approach to learning and performing speaks volumes about Dinhofer's passion for music and creativity. As a one-woman band, Dinhofer named the guitar, her voice, and the piano to be her three best instruments. She feels most comfortable with them and plays them the most often. But Dinhofer is modest when explaining her aptitude with the bass and drums. "I will say that I can hold a beat … also I can play the bass guitar because it's basically just a guitar," she said. Her playing is motivated by an intense and personal drive to play for her own sake. "I wanted to do it, so I started doing it. Then I stopped taking guitar lessons because I didn't want to learn about phrygian modes and blah blah blah … but I don't want to be a guitar player, I want to do all these other things."
As she got older, Dinhofer began to delve into songwriting and became more devoted to making music. She cited several influences and artists that she looks up to: "I look towards the Beatles as my number one. I feel like they paved a lot of roads to what music is now. I'd also say, more currently, Lizzy McAlpine. She's really good, and she's our age so it's really inspiring to see someone who's just like me doing this for real and having it happen. Also, very unironically, I like Taylor Swift." Dinhofer's tastes for these groundbreaking artists hint at a clear trend for respecting determined and talented musicians with a love, focus, and zeal for their music.
These are traits that showed in Dinhofer over the course of the interview, even at her times of modesty about her own ability. Believing that hard work truly pays off, and that one of the most important resources for a musician is the support of their loved ones, the unbroken willpower to keep making more music.
Dinhofer offered me a framework for how to become a better musician, so long as you have the determination and time for it. "[Start] off being able to play and sing at the same time. Just like getting comfortable," she said, adding that plenty of practice is necessary in order to see results. "I definitely grew up going on ultimateguitar.com and playing every single song under the sun," she said. Next, she recommended starting to become accustomed to performing for others by playing for trusted friends and family: "I definitely wrote a lot of music before I played it in front of anybody. Being comfortable with yourself, and then being comfortable with your sister, your mother, and then going on from there." All of this hard work culminates in a song, EP, album — some project which can be gifted to the world. Dinhofer was happy to share how this process turned out for her.
"The first time I ever released a song digitally was on SoundCloud my senior year of high school," she said. As a project for an English class, Dinhofer was tasked with "learning something new." Applying her passions, she taught herself music production. She enjoyed being able to control every aspect of the process, from writing and recording to mixing and distributing. This gave her a valuable first experience of making recorded music.
A couple years later, she found herself recording another song for a project for school. In "Songwriting," taught by Professor of Music Eric Sawyer, she wrote and recorded her first Spotify released track, "High." Dinhofer admitted, "Funnily enough, I wrote 'High' in 10 minutes before class because we had a song due. Very simple lyrics, I didn't think much on it. I mean I definitely edited it and worked on the production for hours and hours but I wrote it in 10 minutes."
Dinhofer is grateful for the opportunities that her classes have offered. A nationally-qualified lacrosse player, and a snowboarder and skier, she often has trouble finding the time to create music. "I think that makes you more rigid, like, 'OK, during these hours of the day I need to do this. I love Google Calendar, it's my place.'" While scheduling this interview, I witnessed how extensive and structured Dinhofer's schedule really is. Her methodology also applies to her music, as she blends the fluidity of artistry with the rigidness of a strict schedule. "I can see it in my workflow when I'm recording," she said. "You can see I clip all the recordings, I like to see them all neat and nice." Dinhofer championed voice memos as a way to keep track of her musical ideas, recording notes and other harmonies outside of her self-alotted time for music creation.
In the last few months of her senior year, Dinhofer is preparing for graduate school. Her most recent release, "Hard Goodbyes," was a creative outlier for her, as she involved outside input in creating the song. While not originally intended for it, the song ended up in the portfolio that ended up helping her get accepted to the Berklee College of Music. Dinhofer is feeling the effects of ending her time here at Amherst and her promising future on the horizon. "Life has definitely been weird as of late," she said. "I had a plan, like, 'OK, if I didn't get into graduate school, I'm going to apply to music jobs.'" To her, it was a matter of music or bust. Her remaining performances for the Zumbyes and at Coffee Haus are numbered, and she said, "I think I'm ready. I say that now, I'll probably cry later. I think, honestly, [my time here] has run its course. It's still running its course. It's not over yet, but I think I'm in a good place and I'm ready to go."
One obstacle Dinhofer is open about is time. Amid a busy schedule, new EPs and songs can be hard to give the love they deserve. Dinhofer has made it clear that what she has completed has been in great part to the time afforded to her by Amherst's open curriculum, the classes and professors who have allotted her the opportunities to write and produce and release. Likewise, the support from friends who have helped her creatively, whether it be project covers or even giving her the name "Lo" itself. Dinhofer is a product of her environment, a seed watered by the love of her peers.
To listen to Lo's music, follow the Linktree in the bio of her Instagram (@laurendinhofer). Stream "Hard Goodbyes" and delve into her previous EPs and singles, and follow her on TikTok (@lauren_din), where she posts covers, musical ideas, and promotional material. Lastly, Dinhofer wants to thank her mom. Every career starts somewhere, and Dinhofer's started with the support and love of her family.