Arts & Living
Counseling Center Continues Efforts to Expand Student Support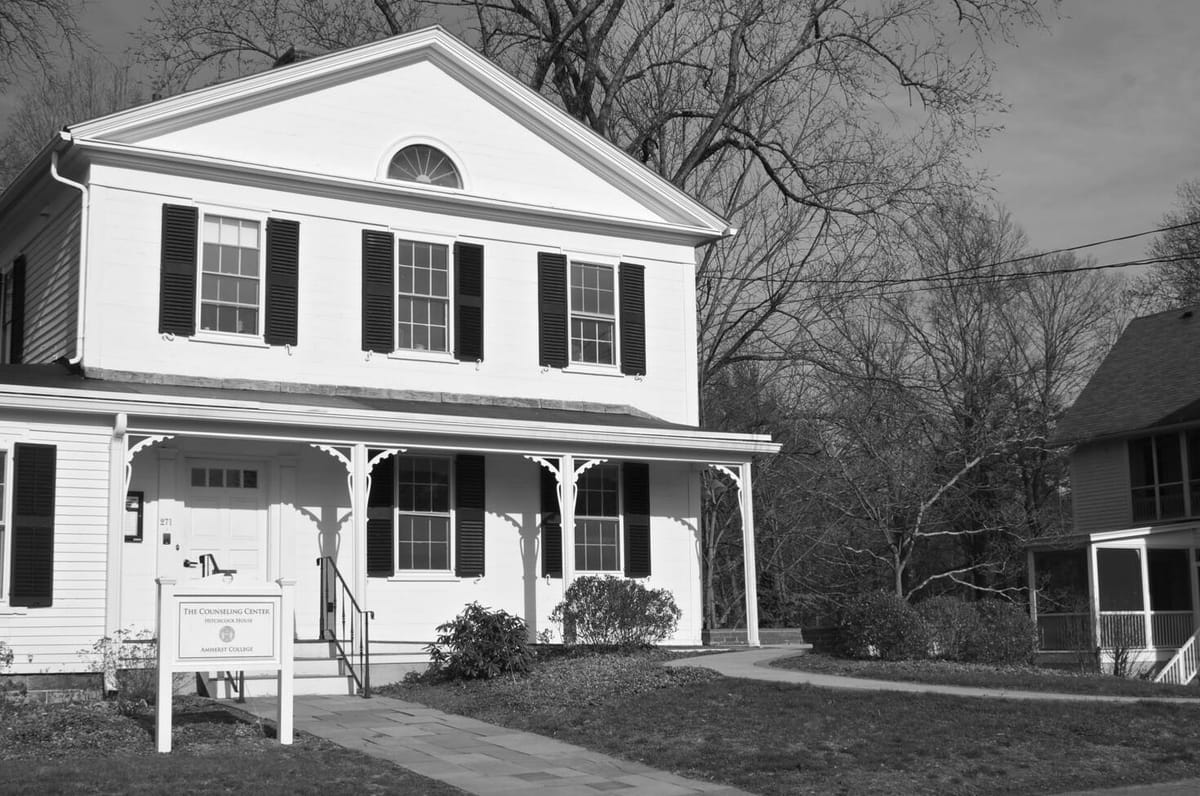 In the spring of last year, a number of high-profile publications such as Time Magazine, The New York Times and The Atlantic, as well as a number of campus newspapers around the country (including The Student) released articles about the mental health crisis on college campuses. They wrote about a national trend defined by high levels of student anxiety, depression and overbooked counseling centers at colleges.
It is true that the number of students seeking out mental health services has increased in recent years, with a national average of 15 percent of the student body in the 2017-2018 academic year.
At Amherst, these rates are significantly higher, with the counseling center seeing 35.3 percent of the student population during the 2017-2018 academic year, according to the center's annual report. The percentage of the population that is searching out the Counseling Center's services has steadily increased by approximately four percent per year over the past four years.
Director of the Counseling Center Jackie Alvarez primarily attributes the increase to a recent shift in the Counseling Center's model that makes services more widely accessible to students. "Student mental health has become a big priority for the school. We now have a larger budget, full-time psychiatry positions that did not exist before and more resources to allow for further innovation," said Alvarez. One of the primary steps the Counseling Center has taken to increase accessibility is to bring its services into spaces students already occupy, rather than expecting students to come to them.
While individual counseling is still the backbone of its philosophy, the Counseling Center has now created a number of groups in collaboration with resource centers to reach every subset of the student population and provide students with a space to share their experiences at Amherst.
There are currently groups offered for conversations around sexual orientation and sexual identity, racial identity development, racism, and resilience, as well as workshops aimed at helping develop skills to manage anxiety and overcome personal challenges. The Counseling Center is currently working on creating more groups in collaboration with other resource centers on campus. Alvarez believes "the groups serve the important role of bringing people together in an authentic and vulnerable way that is sometimes difficult to find at selective institutions like Amherst."
According to Alvarez, most of the increase in need for the Counseling Center can be attributed to the increased accessibility of services, but she also believes that a unique set of stresses comes along with being a student at a selective institution such as Amherst. "At Amherst everyone has the idea that they're supposed to know everything already when they get here," Alvarez said.
This "illusion of effortless perfection" can lead to inauthentic interactions within the student body that can then translate to feelings of loneliness, anxiety and depression," Alvarez said. Alvarez hopes the support groups and skills workshops in emotional intelligence and anxiety management, skills all college students could use, will help break down those illusions of perfection.
According to a Counseling Center report, the five most common reasons students seek help at the Counseling Center are stress, anxiety, depression, academic performance and personal self-esteem.
Overall, the Counseling Center sees a population that is proportional to the overall student body in terms of class year and race. It sees significantly more female students than male students every year. Approximately eight percent of the students seeking the Counseling Center's care identify as non-cisgender, a higher percentage than is reflected in the student body, as indicated by the annual report. Alvarez acknowledges that there is room for improvement in areas such as wait times for counseling (claiming the waiting period is three to four days as opposed to the two days four years ago), but she is excited about expanding and making mental health a priority in other areas of student life.
"When the demand for services increased, initially all of our resources went to clinical care," said Alvarez. "Now we are able to catch up and work more proactively on prevention."
The challenge of bringing the mental health and well-being into everyday student life has also been a focus for Chief Student Affairs Officer Hikaru Kozuma. Although this is his first year at Amherst, Kozuma has worked at similar institutions and says the mental health challenges faced by students are not surprising.
He agrees with Alvarez that Amherst students are under a lot of pressure to perform well. "We are all expected to do so much and do it all well, faculty and staff too, which is great because we're trying so many new things, but when it's not sustainable, that can result in a lot of vulnerability," Kozuma said.
Kozuma believes every aspect of the school has some responsibility for student mental well-being. As he said, "Navigating complexity is a great thing for students to learn to do, but they shouldn't be majoring in complexity." Improving student mental well-being is a daunting task, but Kozuma believes it's much more manageable when everyone contributes. It is important that "we all have a hand in contributing to students' well-being," he said. With this goal in mind, he has been involved in the creation of a working group of some faculty, staff and students to discuss mental health challenges and tangible ideas on how the school might address them.
Kozuma believes that changing "small tangible things" in students' everyday lives can decrease stress and anxiety. These things include reconfiguring the Amherst website to make information more accessible and making everyday processes more streamlined. He also proposed prioritizing well-being by reserving five minutes at the beginning of a club or faculty meetings for a check-in.
This also includes expanding the idea of what a support resource has to look like. As Kozuma said, "The Counseling Center is absolutely the right place for some people, but others don't need clinical care and would benefit from extra support in someone they can talk to or look to for help, whether that's someone in Religious and Spiritual Life, Residential Life or another staff member."
Kozuma also invoked the subject of President Biddy Martin's Convocation address, "Embracing Imperfection," as a challenge the entire community should focus on together. "If you don't have the answers, it's okay. If you need help, it's a sign of strength to reach out. If you feel like your needs are not being met, work with us so we can figure out how to better help you," Kozuma said.