commencement
Daksha Pathak: A Squash Star With an Eye for Architecture
Daksha Pathak '23 brings an acute sense of intentionality to everything she does — from her play on the squash courts to her architecture thesis.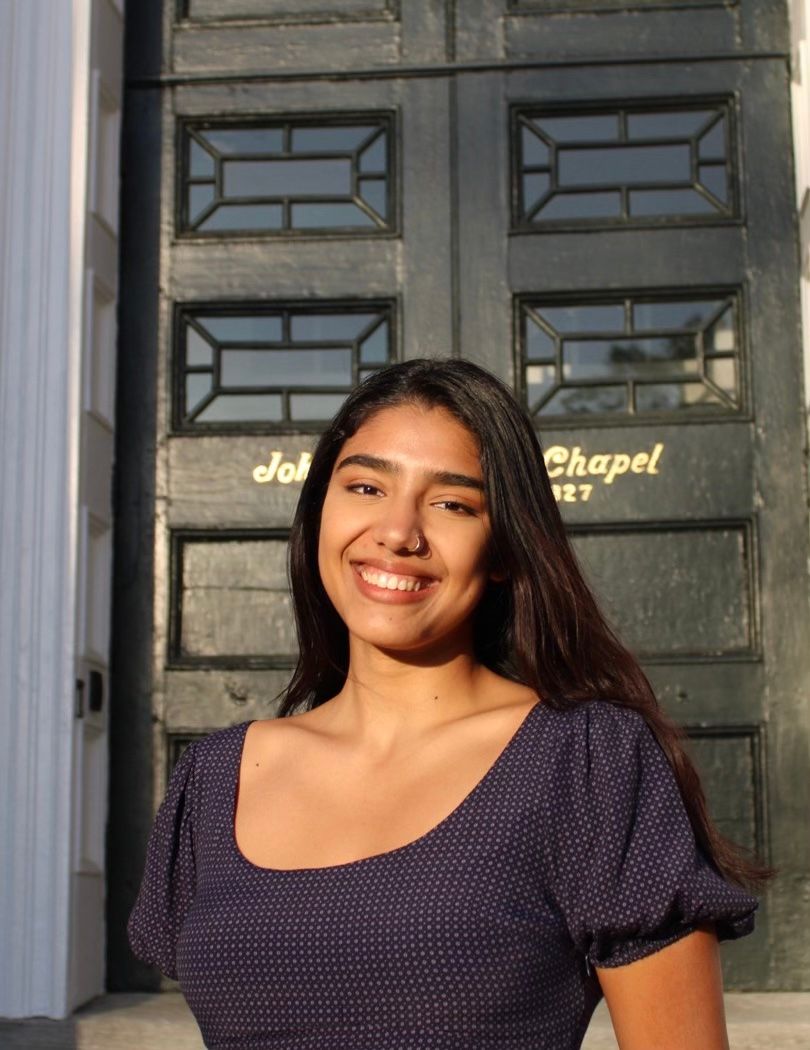 At Amherst, where students often start their academic paths incredibly far from where they land, the likelihood of Daksha Pathak '23, as a high-schooler, correctly predicting her eventual field of study seems especially low. It is a testament to her self-knowledge, determination, and the fortuitous timing of the introduction of studio classes in architecture (matching exactly with Pathak's arrival!) that she is now graduating with a double major in math and architecture, with plans to enroll in the masters program in architecture at Parsons School of Design next year. Pathak is an accomplished student athlete, a thesis writer, and an ardent supporter of her friends. Most of all, however, she has a deep understanding of her own interests ("I feel like you can't really say you're in school if you're not taking math," she said) and a desire to bring her holistic approach to bear on architectural problems.
A lifetime athlete, Pathak credits squash as being essential to her development as a student as well as a person. As she started competing — and succeeding — in squash from such a young age, Pathak "just became a hard worker. It structured my life really nicely." Also, it gave her a kind of "edge — because not everyone else was doing squash. So it was just nice to have something of my own," she said. The tools of hard work and determination that it gave her enabled her to pursue her academic interests with full assurance. As she said about her choice of major, "I have always loved math, art, and physics. And I was like, what combines all three things that I love the best?" The answer, she assumed in high school, must be architecture — even though she never got to take architecture-related classes.
From Mumbai to Amherst
When Pathak moved to Mumbai from northern India as a child with prodigious arm strength, it was decided that she should play squash. By 2011, she was the national champion — but the road from the beginning to there was not a smooth one. "I felt like Jaden Smith in The Karate Kid, the way that I would train," Pathak recalled. "I would literally wear ankle weights to school. My coach was crazy, but I loved him — honestly, he was the only man in India who ever was encouraging of me. He was tough, but you know it was all love." Nevertheless, the culture of misogyny and competition that was prevalent in the sport in India made it difficult for Pathak to continue to enjoy playing squash, and when she moved to the U.S. and began thinking about rankings in preparation for college recruitment, the stress and competitiveness only increased. Throughout high school, balancing squash with a rigorous curriculum and the stress of college admissions was "just a little tough, but I was able to power through … relatively well."
Coming to Amherst's squash team, then, has been a capstone to Pathak's squash career. From winning national tournaments in India and the U.S. to competing in the U.S. Squash organization throughout high school, Pathak has had an accomplished, if grueling, career. At Amherst, however, "no one has been able to define … my relationship with the sport other than just me. For the past four years, I can say that I've only played this sport because I love it, and not because of any external pressures. And that has been the most freeing experience." Coming back to squash now for what she calls the "right intentions and the right reasons," playing with the same kind of love for the sport that enabled her to train so hard as a child in Mumbai, has made squash at Amherst fulfilling and enriching in ways that the sport wasn't before coming here.
That fulfillment extends beyond the courts — Pathak is a captain of the team, and has relied on their camaraderie for all four years, from upperclassmen showing first-year squash players around campus to just spending time together with such like-minded people. The community, Pathak emphasized, is not something students are forced to participate in. Instead, "whenever you wanted to, you could always fall back on me, fall back on these people." Squash was finally a truly welcoming space, where people who bonded by working so hard together could support each other in various ways throughout their college experiences.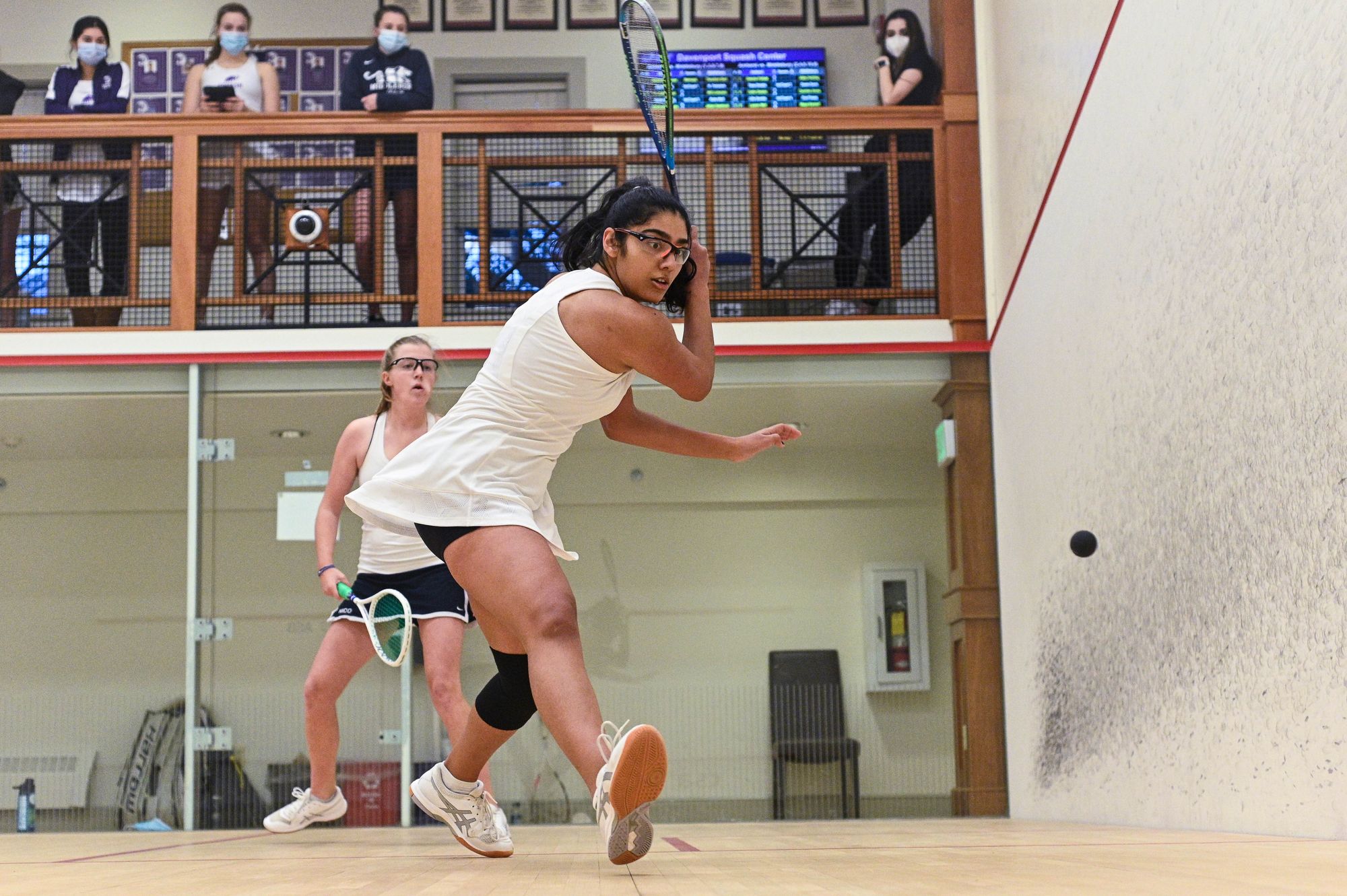 An Empowering Thesis
Pathak wishes for her future in architecture to center communities just as much as her life at Amherst has. As she said, "the type of projects I wish to take on would be ones that aren't just for a user, but for the public and … the greater community." While it's true that architecture is perhaps most widely appreciated in the form of really cool houses, Pathak realized that she wanted to do more than "just residential stuff." Her thesis, in that vein, "was a design proposal for a women's shelter in India, in the city where I come from and my mom comes from." The thesis was born out of a desire to take on a really useful social project, one that requires  participation from a community and that "takes into consideration the needs of wherever the site is." It is in projects like this that Pathak finds her love for architecture, for it is in being "really engaged with the clients, [getting] to know what they need and offering my services in helping them in whatever way possible" that she feels "you can, like, make such a difference." Architecture's direct effect on people's lives, Pathak posited, is the primary reason she loves it — it comes from her appreciation for making and doing, and her wonder at that process being "translated into a very real-life thing that affects people and like, benefits them, hopefully."
Visiting Professor of Art and the History of Art Gretchen Rabinkin has no doubt that Daksha is capable of effecting real change. "Daksha just has this incredible energy that she brings to everything that she does. She is one of the most energetic students that I've ever … had the joy and delight to work with," said Rabinkin. "I can see her really like getting a movement around social issues. She brings such passion to it. She brings such thoughtfulness and grace. And she communicates her ideas really well, both in words and drawings, in ways that are, like beautiful and exciting, and I think will help to engage others within that."
Pathak's thesis originally came out of the news cycle during the pandemic. "I saw in the news that the number of domestic violence cases was rising during the pandemic … [which raised] this whole idea of like, you have these four walls that literally trap a person. So how can you manipulate that? Or, how can you change [the four walls] to instead empower and liberate?"
Looking into the future, which is sure to face crises both wider in scope and similar to the Covid pandemic, Pathak finds it essential to keep those questions an "ongoing investigation" for which her thesis work was a starting point. Her thesis' design proposal was therefore something that she says she would "wish to offer so that [domestic violence cases] don't go up again." As such, it needed to be in tune with the community that it was targeted for, which is that of Kumaoni women in Nainital, a city in the state of Uttarakhand — the city where Pathak and her mother both come from. Pathak chose the community of Kumaoni women not only because she belongs to that community, "but also because [the highest numbers of domestic abuse cases] came from that city, and because I had learned about this type of construction called Koti Banal, which is the vernacular architecture from this area."
Koti Banal architecture alternates stone and wood layers to create structures without the use of rigid construction materials like nails or adhesives. As such, buildings built using the techniques of Koti Banal are inherently resistant by their flexibility to the kinds of disasters common in Uttarakhand, like earthquakes and, more recently, landslides. As Pathak recalls, "finding that out was very exciting, that there are these structures that have been standing for thousands of years, and now people are trying to integrate [the architecture of those structures] into modern practices." She added that seeing this new precedent forming in climate-conscious architecture that has its origins in where she comes from came with a sense of pride: "My people were able to figure this out, like thousands of years ago! And now it is finally becoming popular."
Pathak's thesis synthesized three main components — "the culture, the environment, and the health." As she researched the vernacular architecture, she realized also that she could not "just look at the vernacular and, like, copy and paste, because while there are some empowering features to it, there are some cruel or tough memories associated with it for the women." So a guiding question for her work was, "How do you use the vernacular? And how do you manipulate the vernacular to create more empowering spaces?" For the project, Pathak answered those questions by picking features out from examples of buildings built in the vernacular of Koti Banal to integrate in the structure, as well as keeping the massing of a stone foundation and first floor with a more wooden structure on top.
For Pathak, the thesis was not simply an answer to an architectural problem. To complete it, she drew from her classes in art, design, and architecture as well as from learning about shelters in sexuality, women's, and gender studies classes. It was a work that could only have been created holistically, with the intersecting considerations that Pathak has continually explored across her studies at Amherst.
Designing the Future
Indeed, going into the next phase of Pathak's academic career — a masters degree in architecture from Parsons School of Design in New York City — she wants to make sure that she doesn't "lose that side of me that tends to look at things holistically." In order to maintain that at an institution that, compared to Amherst, is almost single-minded in its focus on design and architecture, Pathak said that "one way that I would be able to maintain [that mindset] would be to maintain the conversations that I have with my peers here. I feel like, because [a bunch of my friends will be moving to New York] and they are into so many different things, I'll be able to maintain that. But also [I will be] looking for community like that at Amherst in New York, and wherever I go."
That community isn't invested in just one thing, but, as Pathak said, is "an amalgamation of different interests in different disciplines." It would allow her to keep an open mind, to consider fields not necessarily directly related to her own, even as she pursues furthering her education in architecture. Amherst, Pathak says, "has already set a high bar on high quality people." If she can hope to find anyone after leaving this place, she hopes to find people like those who go here, who she can engage with and have fun both inside the classroom and outside. People here continually make Pathak's life richer — it is her hope that she can find a community to do that throughout her life past Amherst.
As for advice to underclassmen, Pathak's is simple and reflective. "It could have been very easy for me to not indulge in all these different things, had I not tried to take part in, like, my friends' interests and things like that … I would tell underclassmen to try and use Amherst's opportunities as much as possible — just do random things." She continued, "Because I was taking part in so many different things, it was very easy to feel like, if you're not working, then you're not being productive. I felt it was very tough for me to accept the fact that I need to take time for myself." But taking time for herself was essential to her experience at Amherst, and it often consisted of doing random things not inspired by schoolwork. For example, it could be "celebrating with my friends, or [seeing their] orchestra concerts." It could also be seeing a Gad's show, going to the Mead, or doing anything that makes you happy.
Perhaps more important still to Pathak would be taking a studio art course. Through drawing classes at Amherst, Pathak discovered figure drawing, which has become a big part of her work. The human form is "a mass, and it's almost, like, perfect and solid. So my portfolio is just figure drawings, and then buildings."
Above all else, it is certain that the opportunity offered at Amherst is vast, and that taking the fullest possible advantage of it has made Pathak's four years here deeply unique. As she said about the place, "I'll let you know if I can find any community like this outside."