Arts & Living
Digital Photographer Beban to Speak on Parisian Street Art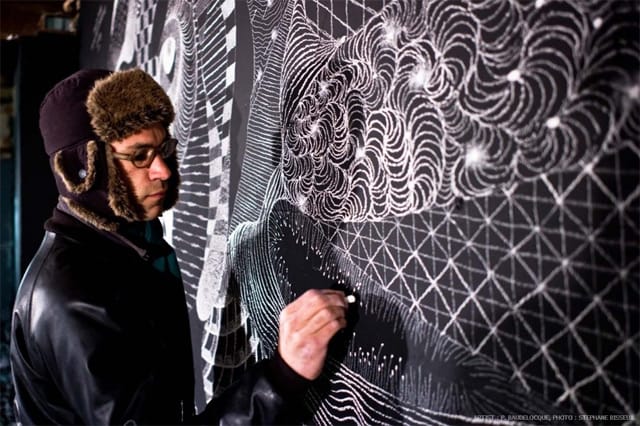 Richard Beban lives full-time in Paris, France. He photographs and co-edits "Paris Play," an online journal about Parisian street art written and co-edited by his wife, Kaaren Kitchell. He specializes in digital street photography and is also an accomplished poet and journalist. On Oct. 29, he will present "Why Don't We Do It in the Rue: Celebrating Street Art in Paris." The talk begins at 4:30 p.m. in Converse Hall's Cole Assembly Room. Staff writer Evan Paul '18 speaks with Beban from his home in Paris about his artistic practice and views on the street art world.
Q: Where are you originally from?
A: I'm originally from San Francisco. I'm a fifth-generation San Franciscan.
Q: What is your educational background?
A: Let's see. I guess the highest degree I have is a Masters in Fine Arts for Creative Writing from Antioch University in Los Angeles. I also got my B.A. there.
Q: You spent a majority of your life as a writer, doing myriad things from poetry to screenwriting to photojournalism. How did you get involved in street photography?
A: I moved to Paris in January of 2011 with my wife. Every time we would arrive in Paris we'd cry, and every time we would leave we'd cry, so finally in 2007 we said, "Look, we have to live here. That's all there is to it!" We bought an apartment and ended up having to rent it out until we could move over. We kept saying, "We'll move over when the economy gets better." As you know, there was a huge recession in 2008, and the economy never got better. So finally, in 2010, we said, "Look, we just have to sell everything and move," and we did in January of 2011. I then began walking the streets looking to see what it was that attracted and interested me and discovered street art. It's everywhere — on the streets, on the curbs, on the street signs and on the walls. It's six-story murals and little tiny stickers. I just fell in love with it. I just moved to Paris and started seeing that the art in the street was more interesting than the art in the museums.
Q: How do you go about picking what photograph will accompany your wife's written pieces?
A: I try to pick stuff that as obliquely as possible illustrates what she is doing. I have accumulated 17,000 street art photographs in the past three years. That's from going out daily, sometimes for eight hours at a time. Sometimes I think, "Oh, this would be a perfect shot for one of her pieces," and I go and take it. But I mainly use images from my backlog.
Q: I have heard that Paris is considered the birthplace of street art, but I would like to know what your other favorite places for capturing street art are.
A: Only Paris so far. I've lived here for four years, and I don't leave much. The cool thing about Paris is that the international artists come here, so I get to see and know and learn about other cultures' artists. There are allegedly five places considered to be havens for street art: London, New York, Berlin, Paris and Sao Paolo. Sao Paolo sounds fascinating to me. The Brazilian artists that come here are marvelous, particularly with color. However, a Sao Paolo brand of graffiti, which I differentiate with street art, looks likes the glyphs from the beginning of writing. I've heard that it's fascinating to see, but I haven't been to see it. So, at the moment, I can't say that I've been anywhere else to experience street art. After visiting Amherst, my wife and I are going to spend some time in Brooklyn, so hopefully we'll see some street art there.
Q: I noticed that you said that you don't consider graffiti to be street art. Why?
A: Well, graffiti can be a precursor to street art, but among other things, graffiti comes from a different impulse. The materials tend to be either spray paint or magic marker, and it's generally done fast because it's illegal and the cops are coming. So much of it is like wolves pissing around to mark their territory. So much of it is a territorial imperative and ambition, and that's not a bad thing, but it's something that I hope one outgrows. A number of the street artists I know and love actually started out as graffiti artists. I don't want to put down graffiti writers, but I want to encourage that the impulse goes into art and not simply ego.
Q: Do you have a favorite street artist?
A: No. It's sort of like asking, "Do you have a favorite movie?" I have about ten or twelve top artists, and then there are another thirty or so that are really high caliber that I like a lot. I'm actually still working on the slideshow for my visits to Amherst. I want to present the best street artists and I only have it narrowed down to 20 at the moment. It takes four hours in the street to talk about street art, and I've got to boil it down to forty minutes when I'm at Amherst. So good luck to me.
Q: You got into photojournalism in the 1970s and you began writing poetry in the 1990s. How does your photography influence your writing and vice versa?
A: I've pretty much found that the photography displaces the writing. The reason I took up photography in the 70s is that I was a photographer for a number of publications that couldn't afford a photographer. They just gave me a camera and told me to go take pictures. I frankly wasn't very good. I ended up having to move, and therefore give up my darkroom and photography in general. I was given a camera for Christmas in 2009, and I discovered that I had a digital darkroom! So that's when I really got excited about photography. It seems to have displaced the poetry in that I want someone to look at [my photos] and analyze them in the same way they look at poetry. So the photographs, I hope, have more poetry and depth to them, because that does seem to be where the muse is coming from now. Whatever the muse says, I follow.
This interview has been condensed and edited for clarity.