News
East Gables Housing Project Hosts Community Open House
An open house Sunday marked the first public viewing of 28 sustainable affordable housing units located on Northampton Road, adjacent to Pratt Field, with statements from state congresspeople, funders, and town partners.
East Gables, an affordable housing project with 28 sustainable units located on 132 Northampton Road, adjacent to Pratt Field, hosted its first public viewing at a Sept. 22 open house. Residents will be moving in at the end of the month.
The project is a response to an Amherst housing shortage caused by high student demand, and a Pioneer Valley-wide increase in housing-burdened renters (people who spend over 30 percent of their income on rent). It is sponsored by Valley Community Development (Valley CDC) — a Northampton-based nonprofit that works to provide affordable housing in the Pioneer Valley.
The open house began with a welcome by Alexis Breiteneicher, the organization's executive director, and remarks from local government officials, state funders, and partners from the town of Amherst, who expressed enthusiasm for the project and the future of affordable housing in the area.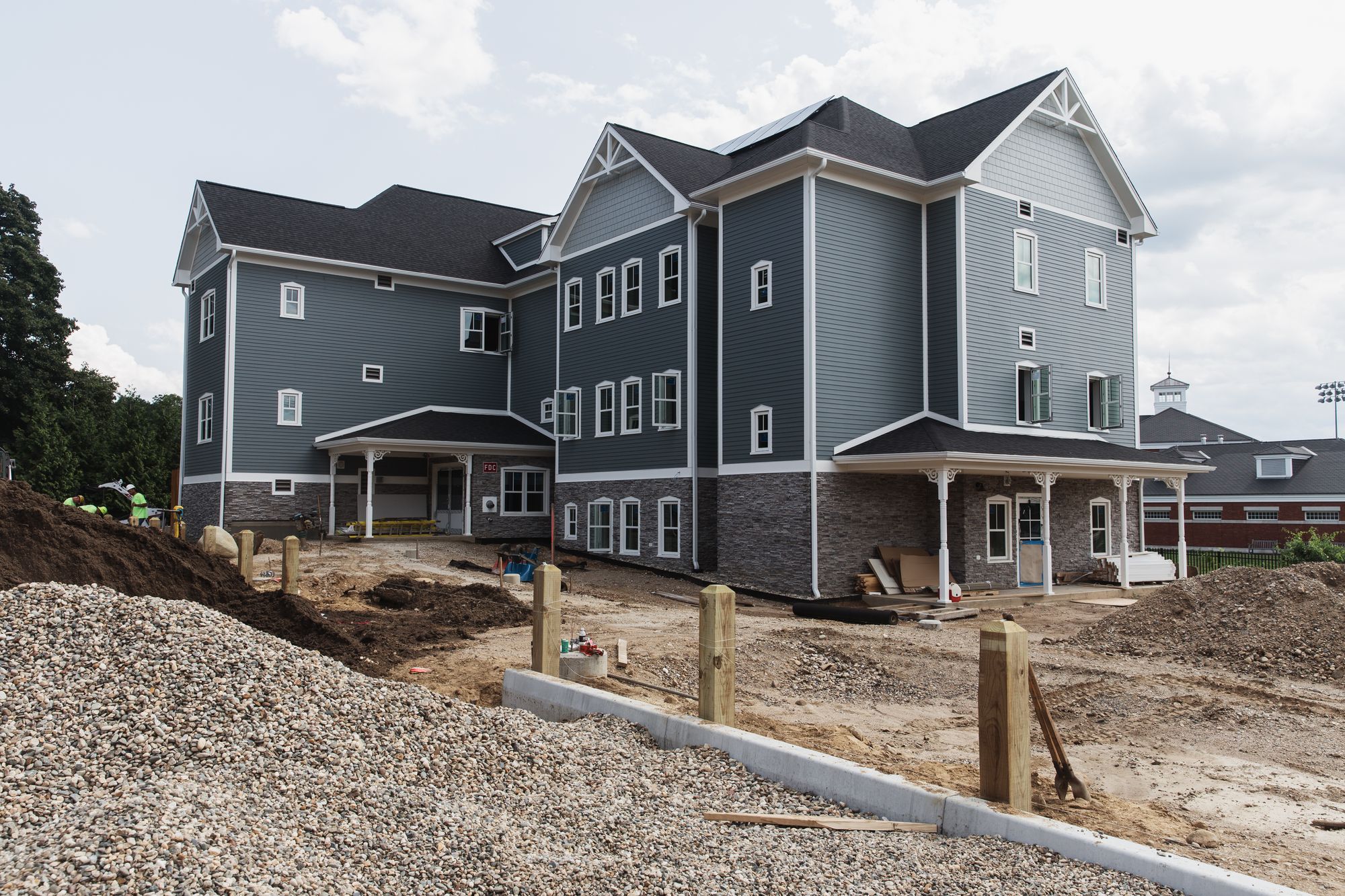 The program, which received over 500 applications, consists of apartments with a kitchenette, bathroom, common areas, laundry room, and an on-site residence services coordinator. Amenities also include an outdoor patio and bike rack. The location is close to the center of town and nearby grocery stores.
Timothy Lovett, residence services coordinator at East Gables, was formerly homeless, and loves his work because he gets to "help people transition to living in the space and provide a warm home environment," he said in an interview with The Student. "I'm excited because this space is new and we get to build it from the ground up. It's a program that we're all a part of."
Local government leaders, including Massachusetts State Senator Jo Comerford and State Representative Mindy Domb, emphasized their pride in Amherst's affordable housing initiatives.
"There is an unyielding commitment for more affordable housing here, the naming of that 13,000-unit gap that we know exists in our region and that we have to help close together," Comerford said. "We are people who want this and want justice for people who can't afford to get into the housing market."
Tim McCarthy, director of Craig's Doors, a nonprofit with locations around the Pioneer Valley providing shelter, case management, and resources for homeless people, spoke about working with Valley CDC on East Gables.
"East Gables is innovative, new and fresh with a sense of home and safety," McCarthy said. "Six of our guests who have been chronically homeless will now have a place to call home."
Valley CDC, which was selected in 2022 by the Massachusetts Housing Investment Corporation (MHIC) to receive the Excellence in Affordable Housing award, established its first solely-sponsored all-electric, passive building design in East Gables. The design also happened to be one of the first of its kind in Western Massachusetts.
"The first design for this building was a big rectangle with a flat roof because that is an ideal dimension and shape for energy efficiency," said Laura Baker, Valley CDC's real estate development director. "However, we all realized that we needed to find a cohesive design that fits so well in this neighborhood."
In July 2019, the town council of Amherst voted to provide $500,000 in community development block grants to the project, despite opposition from nearby residents in 2019 — including several college professors — expressing concern with the project's close proximity to Pratt Field.
Its conversion from a single-family home into a single-room occupancy (SRO) complex was delayed two years due to the pandemic. The overall town contribution to the project is approximately $1 million, said Lynn Griesemer, president of the Amherst town council, and the rest of the funding came from state funders and other foundations.
"We're happy to help create 28 new homes in this type of development," said Carrie Knudson, an investment officer at the MHIC. "We were excited to find one of the most critically supportive housing sites, walkable and bikeable community resources, and location in a wonderful community center."