Sports
Field Hockey Falls to Top-Ranked Middlebury in Narrow Loss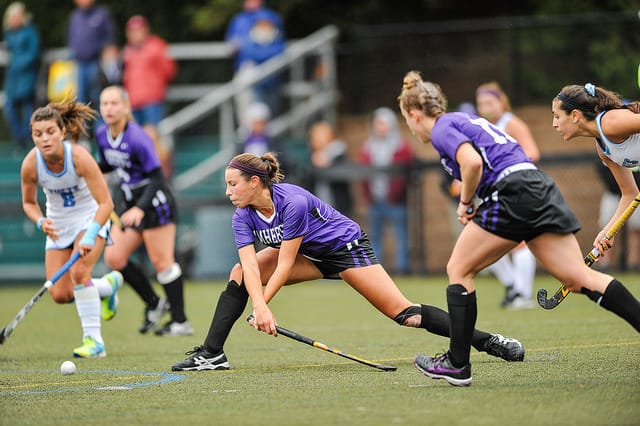 The Mammoths fell to 1-2 on the season after a heartbreaking 5-4 loss on the road to the Middlebury Panthers at Kohn Field on Saturday afternoon.
The Panthers got off to a quick start when midfielder Emma Johns scored twice in the first eight minutes of play.
Johns' first tally, unassisted, came six minutes into the first half when she snuck a shot past Amherst netminder Katie Savage '19.
Johns scored her next tally less than two minutes later, when she tipped in a right-side penalty corner from Isabel Chandler.
Amherst's offense was unable to mount any pressure in the first half, as Natalie Hobbs '22 notched the Mammoths' first shot on target with five minutes to go in the frame.
Middlebury, turning Hobbs' shot away, would finish the first half up 3-0 when forward Molly Freeman netted a score with 37 seconds left before the halftime whistle.
However, the Mammoths, having conceded a fourth goal 10 minutes into the second half, flipped the switch and put forth an onslaught of offensive power.
Amherst forward Emery Sorvino '19 logged her first goal of the season when she tipped in a shot by Kendall Codey '19 off of a penalty corner.
Just five minutes later, forward Caroline Donahue '21 redirected a cross-field pass from Sorvino past Middlebury's goalkeeper, cutting the Panthers' lead in half.
Recording Amherst's third unanswered goal in eight minutes, Hobbs found the back of the net to bring the Mammoths within one goal of the top-ranked team in the country.
Laura Schwartzman '20, after intercepting a Middlebury clearing attempt, fed a long pass to Hobbs who tapped the ball past a sprawling netminder for her second goal of the season, making the score 4-3.
Feeding off of their newfound momentum, the Mammoths didn't let a fifth goal by the hosts' potent offense deter them.
With 13 minutes left to play, Codey intercepted a pass and fed the ball to Franny Daniels '21 who dribbled down the left side of the field and rifled a shot past the goalkeeper for her second goal of the season.
Amherst goalkeeper Savage stood firm between the pipes, totaling eight saves on 13 shots. Five of these saves came in the last 10 minutes of play, keeping the Mammoths within striking distance as the game wound down.
Despite their second-half push, however, the Mammoths' fell short and were unable to come up with a last-minute equalizer.
The Mammoths hope to carry the energy from the second half against Middlebury into this week's contests, when they take on Endicott College in a Thursday night away game and host archrival Williams on Saturday, Sept. 22 at 11 a.m.