Homecoming
Fighting for Human Rights on the World Stage — Alumni Profile, Megan Carroll '02
The seed for Megan Carroll's '02 passion for international service was planted in early childhood and has followed her through Amherst to her job today.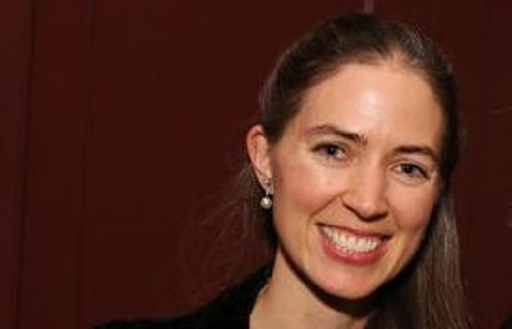 Megan Carroll '02 was nine years old when the Berlin Wall fell, and the seeds of her career path were planted. As the daughter of two parents who were mindful of world-exposure, Carroll became accustomed to hosting exchange students in her home. She vividly recalls watching the fall of the Berlin Wall through the eyes of one student from Tbilisi, Georgia: "He was glued to the TV set, absolutely transfixed [by] the images on CNN of the Berlin Wall falling over and over again." Nine-year-old Carroll was unable to fully grasp the significance of  the Berlin Wall falling at the time. But the event embedded an image of democratic movements that would follow her into her adult life.
Carroll has dedicated her career to issues of democracy and human rights. She has represented The Carter Center as an international observer and later Director in Sudan and South Sudan, served as a Democracy and Governance Advisor to the U.S. Agency for International Development (USAID), led the United Nations (UN) Development Programme's portfolio that was focused on the elections and constitutional process in South Sudan, served as a White House Fellow in the Obama administration, and managed Harvard University's Scholars at Risk program. In her current position at the UN Office of Counter Terrorism, Carroll focuses on helping UN member states adhere to human rights mandates when they are implementing their counterterrorism policies.
A Love for Travel
Raised in San Diego, CA., as the granddaughter of an Irish political prisoner, much of Carroll's personal and professional self was shaped by living and witnessing the social and political inequalities occuring at the U.S.-Mexico border, as well as hearing stories of her grandfather in prison. In her words, both of these factors "shaped [her] worldview in terms of why people cross borders and what compels someone to move to a different country."
Driven by a desire to travel, Carroll was an exchange student to Japan at 13, to Ireland at 16, and South Africa at 18. She also spent time with her godfather in Uganda who worked with Sudanese refugees. Listening to their compelling stories greatly raised her awareness of their plight. These cross-cultural experiences further confirmed her interest in pursuing international affairs; particularly her time spent in South Africa as a Rotary International Exchange Student, which was a pivotal moment in her life that foreshadowed her future career.
Carroll lived in South Africa the summer before her first year at Amherst, only four years after the end of apartheid. A defining memory Carroll carries with her from that summer was meeting President Nelson Mandela in Pretoria —"Don't forget about Africa," he said to her as he squeezed her hand. As an 18-year-old soon to be entering college, Carroll says she "really took that to heart and went into Amherst with that mission in [her] mind."
Expanding Horizons
Interested in human rights and international affairs, it is no surprise that Carroll stayed busy at Amherst developing these interests. Carroll was a co-founder of the Outreach Council and Foreign Policy Forum, a class representative on the MLK Jr. Committee during her first and second year, a volunteer reading tutor to Cambodian immigrants in the community, and active volunteer with Amnesty International.
Some of Carroll's fondest recollections about Amherst were the opportunities it provided her to explore her full range of interests, not only her academic passion for political science but also her personal appreciation of the arts. In her senior year, Carroll dove into her love of theater and dance, performing in several student productions. However, her pioneering into the arts didn't stop with theater and dance — Carroll was also a co-host of a WAMH radio show during her last year at Amherst. Of all her experiences on campus, Carroll says that performing through those various outlets were some of her favorite memories because they stretched her and challenged her to grow.
Looking back, Carroll remembers Amherst as a "special time to learn, experiment and expand [her] horizons" where "you could take a course that would challenge you, perhaps even scare you, and change your worldview." She advises students to take advantage of Amherst's unique environment to dive in and challenge themselves.
Full Circle
Graduating in '02 after the events of 9/11 was a "painfully eye-opening entrance into the real world" for Carroll. Experiencing the economic and political impacts of 9/11 simultaneously challenged Carroll in her career and confirmed her path to work in international affairs. She got to work quickly.
After graduating from Amherst, she had less than a day before she was on a plane for the Humanity in Action Fellowship in Berlin, the very place that sparked her interest in democratic movements at nine years old. In Berlin, she would begin the work that continued to push her career interests forward.
Carroll never forgot Mandela's words. Her career path led her to return to Africa in 2010, where she was an international observer for the voter registration process with The Carter Center in Sudan. She was in Sudan at a crucial inflection point: the country was deciding whether to stay as a unified Sudan or to split into two countries. Rather than return to the U.S. after the vote, Carroll decided to stay in the newly independent South Sudan and serve as a Democracy and Governance Advisor to the United States Agency for International Development (USAID).
If you ask her why she chose to stay for a total of four years in South Sudan, Carroll will tell you it's because she "fell in love with the challenges in the country and the scale of the complexity." When the country split, there was a lot of international goodwill to get South Sudan on a pathway towards better governance, and for Carroll, "to be part of that process was humbling, enlightening and exciting."
Throughout Carroll's career, her philosophy has been to serve as a conduit to opportunities and resources for other people to claim their own power. This philosophy is apparent in her work with Scholars at Risk, a program that brings persecuted scholars from overseas to safe haven schools. After leading Harvard's program for several years, Carroll brought the network to Canada and established chapters at two Canadian universities in Montreal. Attempting to "lead from behind," her intention was to start the program at the universities and then step back, allowing the campuses to continue to run with the initiatives. Although Carroll is no longer directly involved with the Canadian networks, she is happy to report that it is still thriving and she remains proud of the legacy that has bloomed from her efforts.
The Million Dollar Question
Carroll describes the success of her career with one word: serendipitous. She finds that setting goals and benchmarks are important, but so is being open to a sense of serendipity. Going off script and being open-minded to new opportunities has allowed Carroll to accomplish the work that inspires her. In her own words, her career "hasn't been a linear line, but it has been circuitous and meaningful."
What's next in Carroll's career? That's the million-dollar question. Although she doesn't know exactly, Carroll's sure that it will be something meaningful. As always, her philosophy is to follow the line of work that will allow her to have the most impact on issues that are important to her. We may find Carroll working at the UN, moving to a foundation and serving as a conduit for resources for marginalized populations, or even serving in an administrative position in D.C.