Homecoming
Finding Connection Through Translation — Alumni Profile, Tomoaki Ishigaki '97
Even in a field as serious as diplomacy, Tomoaki Ishigaki '97 has maintained a buoyant spirit and lessons from Amherst throughout his career.
"I liked that Amherst's name began with A and not W," Japanese diplomat Tomoaki Ishigaki jokes when asked why he chose Amherst instead of another liberal arts college. He chuckles as he says it, echoing the sentiment that many Amherst students have expressed both before and after him.
Life in Japan
Ishigaki first decided to pursue diplomacy and foreign affairs while studying at the University of Tokyo. While he had also considered becoming a journalist or scholar specializing in international relations, he thought it would be interesting to truly see where the action takes place first-hand, and deal with problems on the ground.
After university, Ishigaki started working with the Japanese Ministry of Foreign Affairs. He decided to partake in the Foreign Services program to send junior diplomats abroad. Since his language of specialization was English, Ishigaki had the choice to study at a school in the States.
"I liked Amherst for a couple of reasons,'' said Ishigaki. "I knew of the very strong language and interdisciplinary studies at Amherst, and the wide range of programs in the Five College Consortium sounded very interesting."
Life at Amherst
At Amherst, Ishigaki was a member of the Debate Team, Glee Club, International Students Association (ISA), and Asian Students Association (ASA).
"In fact," Ishigaki says, "ASA had a big brother system, and my big brother — who was younger than me — was my best man at my wedding."
Ishigaki discussed his adjustment period coming to Amherst as not only an international student, but also as a transfer student.
"Even though we studied English, even though we knew American politics and economy, all the daily vocabulary was hard. It was a learning experience every day," Ishigaki said. "I remember the ISA took us shopping to buy daily necessities and the orientation told us to bring our 'plastic' in case of additional purchases. I didn't know what that meant and thought that I should bring extra plastic bags. Later, someone explained that it meant credit card."
Despite these difficulties, Ishigaki described the strong bond he was able to build with many of his classmates on account of his international and transfer status.
"I think because I was a little older than some of the classmates, I was able to help them too since I could give them advice about struggling with deciding their major or career," he said.
Ishigaki tried to take a wide variety of classes at Amherst, including art classes, music, photography, and French — the last of which he was "not so good at," but really enjoyed. He especially loved his experiences taking classes at other Five College schools, particularly Mount Holyoke and Smith. His thesis advisor — now a family friend he still remains in touch with — was actually a professor from Smith.
Life After Amherst & Now
After Amherst, Ishigaki returned to the Japanese Ministry of Foreign Affairs, where he remained until 2010. Then, he was posted in New York as a Permanent Representative to the United Nations. During that time period, he visited Amherst for homecoming, and gave a talk at Smith along with his wife, who went to a women's college in Japan.
Currently, Ishigaki is working as a minister in the Embassy of Japan. He started his job this summer and describes his role as "a sort of interlocutor for the Japanese government and the members of Congress." He engages with people on Capitol Hill, such as House members and senior staff of the Senate, and gathers information and intelligence to report back to Tokyo. Nowadays, "it's things like the infrastructure bill or debates on climate and energy," Ishigaki elaborated on the primary content of his work. Before this job, he was working at the G7 and G20, as well as in the Japanese prime minister's office.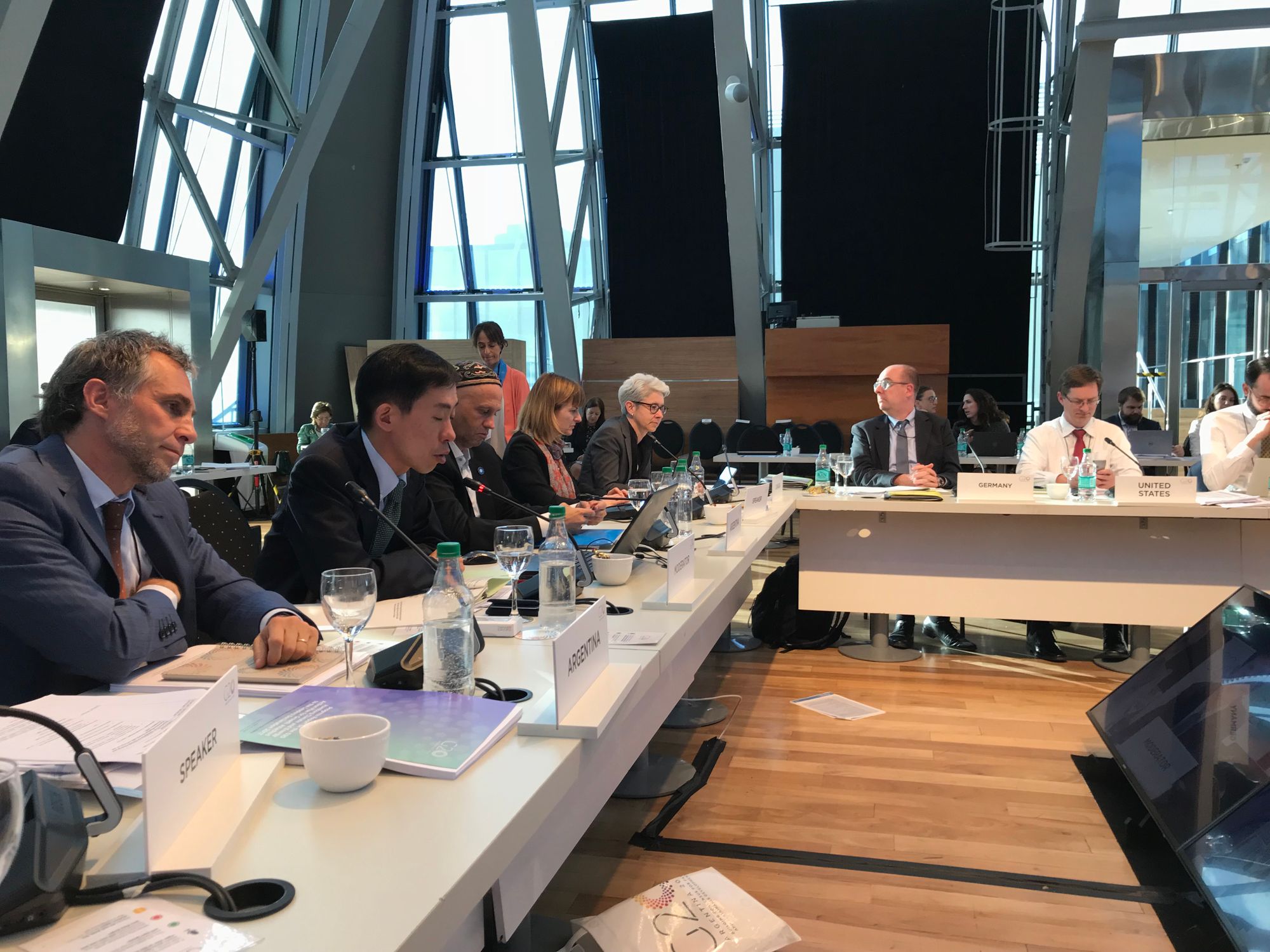 When asked about hobbies, Ishigaki laughed.
"Eighty percent of my time is now devoted to my daughter", He chuckles. "I don't know if that's a hobby, but it's certainly a full-time commitment." He describes his love of running marathons, as well as reading books and watching movies — science fiction particularly. "But most of the time now, we end up watching kids' films," he added.
Reflections on Amherst
When asked how he feels about the changes at Amherst since he attended, Ishigaki gave positive responses. While he does feel like students now "are pampered," he thinks it's a good thing that facilities have improved dramatically.
He supports the steps Amherst has taken to have a more diverse student population, like increasing its emphasis on admitting international students, as well as advances in financial aid. He also supported the decision to replace Lord Jeff as a mascot with the Mammoth, although he chuckled about some confusion it caused.
"In the Amherst Tokyo alumni association, it was almost customary for us to sing [the] Lord Jeff [song] at the end of every meeting," Ishigaki said. "So after he was taken down, we were like, 'Oh, what should we sing now?'"
While he doesn't necessarily miss Amherst — it was a time of youthful emotional turbulence — Ishigaki does grow nostalgic for certain memories he still associates with the college.
"I loved spending hours into the night discussing really random topics without knowing what would come out of it. And of course, knowing that you had homework and numerous other assignments due and still talking," he reminisced. "Those were very precious moments."
Ishigaki's advice for current Amherst students is to "be open-minded and explore things beyond your comfort zone."
"It's good to be passionate about particular issues, but we should not consider any one field better than another. Amherst is great because it gives you a more holistic education, which is really the strength of liberal arts education. At Amherst, you might not want to take other courses and just stick to your major classes,  but I think that 10 or 20 years after graduating, you'll have much more meaningful insight if you have a well-rounded education."
Tomoaki, whose 25th anniversary of graduating is next year, hopes to visit campus then to show his daughter.
I asked him if he wants his daughter to go to Amherst and he laughed.
"Yes, but I saw that legacy admissions were abolished, so what's the point?" he joked.
"On a serious note though, I would like to show Amherst to her as an option for sure. It's a beautiful campus and the people and resources there are amazing."